'Sustain This' is a four-part video series, produced by Complex and Allbirds, that celebrates artists who prioritize sustainability as they seek to perfect their craft.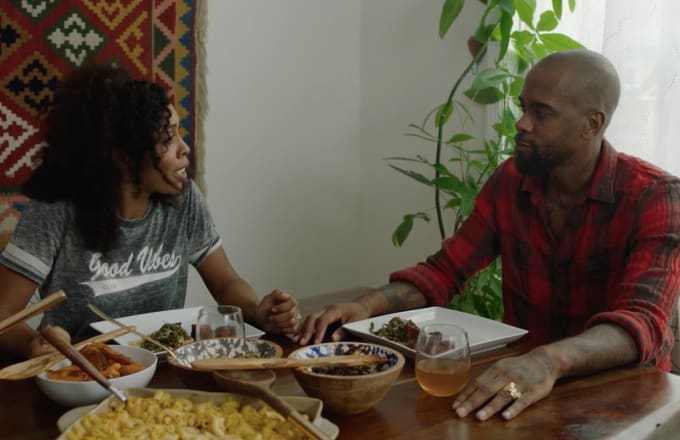 Stic and Afya Ibomu are perhaps the most health- and earth-conscious power couple on the planet. Describing themselves as open-minded workaholics and holistic hustlers, Stic's legacy as a platinum-selling recording artist (as a member of hip-hop duo Dead Prez) and Afya's authorship of books like The Vegan Soulfood Guide to the Galaxy are grounded in self-care.
"Brands that have values that are pro-people, pro-planet deserve our vote."
Together, the dynamic duo co-host the RBG Fit Club weekly podcast, where they offer advice on holistic living in urban areas on a budget. Speaking to the community about sustainability is a calling that has inspired them both for years. "I always was an environmentalist first," says Afya, a former nutritionist for Erykah Badu. "Like at 12 [years old], I was trying to recycle." 
Meanwhile, it was the lyrical teachings of KRS-One on topics like history and vegetarianism that resonated with Stic when he started listening to hip-hop as a kid. In fact, the opening bars on the influential track "Be Healthy" off of Dead Prez's debut album Let's Get Free (2000) are: "I don't eat no meat, no dairy, no sweets/ Only ripe vegetables, fresh fruit, and whole wheat." The brand of music established Stic, and his partner m-1, as the unofficial founders of "fit-hop," a hybrid of hip-hop and meditation. 
Above all, it's the little things that Stic and Afya emphasize in their work. You don't have to be famous to eat more plants, grocery shop with a tote bag (rather than environmentally harmful plastic bags), or buy reusable straws. These are simple practices that anyone can engage in, and make a significant difference in the process.
Remembering the empowerment of others begins with empowerment of the self, the couple exercises their own agency on a daily basis. "We entered the election time and the spirit of voting, and everybody's like, 'Your vote matters, your vote counts,' but we vote everyday with the brands we support," Stic states. "Brands that have values that are pro-people, pro-planet deserve our vote."
Catch the second episode of Sustain This starring Stic and Afya above, and peep Episode 1 of the series with street artist WRDSMTH ​here.