"I think skateboarding can be a force for social change because skateboarding is an amazing way to unify people," says Oliver Percovich. And while many people might share this same belief, Percovich truly lives his truth.
In 2007, while on a trip in Kabul, Afghanistan, Percovich noticed how entranced the local youth seemed by his preferred mode of transportation, i.e. his skateboard. Percovich took the time to talk with those who would engage with him and eventually realized that not only had many of them never seen a skateboard, but that skateboarding could even be a way for them to engage in a whole new slew of social interactions and activities beyond their normal day-to-day lives.
"There [were] no women driving cars, no women riding bicycles [in Afghanistan], but because skateboarding was so new it was a loophole and there [were] no rules about women not being able to skateboard," Percovich remembers. "We managed to get a school built with a skatepark. The girls were so passionate about skateboarding, that I couldn't let them down." And with that, Skateistan was born.
Skateistan is an award-winning global organization that aims to empower and educate youth through skateboarding. Headquartered in Berlin, Skateistan is helmed by a small group of 'citizens' who work and coordinate with different staff all over the world to operate their various facilities. "Working in Afghanistan, Cambodia, and South Africa, Skateistan is more than just giving kids skateboards or a skatepark, we run programs combining education and skating," explains Skateistan Communications Manager Hannah Bailey. "Globally, I think we have over 100 kids living with disabilities [in the program]. It really goes to show that skateboarding is accessible to everybody," says Skateistan MEL Manager Lauren Della Marta.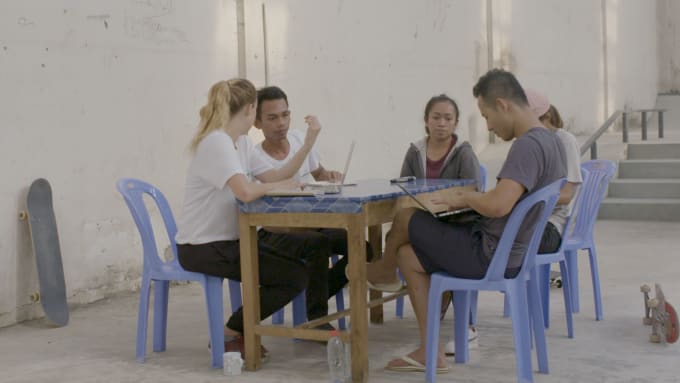 Skateistan's most recent undertaking was their launch event for a new skatepark in Phnom Penh, Cambodia. Situated in the creative hub of Factory Phnom Pen, the facility already has over 200 students replete with a 500 square meter skatepark, a classroom, library, office, and large green space. Being over 5,000 miles away from the location it was imperative for Percovich and Bailey to be able to communicate frequently with their team on the ground during the launch. Thankfully for Skateistan, there's Dropbox Paper.
"For the recent skate school launch in Cambodia, we used Dropbox Paper and it was a really valuable tool," says Bailey. "I was collaborating with the local staff before I even arrived to organize the one million and one things we needed to do to make it a really successful event. We are forever relying on photos and videos to tell the story of what Skateistan is doing. Dropbox allows us to transfer that content and to really bring those stories to life."
With big name cosigns by the likes of Tony Hawk, Jamie Thomas, and Anthrax's Scott Ian, it seems like others are taking note of the potential of skateboarding to create a positive change. "Creative ideas and creative energy are the ways the economy is going to grow in the future," explains Percovich. "[Skateistan] wouldn't be possible without all of the people around the world who have backed this totally crazy idea and continue to back it, allowing it to grow."
For Bailey, one of the biggest takeaways of Skateistan is its unifying effect. "Everyone's got their unique story with skateboarding and it's the same with the countries Skateistan works in and how they've taken skateboarding culture, making it their own," says Bailey. "That's what's so special about it."