New App Wants to Use Blockchain to Record Consent Between Sexual Partners
LegalFling says their app will allow sexual partners to document their "do's and dont's" prior to hitting the sheets.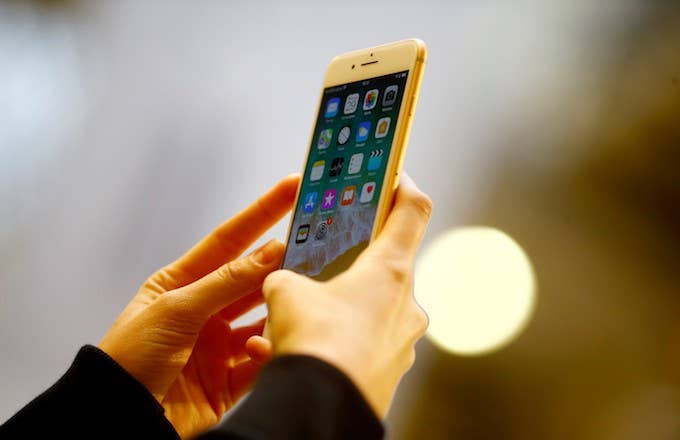 Getty
MOSCOW, RUSSIA - SEPTEMBER 29: A woman holds an Apple phone in her hand after Apple launched iPhone 8 and 8 plus at the GUM department store in Moscow, Russia on September 29, 2017. (Photo by Sefa Karacan/Anadolu Agency/Getty Images)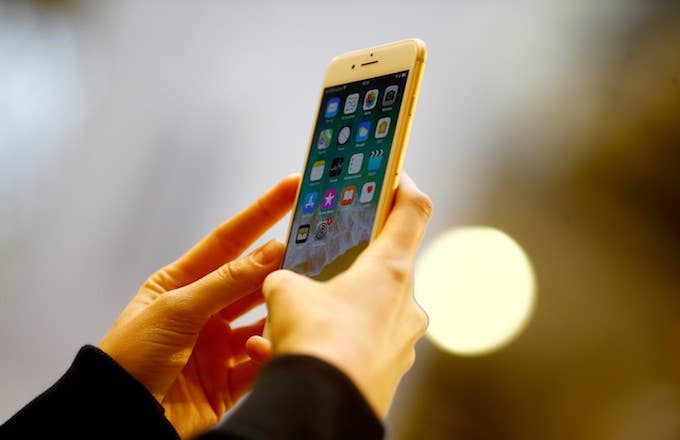 A Dutch company named LegalThings claims they have a convenient solution to fostering safe and consensual sex. Their new app LegalFling will allow sexual partners to document their "do's and dont's" prior to hitting the sheets.
"Asking someone to sign a contract before having sex is a little uncomfortable," LegalThings CEO Rick Schmitz said in a press release for the app. "With LegalFling, a simple swipe to consent is enough to legally justify the fling." LegalThings notes that giving consent through the app will be much like "sending a WhatsApp message that indicates privileges."  LegalThings team member Martijn Broersma toldGizmodo that Live Contracts create a proof of existence, which means "both parties will hold an immutable version of the explicit consent / contract." Essentially, after each partner agrees to what they are/are not comfortable with sexually, those notes are timestamped and logged into a block chain. LegalThings' tagline is blunt: "we change the #metoo's into #iFling's."
The glaring problem in this (among many) is that consent is continuous and the premise of LegalThings doesn't reflect that. The app also comes across as a way for men to be protected from sexual assault allegations versus a method for two partners to have a mutually satisfying experience.
Jaclyn Friedman, author of Yes Means Yes: Visions of Sexual Powertold Lifehacker that consent apps are actually more harmful than helpful. "I'm all for fostering dialogue about consent — it's a big part of my job— but these apps are fostering a wrong and dangerous conversation, one that posits consent as irrevocable once given, and applying to any and all sex acts someone might want to force on you, once you've consented to 'sex' as a concept," Friedman goes on to say, "Pushing that idea is more dangerous than not talking about consent at all."
LegalThings still needs the final stamp of approval from Apple and Google before its available for consumer use, but its not the only show in town as far as consent apps go. Other mobile applications like We-Consent, Good2Go and SaSie have been introduced as a way of addressing sexual misconduct on college campuses. Each of which have faced their own fair share of criticism.
It should be noted that LegalFling's FAQ's section does warn that a sexual partner can change their mind during the act. "No means 'no' at any time. Being passed out means 'no' at any time," the page states. "This is explicitly described in the agreement. Additionally you can withdraw consent going forward through the LegalFling app with a single click."
Hopefully, you don't need an app to understand the last point.