On Wednesday morning this official 2009 NASA picture of astronaut Leland Melvin, sent out by the rogue NASA account, went viral because people love dogs:
By the evening, Gizmodo writer Rae Paoletta had talked to Melvin to get the tale behind the widely disseminated image because, again, people love dogs. We figured it'd be a good story to share for this reason, and also because it would be a nice contrast to most news, which gives you a headache and may frequently make you want to put a fucking bullet in your head.
Melvin, a retired astronaut who logged 565 hours in space, rescued both dogs (Jake and Scout) and had already forged a tight bond with them years earlier. First he rescued Jake (the one to his left, playfully going Mike Tyson on his ear). Then, on Thanksgiving, he rescued Scout, which he explained to Gizmodo basically happened because the two K9s looked so much alike.
"I was cooking a turkey and Jake was right beside me waiting for something to drop, and my neighbor came over and said, 'Leland, Jake's in the front yard.' I was confused because Jake was next to me," he said. "I went outside and there was this dog in my yard. So I brought him in, and he had no collar or tag. No one claimed him...I think someone might have dumped him because he had heart worms."
In stark contrast to the people that gave up on a dog just because it had heart worms, Melvin aided Scout until he was healthy enough to form the viral trio. As Melvin explained, though, the two had to be snuck in to get their picture taken because apparently the eggheads at NASA HQ have a "no dogs" policy.
"I had a van and I drove the dogs in," Melvin said. "NASA doesn't allow dogs to be on-site, so when I showed them my NASA badge, I kept the window up...and I had the stereo blasting because the dogs were barking. So I gunned it and the [security guard] didn't chase me or anything."
After taking them up the backstairs to the area where the photos were being taken, both Jake and Scout couldn't contain their excitement. "I had all these dog bones, and they were just sitting there eating the bones, just grubbin' and happy," Melvin recalled. "The dogs just ran over to me. And [I said] the guy who took the picture, Robert Markowitz, 'Dude, start shooting!'
"Jake was nibbling my ear. Scout was all up in my grill, like, 'Hey, what's going on here? What is he doing?' But if you look at the picture, all of us are holding hands, all of us are connected. And it was just incredible.
"That picture was just amazing to me."
The triad were also snapped looking much more official in a pic that Melvin appears to have recently deleted from his Twitter for whatever reason: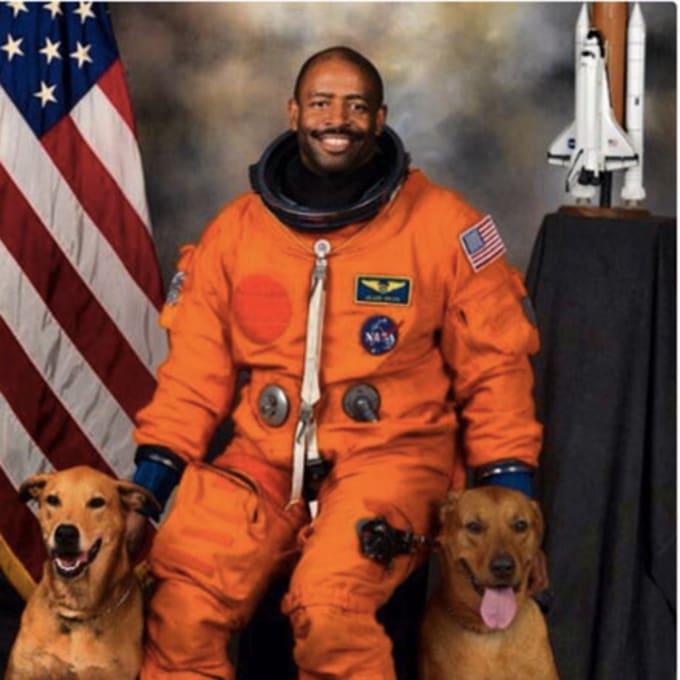 Unfortunately both dogs have passed away, Jake went out due to old age, and Scout from lymphoma. But aside from being remembered personally by Melvin, they'll also be immortalized on the cover of his upcoming book: Chasing Space: An Astronaut's Story of Grit, Grace and Second Chances.
A new Jake and Scout will join Melvin shortly, but like most good dogs that doesn't mean the old ones will be forgotten. "We had so many good memories, a lot of good stories with my dogs," Melvin told Gizmodo. "They were my boys."
Melvin also seemed touched by Paoletta's story, and the outpouring of social media love he subsequently got from fellow dog owners:
Alright, that was fun. Now let's get you back to the depressing news.