UPDATE 6/07/2016 8:00 a.m.: Monday night, Brock Turner's original mugshot from his January 2015 arrest was finally released to the press. "After a full day of pressure, Stanford has released what does appear to be the original arrest photo for Brock Turner; Jan 18, 2015," journalist Diana Prichard wrote on Facebook. "It should be noted that this was the result of MANY journalists pressuring them all day long. It should also be noted despite Stanford's official press release earlier today that they did not have the authority to release the photo, the email came directly from them." Prichard also detailed the lengthy back and forth process she went through to obtain the mugshot on Facebook.
Turner was found guilty on three felony counts in March of 2016 and was sentenced for his crimes earlier this month. However, his mugshot from his arrest was not released until now. You can see Turner's original mugshot below.
And FINALLY, after back and forth all afternoon -- #BrockTurner #Mugshot pic.twitter.com/aF198TUA1f

— Diana Prichard (@diana_prichard) June 7, 2016
UPDATE 06/06/2016 5:53 p.m.: Stanford has released an updated statement in reference to the Turner case, saying that there "has been a significant amount of misinformation circulating" about the university's "role" in the sexual assault. The university says it's proud of its students for stopping the incident, referring to the graduate students who spotted Turner assaulting the woman and intervened. The school also says that after a quick investigation, it banned Turner from the campus within two weeks, which is the "harshest sanction that a university can impose on a student."
In this case, Stanford University, its students, its police and its staff members did everything they could. Stanford University takes the issue of sexual assault extremely seriously and has been a national leader in taking concrete steps to implement prevention programs, to train students on the importance of bystander intervention, to provide support to students who may experience sexual assault and to assure that cases are handled fairly and justly.
UPDATE 06/06/2016 5:06 p.m.: Following controversy surrounding the noticeable absence of Turner's mugshot, Santa Clara County officials have released the image: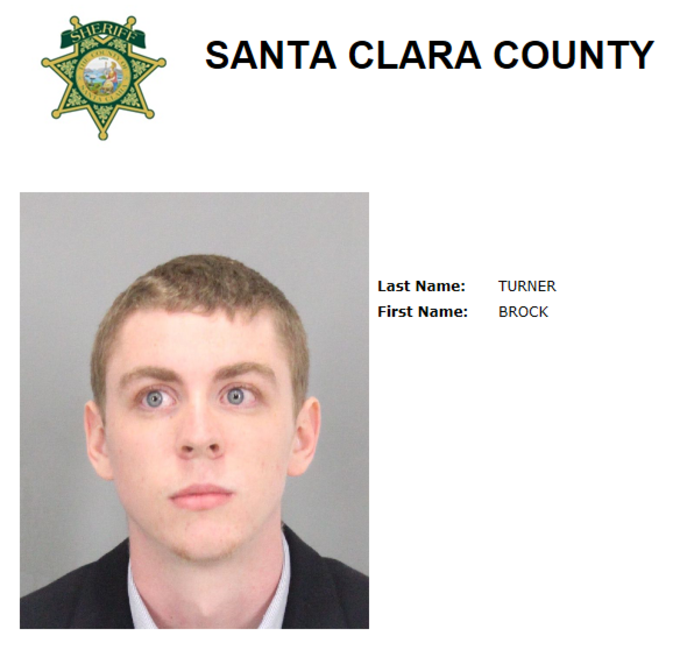 See original story from 06/05/16 below.
It was only "20 minutes of action." That's how the father of a former Stanford athlete described the sexual assault his son committed, an assault during which he was caught having sex with an unconscious woman behind a dumpster outside of a campus frat house. 
Dan Turner read the letter containing the "20 minutes" statement in open court before the sentencing of his son Brock Turner, according to Stanford law professor Michele Dauber, who posted the entire letter on Twitter. Dauber, writes Jezebel, has been one of the driving forces behind reforming the school's policies on sexual assault. 
Brock Turner received a controversially lenient sentence of only six months in jail last week after being convicted on three felony charges stemming from the sex assault. He was facing up to 14 years, but the judge felt that because he was only 20 years old and had no prior record, six months was enough, according to The Guardian. The San Jose Mercury notes that he'll likely get out in three months for good behavior. The prosecutor in the case said, "The punishment does not fit the crime."
Dan Turner wrote: 
"These verdicts have broken and shattered him in so many ways. His life will never be the one that he dreamed about and worked so hard to achieve. That is a steep price to pay for 20 minutes of action out of his 20 plus years of life. The fact that he now has to register as a sexual offender for the rest of his life forever alters where he can live, visit, work, and how he will be able to interact with people and organizations."
But what about his victim? The 23-year-old woman read her own letter during the sentencing and described how the attack has sapped her of independence, her motivation, and her happiness. Buzzfeed published the letter in its entirety.
"My independence, natural joy, gentleness, and steady lifestyle I had been enjoying became distorted beyond recognition. I became closed off, angry, self deprecating, tired, irritable, empty. The isolation at times was unbearable. You cannot give me back the life I had before that night either."

"I used to pride myself on my independence, now I am afraid to go on walks in the evening, to attend social events with drinking among friends where I should be comfortable being. I have become a little barnacle always needing to be at someone's side, to have my boyfriend standing next to me, sleeping beside me, protecting me. It is embarrassing how feeble I feel, how timidly I move through life, always guarded, ready to defend myself, ready to be angry."
After Turner was sentenced to six months, his attorney's notified the court that they plan to appeal the ruling.