While Americans vote in their state primaries, more and more surveys detail how unpopular the leading 2016 presidential candidates are in both parties. 
A new poll conducted by Survey Monkey on Wednesday found that voters would prefer a Game of Throne's character to either Donald Trump or Hillary Clinton. 
Out of 397 voters, 24 percent backed Tyrion Lannister (played by Peter Dinklage) compared to 20 percent for Clinton and 7 percent for Trump. The GOP frontrunner didn't fare well at all; Trump came in fifth place on the poll, after Mother of Dragons Daenerys Targaryen (played by Emilia Clarke) in fourth.
Tyrion is considered one of the show's most intelligent characters, and he appeared to find his match in Vermont Sen. Bernie Sanders. The two were neck and neck with an equal number of votes.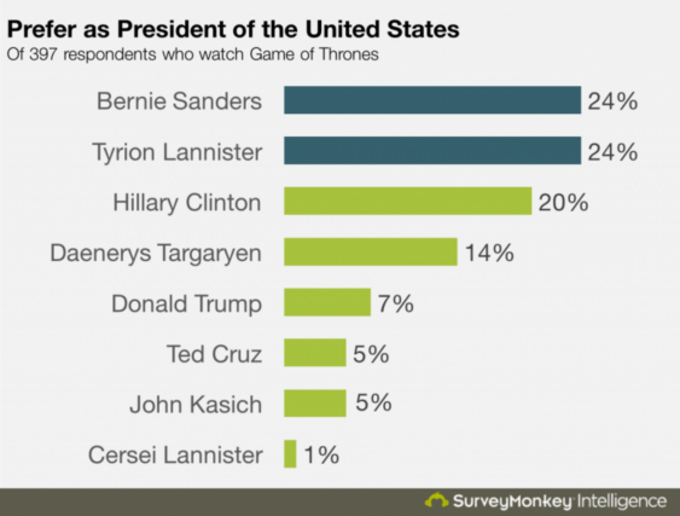 If it seems as though Game of Thrones viewers skew more liberal, the survey found that Tyrion's voters were evenly split among liberals and conservatives. Forty percent of voters supporting him were liberal, while 31 percent were conservative. Twenty-nine percent fell into the "neither" category.
Much like their real-life appeal, Sanders was favored heavily by liberals, while Trump was favored heavily by conservatives.  
The poll took things one step further, and asked which had the better functioning government: the United States or the Seven Kingdoms. The U.S. won with 75 percent of the vote. 
Even though Trump and Clinton each lead their respective party with the most pledged delegates, an NBC News/Wall Street Journal poll published on Monday revealed that the majority of Americans don't see themselves voting for either.
In fact, Trump is the most unpopular candidate since former KKK leader David Duke ran in 1992.
If Tyrion fared as well as he did, the write-in section of the November ballot promises to be interesting.