Warning: This article contains graphic descriptions of sexual abuse.
Porn actor James Deen, an increasingly mainstream star who has been particularly notable for his appeal to progressive women, was accused of rape by an ex-girlfriend over Thanksgiving weekend. Since then, six more women have come forward with disturbing allegations of sexual assault and abuse, calling into question Deen's frequently-hyped "feminist appeal." ​
Stoya, Nov. 28
Deen's ex-girlfriend Stoya was the first to come forward publicly with rape allegations. On Nov. 28, the adult performer and writer set off a firestorm with two tweets accusing Deen of violating her, while expressing discomfort with his feminist reputation.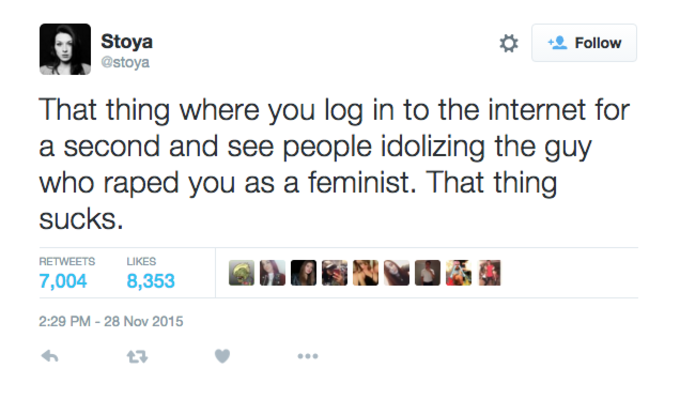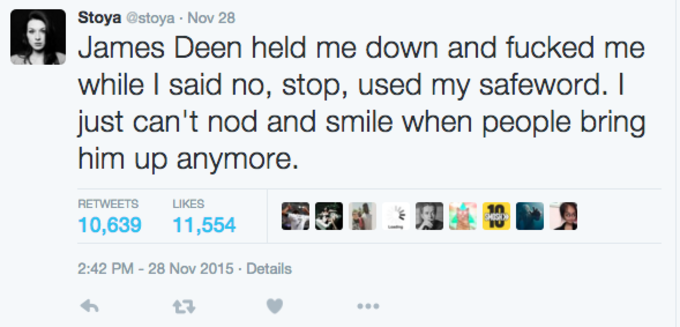 Tori Lux, Nov. 30
Two days after Stoya's tweets, former adult performer Tori Lux wrote an essay for the Daily Beast accusing Deen of assaulting her on a film set. She said that she was still undressed from a scene she had just finished when Deen—who wasn't performing with her that day—invited her to sniff his testicles. After Lux firmly declined his offer, twice, she said her grabbed her by the throat and shoved her onto a mattress on the floor. 
He proceeded to straddle my chest, pinning down my arms with his knees. Then, he raised his hand high above his head, swinging it down and hitting me in the face and head with an open palm. He did this five or six times—hard—before finally getting off of me.

Disoriented and nursing a sore jaw, I stood up—but before I could collect myself, he grabbed me by my hair and shoved me to my knees, forcing my face into his crotch several times before shoving me to the floor. I was completely stunned, having no idea how to react. I felt pressured to maintain a professional demeanor as this was a major porn set, with other people present and failing to intervene.​
Ashley Fires, Nov. 30
That same day, adult performer Ashley Fires also told the Daily Beast about an experience with Deen at the BDSM porn company Kink, which she says led to her refusing to ever work with him.
I was getting out of the shower of the communal bathroom at Kink, I reach for my towel to dry off, and he comes up from behind me and pushes himself and his erection into my butt. He pushes me against the sink and starts grabbing on me and I was like, 'No, no, no James, no,' and he released me from his grasp, and says, 'You know, later if you want to fuck around I'm in room whatever-it-was. I was like, 'Fuck you.' I didn't even know this guy, he was so out of line and entitled with my body.
T.M., Nov. 30
In an interview with LAist, a writer who identified herself only by the initials T.M. accused Deen of raping her at a Las Vegas party in 2009. She said that he grabbed her in front of everyone at the party and took her into a side room, full of his friends and fans.
"I definitely said no, but I was also super scared," she said. "He forced me to [perform oral sex on him] and had sex with me. As soon as he was done, he walked away."
T.M. said she didn't tell those who witnessed the incident that it wasn't consensual, and didn't talk about it at the time out of concern for her career, given Deen's prominence in the industry.
Amber Rayne and Kora Peters, Dec. 2
Porn actresses Amber Rayne and Kora Peters both came forward to accuse Deen on Tuesday. The actresses told The Daily Beast two more tales of brutal violation, both of which allegedly took place on camera.
Rayne says that she was working on a 2006 film with Deen when the actor took the scene too far.
We were in a piledriver, he was fucking me in the ass and I said something like, 'Yeah fuck me like that you son of a bitch.' His face twisted and he came down on my face two times—close-fisted. I was punched in the face while he was still in my ass and then he starts going crazy on my butt—extreme, brutally fucking it. He just starts shoving things in to the point where he ripped it and I bled everywhere. There was so much blood I couldn't finish the scene.
Rayne ended up being hospitalized and requiring stitches, but she subsequently developed a friendship with Deen. She said that she believes he realizes "something was wrong that day." 
"But at the same time this did happen, and it happened to other people that I know and love."
Peters described an incident that she says took place early in her career, during what was supposed to be an ordinary boy-girl sex scene.
James [Deen] kept trying to get inside my ass but I kept pushing him away, so he choked me, then he slammed my face down into the couch and forced himself in my ass anyway. The crew all high-fived him and told him what a great job he did getting an anal scene for the price of a boy/girl scene.
Peters said that when she called her agent for support after the incident, "He said I should feel honored that James wanted me so badly because he was one of the best male performers."​
Joanna Angel, Dec. 2
Another one of Deen's ex-girlfriends, porn actor, director and producer Joanna Angel, recounted an abusive relationship with Deen on Wednesday during an interview on Sirius XM's The Jason Ellis Show.
Describing Deen as "extremely controlling," Angel said he verbally abused her, berated her for the amount of makeup she wore, and told her she looked like a "fucking whore."
Angel added that their sexual relationship became "more painful and less pleasurable" over time, and described an incident in which she said he dragged her by her hair into the bathroom and dunked her head into a sink full of water while having sex with her. Angel also claimed he held her face underwater even after she tapped him to let her up.
Angel said she woke up multiple times at night with Deen on top of her and choking her in his sleep. She said he wouldn't wake up even as she screamed, and that he claimed not to remember doing it the next day. 
The fall of a feminist hero?
Deen was previously hailed as something of a feminist icon since his 2012 rise to mainstream fame. With a slim frame and sweet boy-next-door appeal, Deen was perceived as preternaturally sensitive to female sexual needs.
He spoke out about issues of diversity in the porn industry and sexual consent, and even said in a Good magazine profile that he had stopped working for one porn site because he found their plots "a little rapey." In May, Deen was enlisted to write a regular sex-positive advice column on the feminist website The Frisky.
Despite his reputation, Deen declared in an October 2014 interview with The Observer that he was "absolutely not" a feminist. When asked why not, he said, "I don't know, I'm a dude."
I believe in equality, and I think a lot of feminism has a —I think there's a lot of really bad people in the feminist movement. And I think that it is just, uh, I just don't care. I think that people should all just be good to each other, and it doesn't matter if they're men or women, and it doesn't make a difference, and I've had whole tirades about this. Now I'm just kind of tired of it.
The newly public accusations against Deen came as a shock to those who had seen a feminist spark in the porn actor. In a note explaining why her publication was ending Deen's sex-advice column, Frisky editor Amelia McDonell-Perry expressed her disillusionment.
I asked him to do an advice column because I liked his directness and his confidence, but most of all, I liked his emphasis on communication, honesty and, most of all, CONSENT. That he has been accused of violating Stoya's consent, that women I respect have since contacted me directly to say that they know of others to whom he has done the same thing? Well, I'm fucking heartsick over it. This makes it impossible for me to work with him any further, to give him a forum for giving advice that he is accused of not following himself.​​
Several of Deen's adult-industry colleagues have also cut ties with him following the accusations.
"We are taking the allegations against James Deen very seriously," Chad Braverman, COO and creative director of Doc Johnson, a manufacturer of James Deen adult toys, said in a statement Monday. "And in light of the recent accusations, we have decided to no longer proceed with the products that we make on his behalf."
Online porn-video company Evil Angel also said it would no longer sell any newly created scenes featuring Deen.
"While our company presents what is consensual and exploratory about aggressive and rough sex, these accusations are of a nature so contrary to our company values that we feel it necessary to suspend the sales until more information is available," founder and president John Stagliano said.
That same day, Kink, the site of the alleged assault against Fires, announced in a statement to SF Weekly that it was severing all ties with Deen.
For the Kink.com community, as well as the larger BDSM community, consent and respect are sacrosanct. Effective immediately, Kink.com will cease all ties with James Deen, both as a performer and a producer.

Our performers deserve not only safe sets, but the ability to work without fear of assault. Rape or sexual assault, with or without a safe-word, off-set or on, should never be accepted as a hazard of adult production. While many of the allegations against Deen are new, the pattern is alarming. Over the coming weeks and months, we will review our Model Bill of Rights to strengthen rights of performers off-set, and work with the larger industry to help performers to have been assaulted to more easily come forward.​
The day after Stoya ​came forward about her alleged rape, Deen tweeted a statement calling the allegations against him "false and defamatory.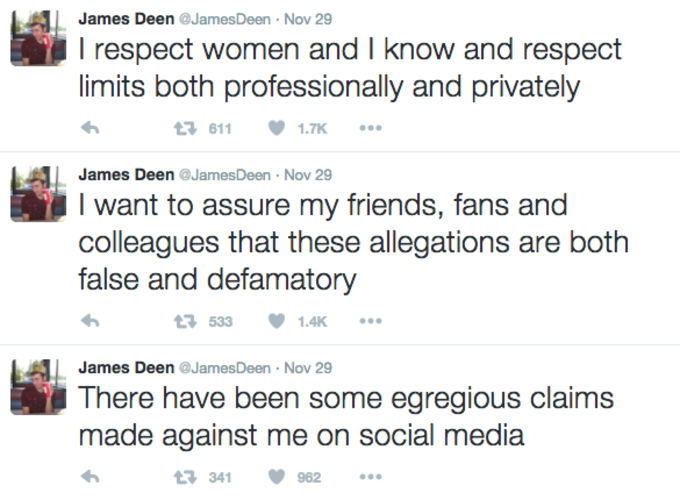 Deen has not yet publicly commented about the additional accusations against him.
Deen and Stoya did not immediately respond to NTRSCTN's requests for comment.