It's only Tuesday, but it's already been a week of really high highs and really low lows for Cam Newton.
HIGH: He played in his very first Super Bowl.
LOW: He lost in the Super Bowl—and then got ripped for the way he behaved during his post-game press conference.
But things appear to be looking up again! Unfortunately, Newton is going to have to spend the offseason thinking about what might have been during Super Bowl 50. But to help get his mind off things, he now has the option of reading his brand-new erotic novel called (what else?!) Dabbin' With Cam.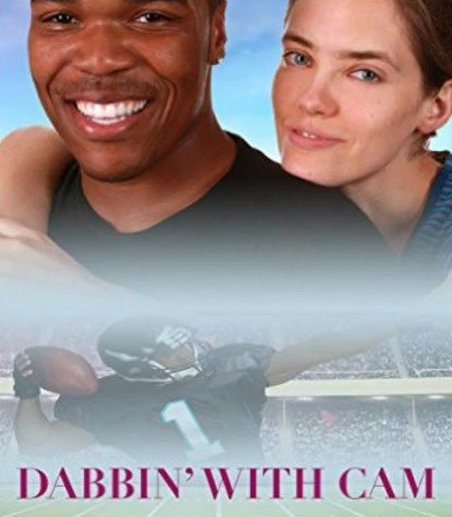 The book was recently released on Amazon by author Caroline Blue, and if you couldn't tell by looking at the cover, it's poised to go down as a literary classic. Here's a synopsis of the 45-page book:
Caroline's life is passing her by while she grinds away at her office job. 

That all changes when Caroline's friend, Emily, secretly enters her in a contest to win tickets to the Big Game...and she wins! 

Next thing she knows, Caroline is rubbing shoulders with VIPs, celebrities, and hot guys on the red carpet at all the parties surrounding the Big Game. 

After an unfortunate mishap during the game, Caroline finds herself lost, humiliated, and about to be arrested, until an event from the game brings the game from the field right into Caroline's lap. 

And that's not the only thing that falls in Caroline's lap. Caroline finds herself in the Panthers locker room face to face with MVP Cam Newton. 

Football's a game of inches, but not in Cam's case. Will Cam call an audible, andrun an end around? Or will he find a new tight end? When there's penetration in the backfield, this MVP knows you gotta stay focused and go deep. 

Will he find a hole and slide it in the crease? Or will he have to stretch to get it in? Will he get it off in time? 

Find out as he, COULD...GO...ALL...THE...WAY in this story about a girl finding herself, and a whole lot more with a fun filled happy ending.
"And that's not the only thing that falls in Caroline's lap…"? Guys!
There are only two reviews for the book available as of right now, including this one which we're preeeeeeetty sure isn't actually about Dabbin' With Cam:

But we have high hopes for it. We highly doubt it will live up to the standards set by A Gronking to Remember or the criminally underrated sequel A Gronking to Remember 2, but it's only 99 cents (or free if you've got a Kindle)! So what do you really have to lose? Go here now to make all your dreams come true.
Send all complaints, compliments, and tips to sportstips@complex.com.
[via Black Sports Online]