Paul George's first signature shoe started off as a sketch, as most signature—and non-signature—shoes do. One big difference, though: George drew up the sketch himself.
"Yeah, that was kind of a little hobby I had as a kid, I used to draw shoes," George says. "I wish I could find the art book I had that had all the different looks of shoes that I made. I was just bored one day and I wanted to express myself through the shoe as best as I could. I sketched one up and they kinda ran with it—we had some back and forth moments of what looked good, what didn't look good, what I liked, what I didn't, and what I needed performance-wise."
As for the sketch itself, it wasn't exactly a modern masterpiece. But it was enough to get designer Tony Hardman thinking. "He had a sketch that he did and it was—pretty terrible," Hardman laughs. "He's a better basketball player than he is a footwear designer. When we had a meeting with him he showed it to us and we passed it around and had a little laugh over it like, 'OK, that's cool,' but that sketch actually had a forefoot strap on it so it's like, 'Hey, that's a starting point for us.'"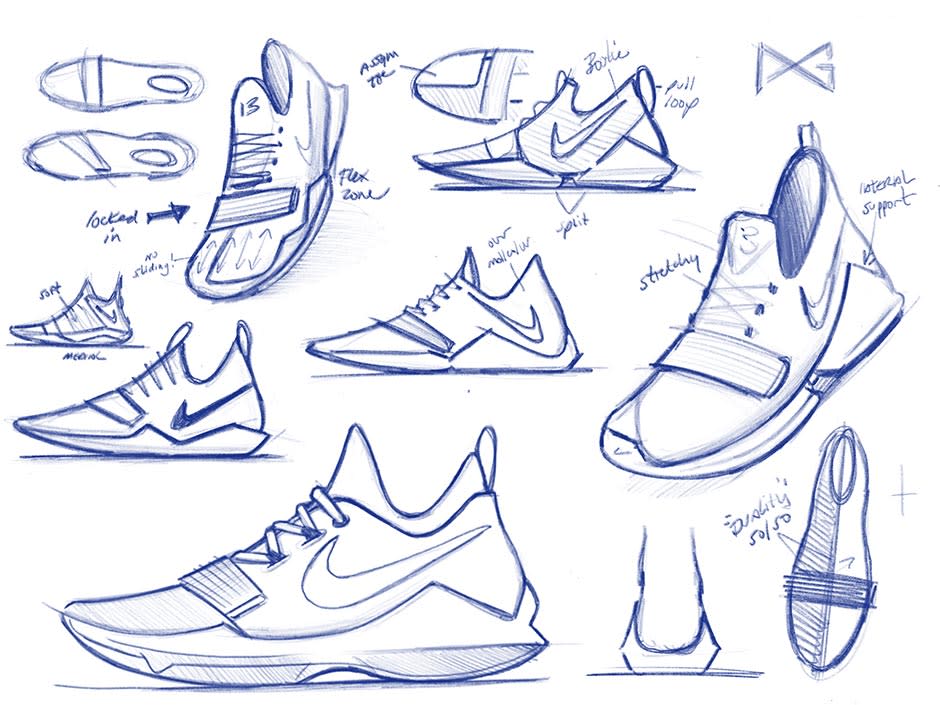 The finished product, which releases today in its first mass-market form, indeed has a forefoot strap, one that has evolved plenty from the one George sketched. "Let's get that right, let's make that work for different guys, not just do a layover strap that just sits there and doesn't do much," Hardman says. "You really want it to be dynamic. It started off well, could we put a D-ring over here and pull back through that? Well, it's in a flex zone. If we just run Flywire, the Flywire is gonna move, it's not gonna stretch, but it's gonna be dynamic and flex with his foot. And with the design of the strap, it's textile, it moves and doesn't dig into your foot, it just does what it needs to do functionally."
While the strap was what the shoe was built around, there were other considerations as well. Like comfort. Hardman said several times that one of George's biggest asks was to make the PG1 the most comfortable Nike signature shoe, which they accomplished via a large forefoot Zoom Air bag and a plush sockliner. Each provides a different feel. "We gave him this thicker sockliner, so when you step into the shoe it feels amazing," Hardman says. "But when he's really engaging on-court, boom, he has that big Zoom bag in there that's actually giving him some energy back."
Along with talking to him plenty, Hardman and the Nike Basketball team watched George play, noting his ability to make it look easy ("we call it 'effortless attack,' Hardman says) as well as his defensive versatility, picking up everyone from speedy point guards to bruising forwards. That all found its way into the shoe as well. "He's running the gamut and he needs to be locked in," Hardman says. Prior to the PG1, George had an interesting way of ensuring that.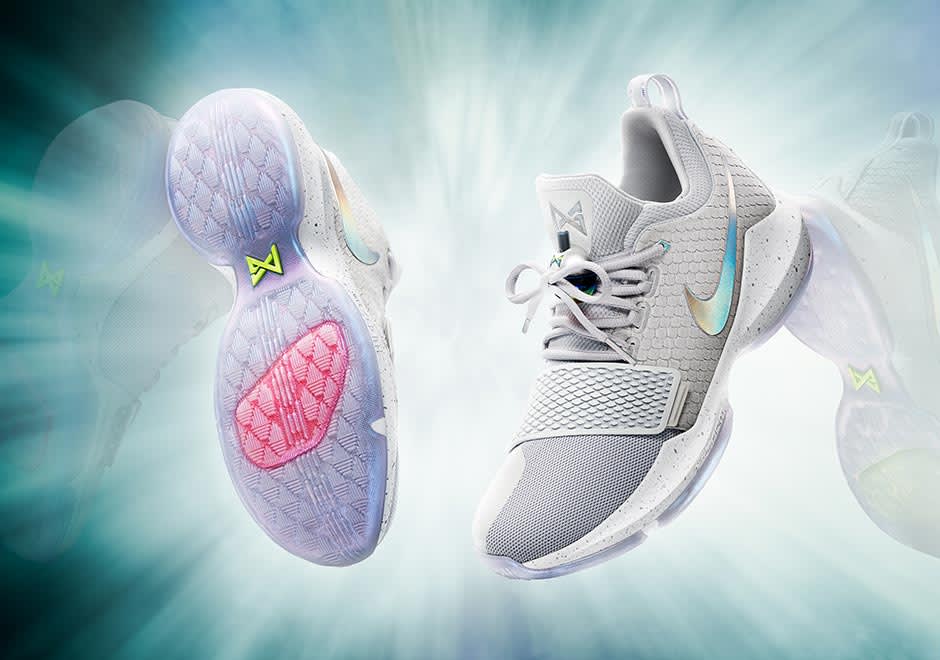 "He was wearing a shoe that was too small," Hardman says, "and we wanted to get him into a shoe that was his size because he was smashing his toes, and it was hurting when he was playing. He wanted that snug feel in the forefoot that he'd been used to from wearing a shoe that was too small, but, at the same time, he needed that lockdown too, being one of the best two-way players, coming around those screens, stopping to shoot threes, cutting—we knew he needed that lateral support plus that snug fit."
Aside from all that, the PG1 needed to slot in at $110, a near entry-level price point for a signature model. They accomplished that, oddly enough, by working with leathers and suedes, something now thought of as more of a luxury material than a performance one. It's also got a forefoot Zoom bag, the aforementioned strap, and a full-on inner bootie for the snuggest fit possible. "When we started off we just spent a day at his house talking about what he'd worn," Hardman says. "He loved Huarache, he loved that bootie feel, the Crusader was one of his favorite shoes, and you can see a lot of that in this shoe."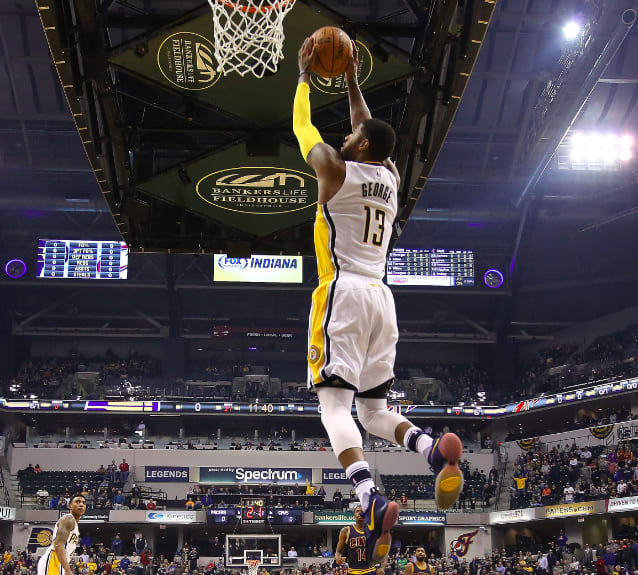 He also loves fishing, something that shows up in the scale-like traction and the bobber-styled lace lock. "There was a time me and Tony Grosso, the PLM, went to his house to meet with him and he was out on his boat fishing," Hardman says. "We had to wait an hour in his backyard watching him fish on the boat.
"We went bowling with him one time in Indiana, and I had this idea: the Jordan VI lacelock is very similar to how a fishing bobber actually works and I thought that would be a cool touch. It was kind of silly and a little corny, but just a fun detail that we thought we could bring in to tell that story about his personality."
They've already started on the PG2, which is intended to be a continuation of the 1, allowing an evolution of concepts—comfort and lockdown—that drove the 1. Like Kyrie Irving's line and Kobe Bryant's before them, the intention is incremental change through the first three models, at least. Then there can be a bigger change.
But for now, George is content to wear—and see—his first shoe on court. It's been a long time coming. "I'm gonna definitely hook my guys up on the team, they all want a pair, they all want to play in 'em, so that's where it'll start," George says. "But I got close friends that definitely want my shoes and a couple young guys I want the in my shoes. Hopefully I can flood the NBA in PG sneakers."