Meet Ganga, The Tattoo Artist Behind Lil Uzi Vert's New Full Body Tattoo
Lil Uzi Vert, Drake, Lebron James, Post Malone, Lil Durk, and many of the world's biggest celebs hit up Ganga for tattoo work. Here's an interview with Ganga.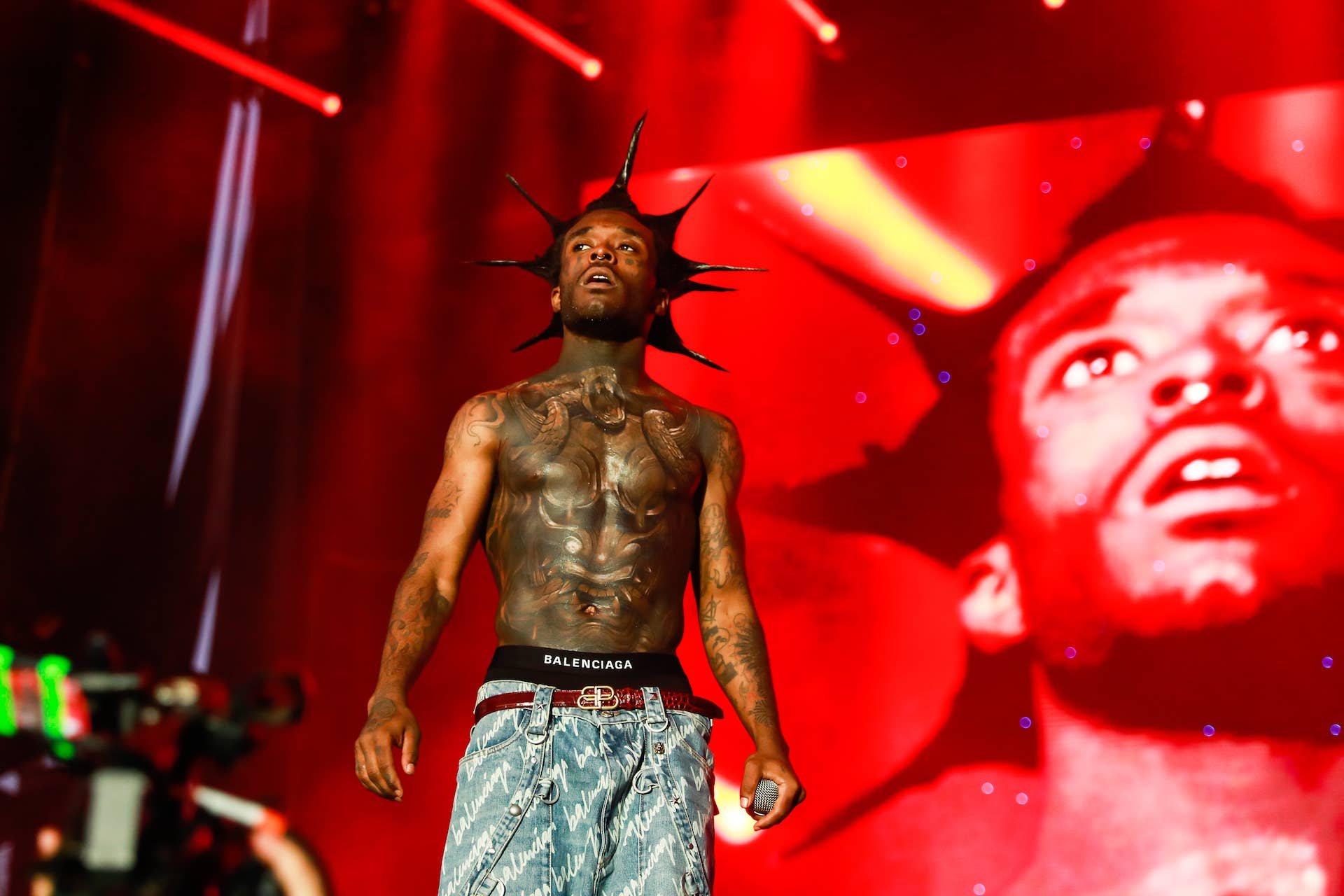 Getty
Image via Getty/Natasha Moustache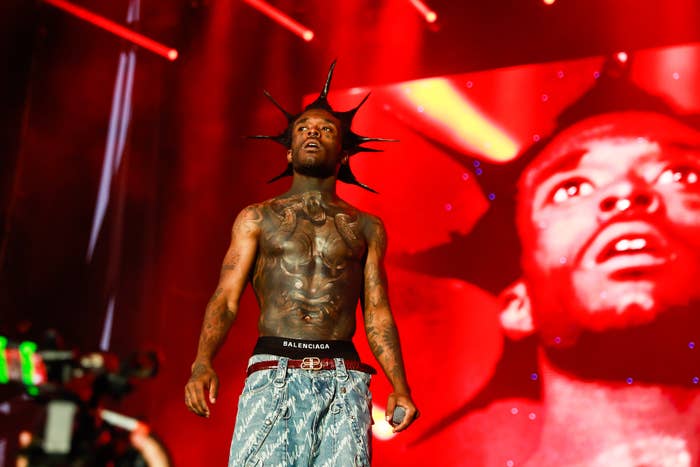 Lil Uzi Vert recently appeared at the music festivals Summer Smash and Something In The Water with a bold new look. No, we're not talking about his Kodak Black-esque haircut or those head-to-toe Balenciaga fits he's posted on Instagram recently. We're talking about those insanely detailed tattoos of a Japanese oni mask and samurai helmet that cover his entire chest and back. Uzi's latest ink wasn't a run-of-the-mill tattoo job. It was done by a highly specialized tattoo artist named Joaquin Ganga, who tells Complex that Uzi's latest tattoo cost well over six figures and was an arduous task. 
"The complete work lasted 16 hours, which we divided into two 8-hour sessions," Ganga tells Complex via email. "It is certainly a long and painful process. The client has to be very focused and aware of the development that a tattoo of that size entails."
Ganga, who runs his own tattoo studio in Los Angeles, is currently one of the most in-demand tattoo artists. Since getting his start in body art as a teenager growing up in Spain, the 30-year-old tattooist has inked everyone from Lebron James to Lil Durk—the latter bragged about how he spent $200,000 for Ganga to tattoo his thighs on the song "Federal Nightmares." Ganga has built an impressive list of celebrity clientele because of his hyper-realistic style that doesn't skimp on the details. Whether it's a tattooing a portrait of Tupac for Anthony Davis of the Los Angeles Lakers or an image of Virgil Abloh throwing a kite for Drake, Ganga's meticulous tattoos speak for themselves. 
Complex emailed Ganga to learn more about Uzi's new ink, how he became Drake's personal tattooist during the More Life European tour, why he puts some of his clients under anesthesia to complete his most expansive tattoos, and more.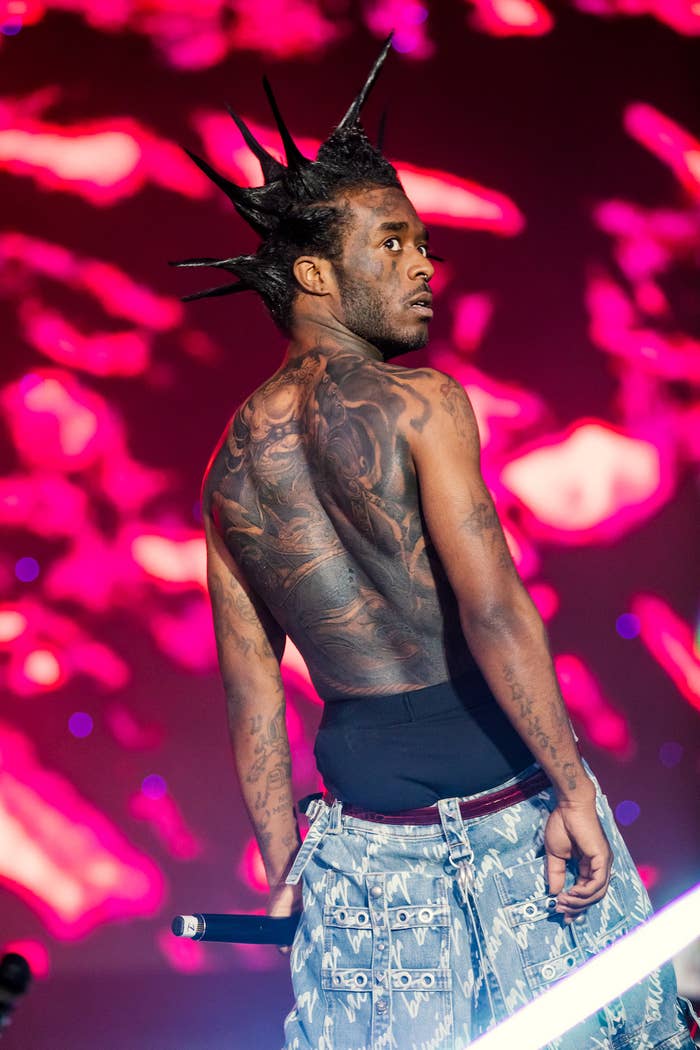 So how did you connect with Lil Uzi Vert about this massive full chest and back tattoo?

The contact came about because I had already done this type of work for Lil Durk. As soon as I posted it on my Instagram, a lot of people wrote to us asking about my work, one of them was Lil Uzi Vert.
What were your first thoughts when he told you about this idea? Were you nervous?

Doing work like this is an extraordinary challenge. It is very exciting for me to carry out projects that make you grow as a professional. I wasn't nervous as it's not my first time doing a tattoo like this, so I know you need to be relaxed and have a high degree of concentration for everything to go well.
How long did it take to make?

The complete work lasted 16 hours, which we divided into two 8-hour sessions.
Is a job like this painful? 

It is certainly a long and painful process. The client has to be very focused and aware of the development that a tattoo of that size entails.
What was he going for exactly? It reminds me of what I've seen on members of the Yakuza. 

After a creative process in which we considered several proposals, we ended up choosing a design that was in line with Lil Uzi's tastes. We thought that a mask in a realistic style would look great at that size and it turned out to be a hit. The tattoo is really just a creative idea and has nothing to do with the Yakuza.
Obviously, you've been in the tattoo industry for quite some time. It's interesting to hear that you actually were a graffiti artist in Spain before diving into this industry when you were 17. How did you transition from graffiti writing to tattooing? 

I have always been interested in the world of art. As a child, I spent hours drawing at home and at school. As a teenager I found in graffiti a way to show my art to the world, a way to express my feelings outside of paper. Later I discovered the art of tattooing and I wanted to take that creative path. I believe that every artist must find a way to bring their creative concerns to the world, whether through graffiti, on canvas, tattoos, sculptures, etc.
Generally, I know so many graffiti writers who have transitioned to become tattoo artists. Why do you think that is?

Let's say it's a way of making art come to life on a person's skin, or at least I see it that way. Each artist has their motivations to express themselves in one way or another, in my case, it was an evolution in my artistic career.
I peeped you traveled to New York, Miami, California, Thailand, Dubai, and Germany before opening your own studio in Los Angeles? Why did you travel around the world to pursue this artform and how long did it take for you to get to where you're at today?

One of my dreams since I started tattooing was to have my own studio in Los Angeles. It has been 15 years of hard work and a lot of perseverance to achieve it. During my career I have tried to meet artists from different parts of the planet and learn from different cultures. Whenever I can, I leave my circle to discover the art that exists throughout the world.
How did you develop this hyper-realistic style that has garnered you an impressive list of celebrity clientele?  

Tattoo, tattoo, and tattoo. The beginnings were difficult and sometimes slower than we want. But I have never stopped working on perfecting my technique and improving as a professional.
Last year, a tattoo done for Drake commemorating Virgil Abloh went viral. It's interesting to learn you've had a real long relationship with Drake. How did you exactly end up going on tour with him? 

I tattooed one of his best friends, did a realistic portrait of him, and when Drake saw the tattoo, he suggested I stay with them in London for a few weeks. Tattooing him was an unforgettable and very significant experience in my life. After tattooing him in London, they invited me to his tour and I tattooed him again, this time I did the Lil Wayne portrait. It was the More Life European tour.
What did Drake exactly tattoo on your ankle if I could ask?  

Drake tattooed his signature on me. It is a tattoo that immortalizes that moment I remember with so much love.
You've worked a lot with Post Malone, a true tattoo connoisseur as we all know, even while he was at the dentist. What was your favorite tattoo you did for him and why? 

The tattoo that I liked the most was the first one I did for him. In addition to the emotion I felt living that moment, I loved the result. It was a realistic skull on his shin.
Curious, is it common for you to put your clients under anesthesia to complete jobs? Why?

It is a technique that I have been working on for some time and that allows large tattoos to be made in large areas without the client feeling the slightest pain.The intention is to improve the user experience and shorten the implementation process in large projects like full backs, full breasts, arms, or legs.
For me it is a great opportunity to add value to the tattoo industry and I am proud to have been the first tattoo artist to implement this technique. More and more people are interested in this procedure and it is becoming normalized.
What is the price range for your services? 

It's around $100,000 for one day of work. 
What has been your favorite tattoo to give to a celeb and why? 

I have really enjoyed tattooing the two legs of Odell Beckham Jr. Not only on an artistic level, but also on a personal level and as an experience.
You've supposedly got an upcoming sneaker collaboration, can you talk more about that? 

There are many artistic projects in progress that are about to see the light. In addition to that, at the moment I am focused on the expansion of the Ganga Tattoo brand in different cities in the United States and Europe.
What's in store for you and your team in the future? 

Assured success.