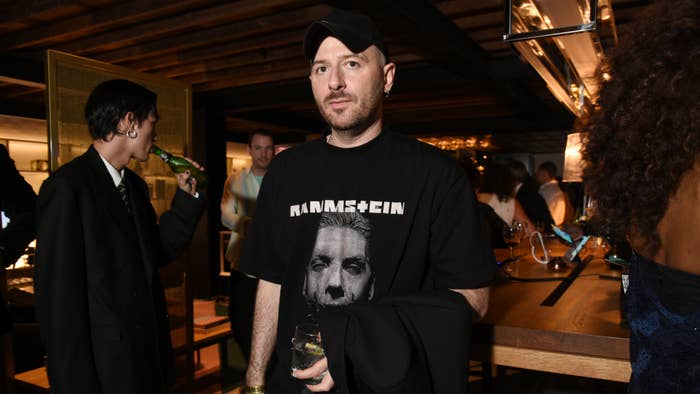 Demna haș spoken out at length, and with great candor, about what the future of Balenciaga may look like following last year's controversies.
As readers will recall, the controversies in questions were related to two separate campaigns from the brand, specifically its Gift Shop and Spring 2023 rollouts. The former, as argued by conservatives-led criticism, featured children amid imagery claimed to be inspired by BDSM. The latter, meanwhile, spurred headlines after people criticized a number of background props in the campaign images, including a Supreme Court ruling focused on child pornography.
Multiple responses and official statements from the brand and its creative director followed in subsequent weeks, as did reports of legal action that was later confirmed to have been dropped. The latest address arrives in the form of a new Vogue piece, which sees Demand detailing how he hopes Balenciaga can move into the future following these issues.
Of particular note, Demna pointed out that the Gift Shop campaign was "absolutely not" inspired by BDSM and was instead visually informed by elements of punk. Also, he said, the two campaigns were "completely unrelated" to each other and were shot months apart, a facet that was almost entirely lost amid last year's criticism.
Still, Demna is apologetic about his role in the images. On the Gift Shop campaign, he said he "didn't realize how inappropriate it would be" to have children placed in the middle of certain objects.
"There were control processes in place, people involved—internal and external—but we just did not spot what was problematic," Demna toldVogue. "This was an error of judgment. I regret this a lot. We learned from this now and there are going to be closer and more attentive checks and validation steps applied before any image goes out. For this I want to say I am sorry; I sincerely apologize for what happened and to anyone who has been hurt by it."
As for the props scandal surrounding the Spring 2023 campaign, Demna said this was the result of what he described as "a set of negligent and unfortunate but not intentional coincidences." In short, he said, he and the rest of the Balenciaga team were "shocked" when they learned of their inclusion.
"I don't how they ended up there,' he explained. "They were not supposed to be there. I was completely stunned."
Elsewhere, Demna pushed back against the assertion some had made that these controversies were intentional and part of his oft-provocative approach as an artist. And as for looking ahead, including to what he says is an "evolution" at the core of the upcoming March collection, Demna said he's gone back to "the roots" of both the Balenciaga name and his initially more hands-on love of fashion.
Procedural changes have also been implemented, including "a new image board" that will check and validate images before publication. Changes are also in place for Demna as an artist, with his back-to-the-roots approach also seeing him in a state of questioning "absolutely everything now."
For the full Vogue and Demna conversation, read here.
Earlier this week, Balenciaga and the Kering Foundation announced a new partnership with the National Children's Alliance (NCA). The NCA is known as a "professional membership organization" with a focus on keeping children safe, including via various partnerships and pushes for policy changes.
The Balenciaga, Kering, and NCA partnership is billed as a three-year program comprised of multiple initiatives. Among them, per Balenciaga, is the training of hundreds of child abuse experts. Additionally, as many as 55,000 children are expected to be provided access to mental health programs through the partnership.