How Edison Chen and Kevin Poon Had CLOT Stand Out at NYFW
With their first New York Fashion Week show, Edison Chen and Kevin Poon brought their Hong Kong brand, CLOT, to NYC and showed upcoming Nike, Fear of God, and John Elliott collaborations.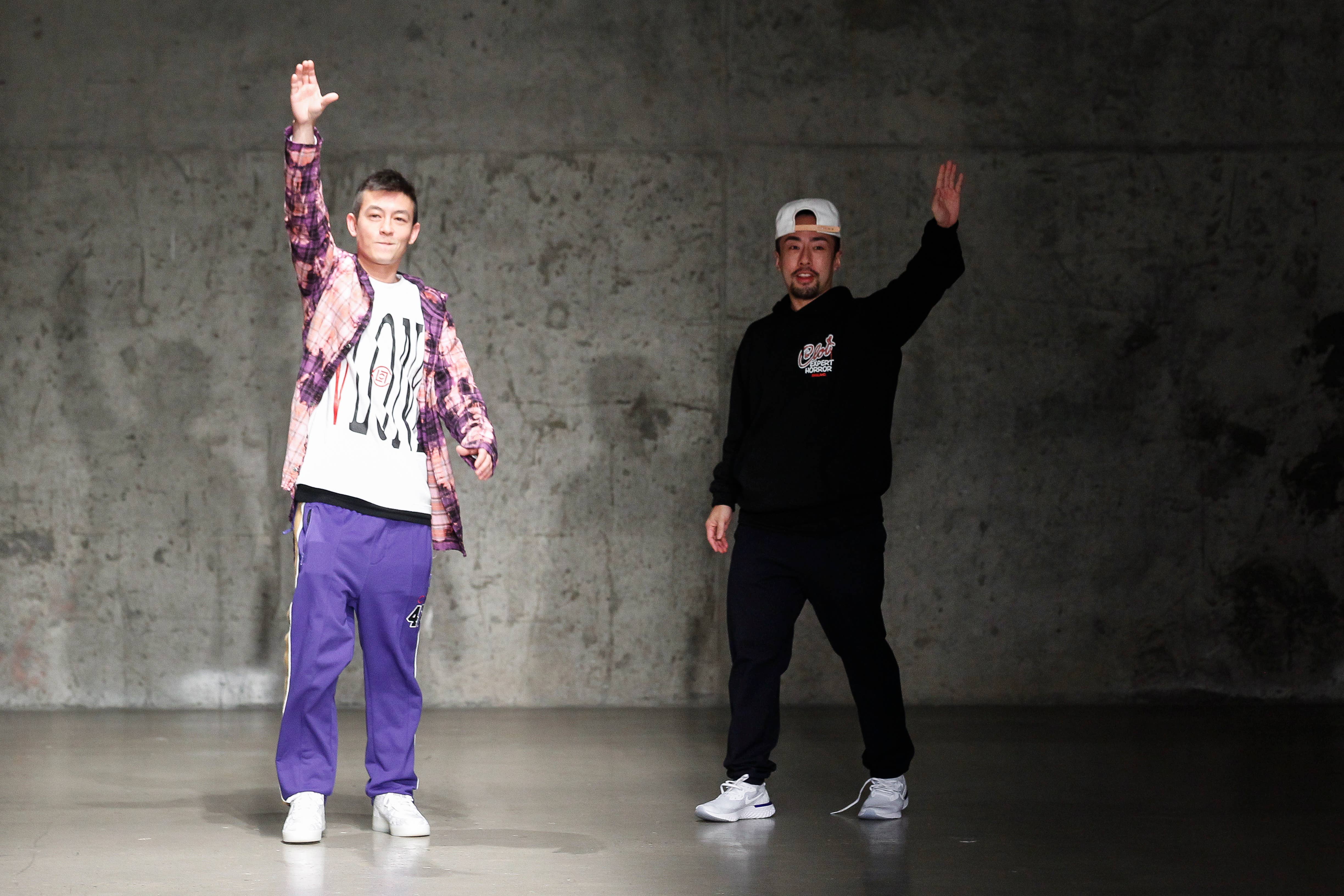 Publicist
Edison Chen and Kevin Poon. All photos by Dan and Corina Lecca, image via Publicist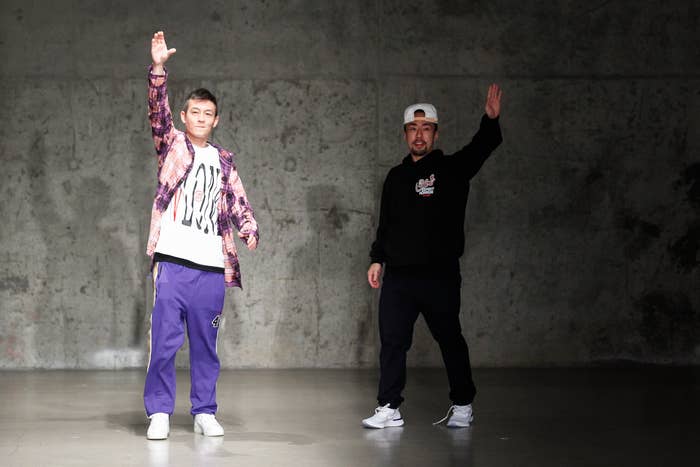 CLOT doesn't need to prove shit to anyone. The Hong Kong sneaker boutique and streetwear brand, founded by Edison Chen and Kevin Poon in 2003, has cemented its status as one of the biggest movers and shakers in the industry. It had its first New York Fashion Week show last night, and it was a who's who of the sneaker game.
The models (including Aleali May, Sean Wotherspoon, Christina Paik, and Nigel Sylvester) walked out, one by one, and showed off a selection of the collaborations as well as upcoming products, like the Nike Air Max 270. The clothes were a mix of worlds—there was sportswear, cropped trousers that are a nod to the brand's streetwear roots, and traditional Chinese fabrics and garments woven in to tie the collection together.  But the night wasn't just about what sneakers and clothes are coming out soon—although there's plenty of good stuff, specifically the Air Force 1, which is a reinterpretation of the brand's 2009 collaboration on the shoe, done-up in a white silk upper with ornate Chinese symbols of luck and prosperity—but that CLOT is relevant in a new way thanks to its Air Force 1 collaboration, as well as projects with Jerry Lorenzo's Fear of God, Converse, Sacai, denim with John Elliott, and a soccer kit with Nike for the World Cup in Russia.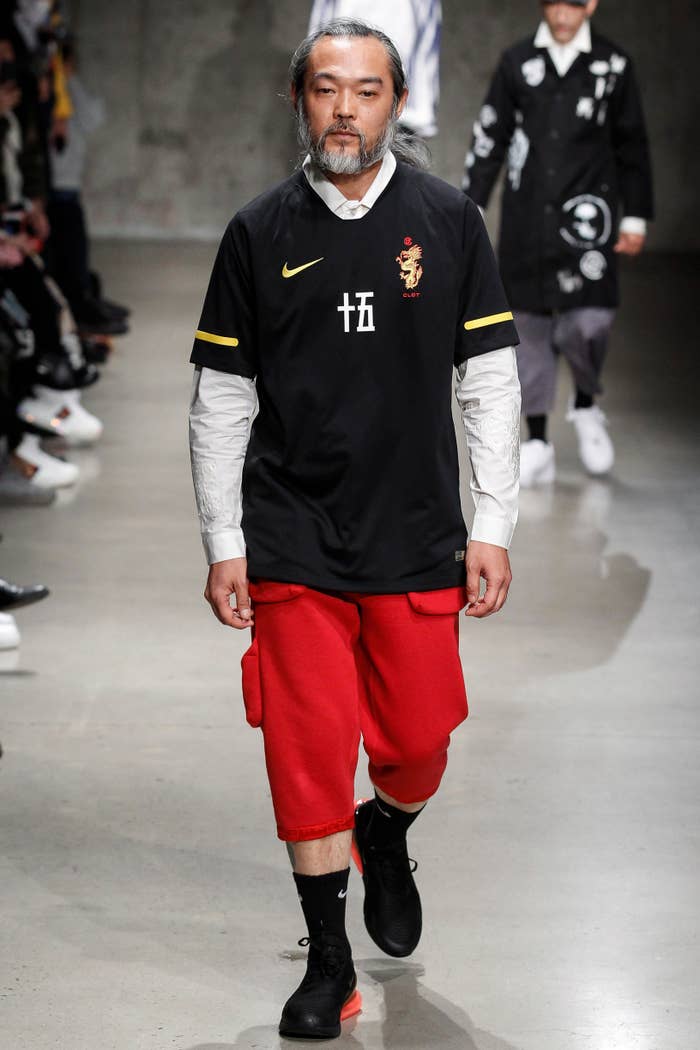 For those keeping score, CLOT never went away. None of its contemporaries really did—including Stash, KAWS, and Futura, all who were in attendance last night—but rather that the brand is being recognized as one of the most important and long-standing voices within the streetwear world. CLOT has had collaborations with nearly every major footwear brand, as well as projects with Levi's, its own clothing line, and the opportunity to make a limited run of Air Max 1s in 2007 for Kanye West's "Touch the Sky" tour, where two of the four pairs were given to the man himself. Nike collaborations don't come often for any brand, but CLOT has figured out a way to stay consistent with the Swoosh.
"We're really blessed that Nike came back to us and started working with us again. We're Nike Boyz," says Chen, who gained fame in film and music before he became Hong Kong's cool streetwear guy.
The past for CLOT and Nike has included sneakers such as the previously mentioned Air Force 1 from 2009, as well as the see-through Air Max 1 from 2006, as well as recent shoes such as an all-red VaporMax from last year that resells for upwards of $600.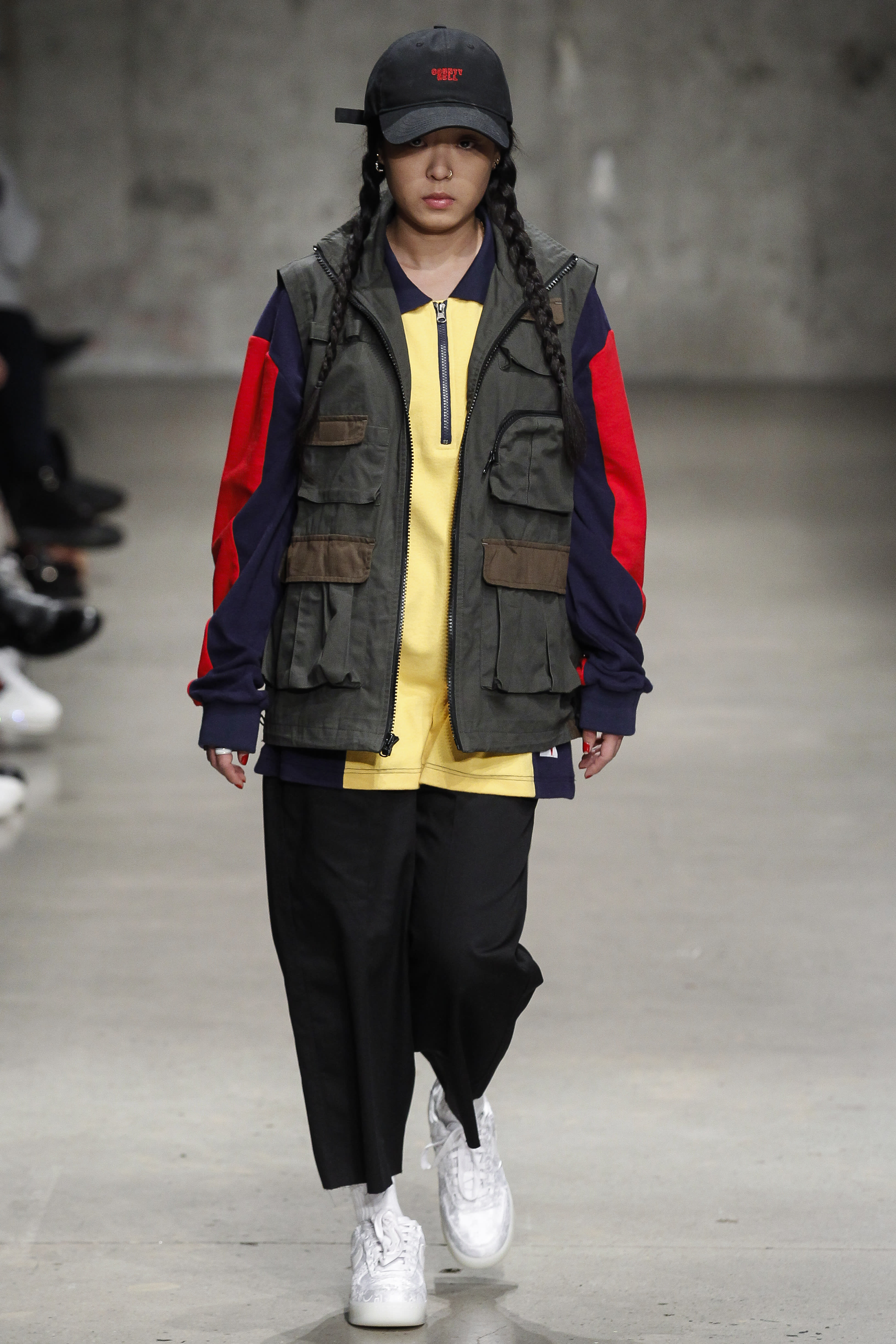 "That's our long-time family," Poon says, in reference to working with Nike.
"We're trying to push the envelope with the stuff that we create, while staying true to ourselves. We got a bunch of other stuff coming out soon," Chen adds.
Although he's not a household name in America, Chen is a big deal in Hong Kong and China. There's a mad scrum around him backstage after the show finishes, and as GQ editor-in-chief Jim Moore walks over to take a photo with Chen and Poon, a barrage of 20 or more photographers from Hong Kong and Chinese media outlets, DSLRs in hand, appear and start furiously snapping photos. A reporter from a Chinese newspaper even pushed her phone in to record my interview. The scene is so hectic that KAWS is casually standing in the corner, almost blending into the wall.
The fact that CLOT is still this big of a deal isn't lost on its founders, either. "I think we got a second wind, you know," Poon says. "We got re-energized and re-focused on CLOT and making it the best possible."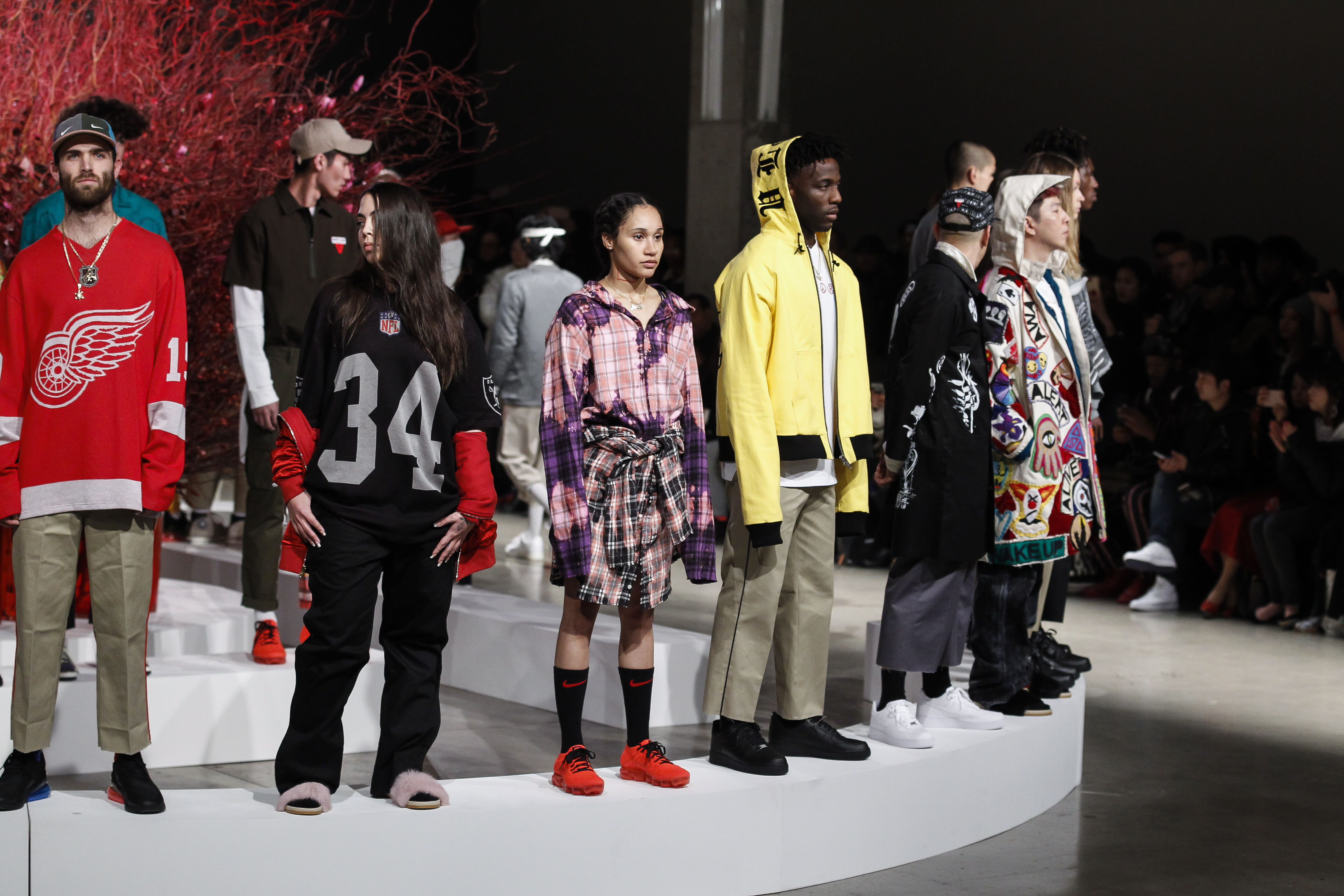 In the middle of the interview, Futura walks up to Chen to congratulate him on the show, briefly pulling him away from the conversation.
As the industry has changed, some brands come and go, CLOT has been able to stay relevant, even if it's come in spurts. And none of this comes just by luck, regardless if CLOT is putting symbols on their sneakers to bless them with it. As Chen says, "I also think it's a testament to how serious we are to our craft. We didn't give up. We've been going through the motions with the industry as well. The industry goes up, goes down, goes up, goes down. But we're constantly trying to stay creative. We're just blessed to be around and have this opportunity."
While CLOT brought its brand of Hong Kong streetwear to New York last night, it's also been importing NYC culture back to China, with a recent festival called Innersect that featured a performance by ASAP Rocky. The event also gave the brand an opportunity to collaborate with Jerry Lorenzo and Fear of God.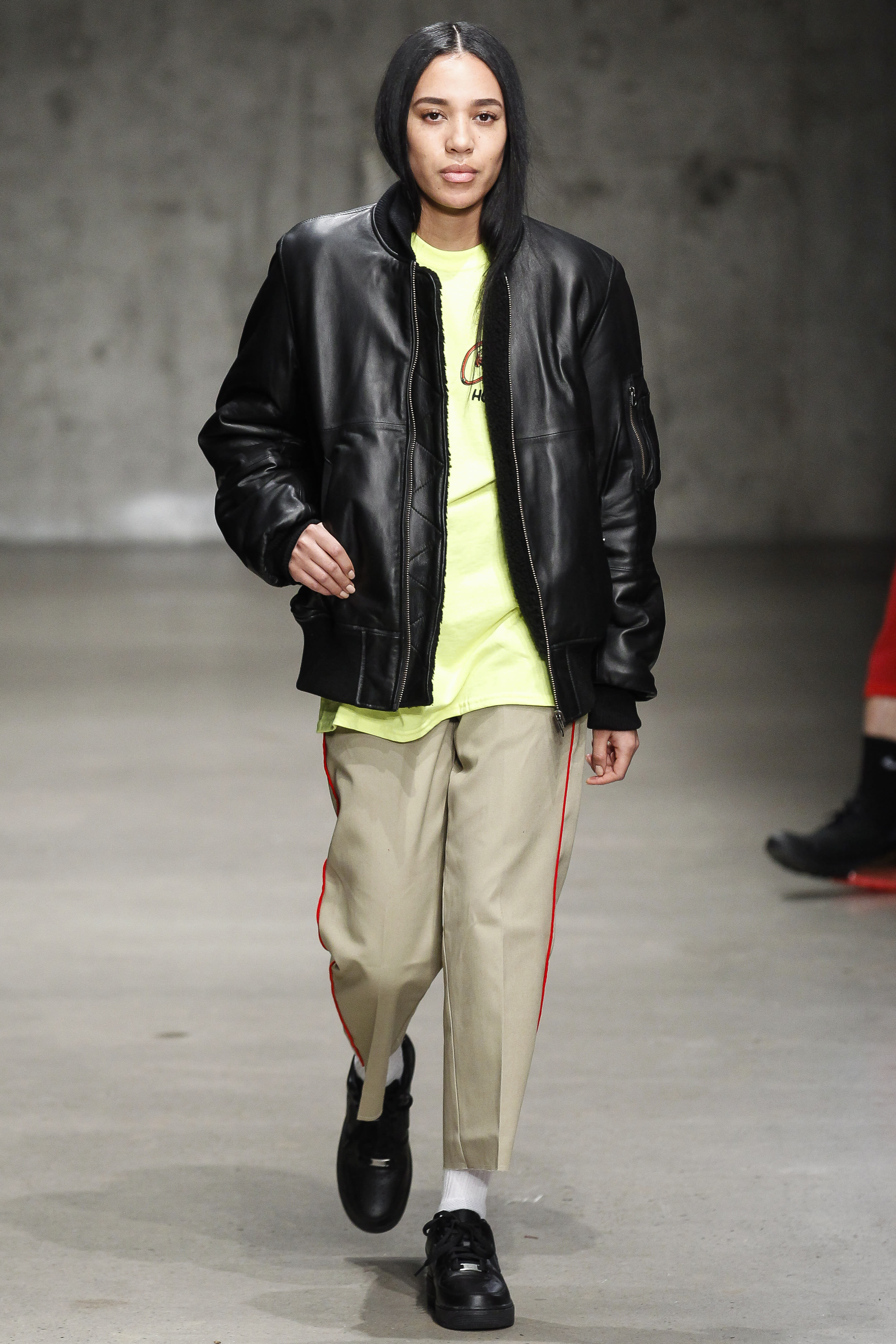 "We have a real true respect," Chen says about Lorenzo. "We brought him out to Shanghai for Innersect, for some projects and stuff. It's always like that: You give some, you take some."
"That's what friends are for," Poon adds, with Chen saying back, " I think that's what collaboration is about."
For the past 15 years, Chen and Poon have made a career working together and with others. But if this show is any indication, CLOT's connections are stronger than ever.