Wearable technology is the future, I think we can all agree on that. Adam Derry was the mastermind behind will.i.am's fully functional cellular Gucci suit at this year's Met Gala. The suit had the capabilities to text, call, play music, and many more features that you wouldn't believe. The hanger worked as a charger, giving a whole new meaning to "charged up."
Adam started his creative brand development agency, ADBD, back in 2007. His numerous successful projects caught the eye of will.i.am, and by the end of 2012, he began to act as creative director to the Black Eyed Peas star. He is now a pioneer in the fashion world, pushing culture forward every day.
Post Malone, Kwame Boateng (Bieber's BFF), and All Def Digital signee Mystic Got Jokes have all been seen rocking the latest ADBD apparel. This month, Mr. Derry opened up his second clothing store in the lobby of the W Hollywood Hotel.
"But I just wanna design hotels and nail it." Catch up, Kanye. Adam Derry has already been there and done that. Check out the interview with the man who is changing the future of fashion through his ADBD brand.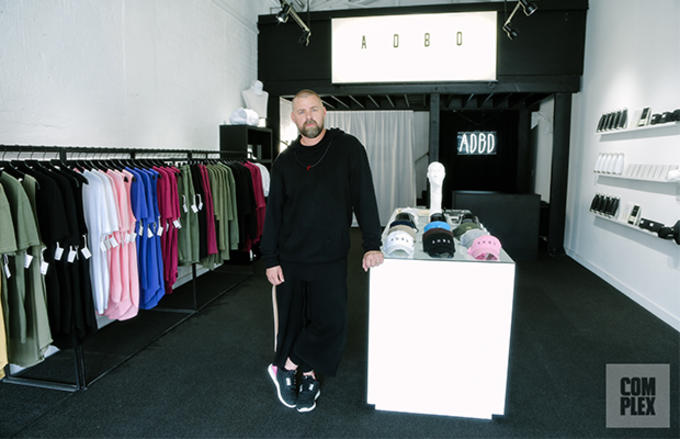 How are things?
They're really good, bro. I've had this really incredible journey through my creative story and my music and then moving to L.A., and you know, obviously meeting Connie [my wife]. And then success in fashion and then my own branding agency, and working with Will [will.i.am]. It's just sort of like this constant progression/evolution story, man, and it's been a wild ride. I didn't know what I was assembling my skills for, you know? It was like assembling weaponry. [Laughs.]
Absolutely.
And so it's cool, man. I got a dope ass son named Ryder. He's almost 6, he'll be 6 next month. And man, we're super, super blessed, man.
That's awesome! Well, tell me a little bit about the agency, the ADBD Brand, and what things are looking like right now?
Man, well you know, we started our agency in 2007. Since then, we've launched or fixed or altered the path of, you know, 25 or 30 brands. Through that process, I became a creative director on multiple high-profile projects, and that caught the attention of will.i.am, and I became his creative director at the end of 2012. I mean the kind of fast-forward story is, I opened a shop on Fairfax [in L.A.] in 2013, and the idea was to really cut all the distance between us and culture. So Fortune 500 companies were hiring us to give brand strategy on what's happening in culture, and we kept telling them that they didn't really see who it was and we can show them. And we did. And so through collaboration and impact, we were able to directly, not only be a part of that culture, but then alter it. And out of that process, ADBD as an agency was collaborating with companies like Vision Street Wear, The Squad, artists like Tonia Calderon, and other musicians, and we developed our own forum. We found our own identity as a brand itself, and so in that process of original collaborations and a collaborative model, it evolved into its own forum. So we've made a standalone brand ever since, and it runs parallel with our agency.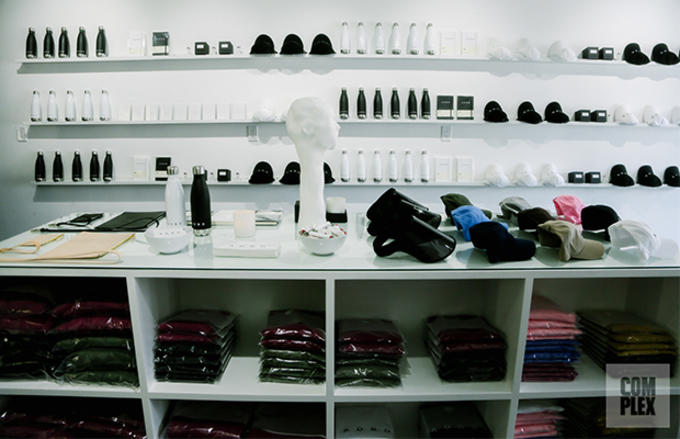 How exactly did will.i.am get word of you and your brand?
It was really about the agency, right? That's what attracted him to me and my work. His executive team had known of me and brought me in, and my first project that I did with Will was running a program called "EKOCYCLE." His idea was this: Can you make luxury goods using recycled materials? That was the premise. So I was brought in to execute that, and worked with Coca-Cola and Will directly, and I designed almost 300 products with over 20 global brands. Brands like Levi's, adidas, MCM Luxury Bags, Globetrotter Luggage. We launched the world's first sustainable 3-D printer. We won the Innovator of the Year Award from WGSN that I got to accept in London last year. We're nominated for a LIMA Award this year. We'll know this summer. So we've not only done really high design work, and dope fashion, and breaking that mold, but we've been recognized as innovators and people who have really advanced ideas forward. And so under Will, I get to be this sort of hired gun I guess, and he curates creators. That's what Will does so well. He is a creator who curates creators, and then we are brought in to help influence these influencers and create these incredible ideas. And so that was the same sort of ideology I did with the Met Gala, and the premise was: Can we take his AneedA operating system from his i.am+ technology and put it in a wearable garment? Untethered to a phone, fully connected, and we had seven weeks to do it. Not only can we do it, can we develop technology that's never been done before, and then can we infuse that technology into a custom Gucci tuxedo? [Laughs.]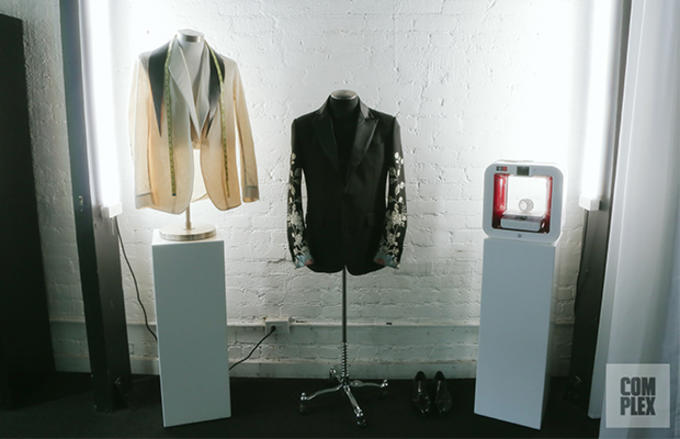 Wow, that's insane.
And so we did it!
So from a technology standpoint, what exactly was in the suit?
We re-imagine the interior complexities of his dial watch that he just launched at Three [UK] and exclusively at Apple last month. So in London with Three UK and then exclusively here at Apple—a major, major, major deal. But the idea is that AneedA, the operating system—it's just like a Siri but an AneedA system—can be modular and can live everywhere cause she is everywhere. So it's just where she manifests. So we took that and put it inside the jacket. Specifically, we designed a removable shawl collar system that was entirely intact that could be removable so you could wash and clean. When you hung it on a hanger, it used QR charging, so it charged on the hanger as it hung. And it did everything that an AneedA system could do, whether it's playing music out loud on the speakers or making phone calls or [sending] text messages, you know, just like you can imagine.
Right, and you put it on a Gucci suit.
In a Gucci. [Simultaneous laughs.]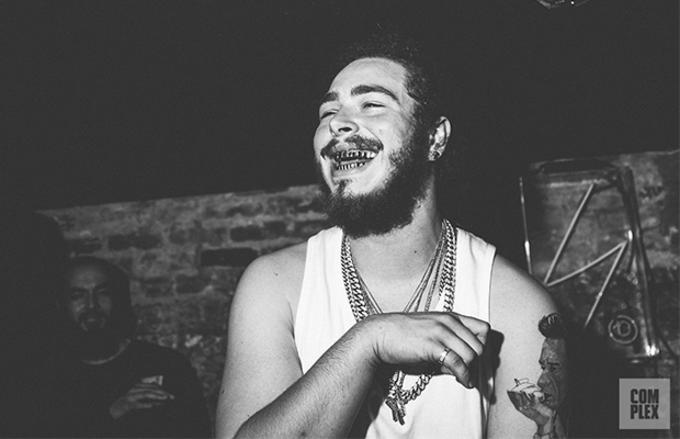 And then I saw a couple weeks back that Post Malone was wearing your stuff on the Purpose Tour. How did he get to see your stuff?
Well you know what, we're blessed to be on the awareness of influencers, man. So you know, being here on Fairfax has certainly given us a high profile of interactivity. We're also very different than many of the other stores here on Fairfax, with the exception of a couple that are certainly pushing the envelope. And so if you're coming to shop and have that higher-end, exclusive experience, there's only a couple places on the block and we certainly attract that kind of consumer. Everything we do, Jason, is really thought through. Our ideology, and our agency, and my creative direction, and my brand are all the same. Our logo, if you've seen it, is a block. It's a perfect rectangle, and that block represents "the Uncarved Block." It really comes from Daoism, and it's that idea of the most powerful self is that whole self, so the power of the sculpture before you even begin to sculpt.
And so if you're a brand and you're coming to hire us to either create you, or mend you, or give you strategic direction, we bring you back to that best self and then form that brand to be its most successful. Same thing with our clothing: We have designed it so it represents a certain form. It works on men and women. It redefines where waistlines are. It's made using sustainable materials. It's really important for us to do something different, and what working with Will has done, he's helped me work on projects that can complete the entire cycle of a story. And so what I've created with ADBD is a brand that is fully self-sufficient. We do not wholesale, we're only vertical. We just opened our second physical store, and it's at the W Hollywood, and through that, we're creating a utopian retail experience that is going to be integrated even into the room service. So imagining the future of consuming fashion where you fly in from New York and you don't even bring your luggage, and we have the entire collection in your room in size medium waiting for you. You take what you want, everything else gets brought back down, and your room gets charged.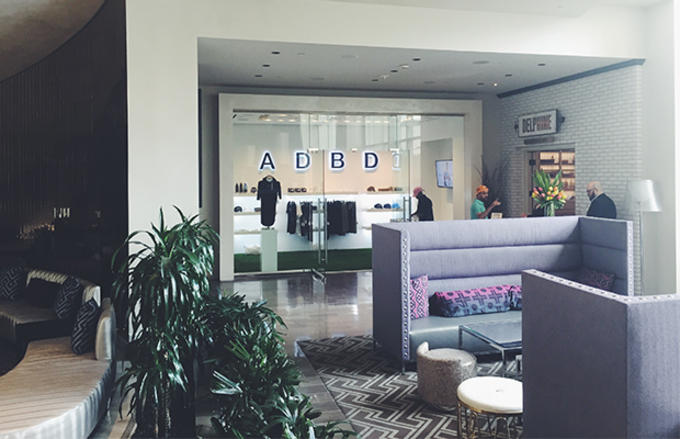 That's amazing. And you worked with W Hotels in the past, right?
Yeah, I have. You know, we did a program where we redesigned all the sheets in their North American hotels—over 8,000 rooms—and we used sustainable materials. And that was revolutionary. And then I've also done some really great cultural work with them on sort of just identifying what they're doing in culture and sort of allowing my perspective to help, you know, mold into some of their ideas.
Awesome. What other celebrities and influencers that you haven't worked with would you like to work with in the future? 
Oh man. That's a really interesting question. That's great, OK. So for me, there is a…. We are a little bit lost in a culture of collaboration, and I think that there are many brands and stores that are relying on one another instead of building it into themselves. I think that brands and artists need to start building their own straight vertical creations. People need to put out an album with no features. No features. People need to put out a collection that isn't based on sort of a gimmick of limited edition when really all they're doing is buying it, selling to someone else, and then someone else is buying it and eBaying it. That's not real. That's not real. And so for me right now, I'm less interested in working with known front-end collaborators and more with people who are working in the way things are made. So people like Elon Musk—people who are rethinking the way things are being made. That is so, so important for me. What I want to do is as a brand and as a creator, is to challenge people to make what they can sell and sell what they can make, and create retail stores that represent that, and don't make product that relies on someone else selling it and then discounting and moving goods. That's only bringing it down. So I'm about a pure form, man, and I think that we've taken the time to evolve into a model that can work. And so we wanna collaborate with people who are making amazing fabrics. People's stores who, uh… Yeah, that's it. That's it.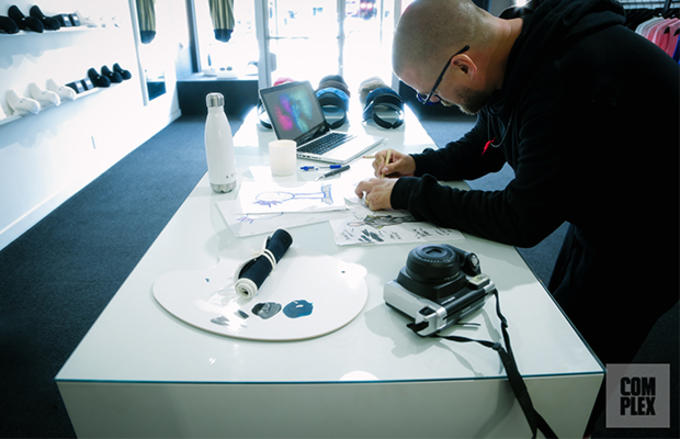 You're super passionate. I love it.
[Laughs.] Dude, it hasn't changed, you know? I know that I have a purpose, and so as I've been myself evolving in this thing, Jason, I can feel my presence around the world. I mean, I've done work that's touched the entire world, you know? I launched the world's first high-end, luxury Harley Davidson line. I've sold things all over the planet. We've sold in every country in the world. I've worked with every major license. In my past life, I've signed deals with NBA, NFL, Disney, you name it. Bro, I got here to my shop this morning. Now, I have these three places I work at: Will's studio that's called The Future, I work at my space at the W Hollywood, [and] then I work at my creative space here at the Fairfax store. So I get here today, and the Life of Pablo shop ended yesterday, right? The L.A. one. And it's right across the street from me, and it's a really interesting thing to see that aftermath. The empty streets that are littered with trash, the 30 trash bags sitting in front, and you can feel the sort of manipulation of culture. I'm not saying that's a bad thing, but when you can still feel it, you understand the power of it, and so we are one by one by one affecting these stories. And when you come into my shop or if you meet our employees, this is how we all talk. It's the same way we launch brands, it's the same way we re-imagine things, is bringing it back to our best self, and then just constantly striving to be that. So if we can do this model where we can redefine the way things are made, create amazing product that fits, and then create stores that represent a certain lifestyle, I think that we're onto something.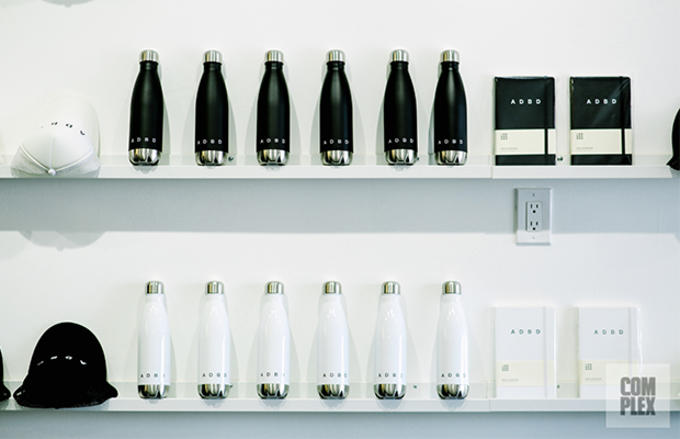 That's amazing, man. Now I have to ask, are you a Kanye West fan?
Yeah, of course. You know, I've been blessed to spend time with Kanye. I've had some really intimate conversations. His passion is real, and what he should be doing is not creating an archetype of which this generation should emulate. What people should see him as is look at the power you can have when you find yourself, when you own who you are. That's what Kanye does, and when you're around him, you're willing to take that emotional ride because he's just present and he's who he is. And so that's what we need to get in this culture. I can't imagine being 25 like you right now, Jason, because you have to cut through so much stuff. There's just so much now to get through that atmosphere. And so what Kanye proves is that you can be you and you can change the world. So I like him. And you know, I've had some great moments with him, enjoying him. He's a powerful artist.