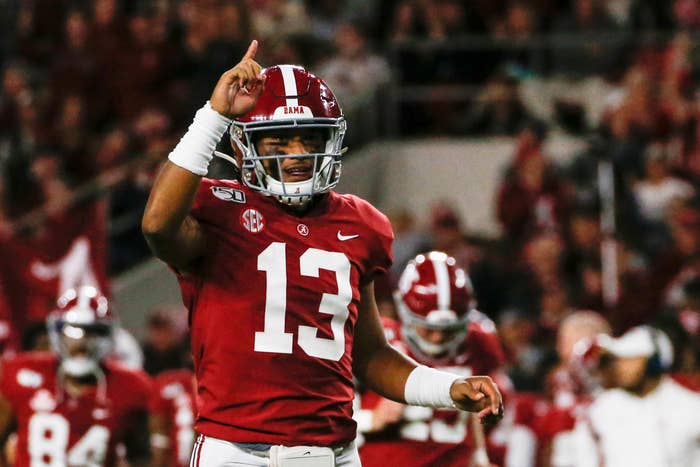 Tua is ready for the NFL Draft. He doesn't know what's going to happen when the first round kicks off tonight, but he's ready for it. For Tua, he knows tonight is going to change his family forever.
How is Tua preparing for the biggest night of his life? He's giving back and uplifting his community. Tua recently partnered with Lowe's to surprise a number of workers and thank them for all they're doing during the Covid-19 pandemic. That's just how Tua is. There's no doubt that Tua's leadership skills and character are going to translate to the NFL. He's built for this. 
With the NFL Draft upon us, we had the opportunity to chat with Tua on the phone about his experiences leading up to the draft, his thoughts on the 2020 WR class, and whether or not Nick Saban actually uses his iPhone. 
(This interview has been edited and condensed for clarity.)
I just watched the Lowe's video. Amazing stuff. What was that experience like being able to surprise their workers like that?
Oh man, it was awesome knowing that this was, especially for me and my family by calling some of those people at Lowe's and it was a really good feeling for me, man. I think I came away doing better than those guys did. Doing something like that. But it was really easy to do that. Especially knowing, how hard workers they are and how they help serve the community when it's needed most, you know? And at the same time, Alabama has been home away from home and has had such a big influence on me. So I guess my token of appreciation to them was, I invited them to the game wherever I ended up. Just a small kind of token of appreciation for the things that they do. So it was awesome in that regard.
Has it always been in your nature to want to give back, especially during a time like this?
For sure, I would say yeah, that's kind of how I've always been. You know, I've always seen my parents doing the same thing that's why. And kind of using them as examples that help mold me into kind of following, I guess their tracking and wanting to do the same by them.
Where would you say your leadership qualities come from? 
I would say it does come from my family, but I mean most importantly it comes from my dad with the talks that I have with my dad a lot of alone time with him. I mean just a lot of things that I learned from him. And then at the same time I have my mom kind of giving me wisdom from a different perspective, with the Bible in a sense. And so I would say, kind of combining the two how I would say my leadership skill is based solely off of relationships. That's how it is, you're able to create relationships with guys in the locker room on the field it takes care of itself. When you guys get into a heated argument. I mean that heated arguments can go from a hundred to zero real quick because of that relationship you guys built with each other off the field and that understanding you guys both have.
The Draft is here. How are you feeling? Any nerves right now?
Bro, I'm excited. I'm super excited for this. This has been a dream of mine, my entire life and this has been my family's dream as well. And they get to at least live this dream through me and well, what a awesome opportunity that I have. You know, that I have family members that look up to me whether they're old or younger and I can also pave the way for a lot of them in this sense.
Everybody is saying you're the surprise of the Draft. How do you handle that? Will tonight be a surprise to you?
Oh man. Honestly for me it's a surprise anyway. It's a surprise regardless, we're talking about a whole, a whole change in everything. I'll be the first person in my entire family in the lineage to be able to play in the NFL. I mean, I'll be able to be the first millionaire in my family. I'll be able to do a lot of things. So its unknown man, it's surprising either way for me because there's a lot of firsts with everything that's going on with this. 
How was this overall process for you? Not being able to actually visit with teams, but doing everything virtually. 
Yeah. I've gone through a lot of zoom calls with a lot of the teams communicated that way, but got texting done some here and there and then I would say I did medical rechecks at the nearest hospital from where I was living. So I was out in Nashville from February until about two weeks ago. I did my medical recheck up there and those guys sent it out. Doctors in Nashville sent that out to the teams. Teams communicated with me and my agent and everything was good. Everything looked clean.
There's obviously a lot of debates around the QBs, but tell everyone why Jerry Jeudy and Henry Ruggs should be the first two WRs taken in the Draft?
Man, you're getting very very competitive guys first off. You know, aside from their competition and how fast Henry Ruggs runs, how fast Jerry Jeudy gets out of his break and how good they are as football players. You're getting guys, like you're getting real men in that locker room, and guys that are willing to stick their neck out for you. Guys who are willing to do whatever it takes for the team to be successful. You're just talking about guys that aren't going to be an issue in the locker room and aren't going to be an issue long term for an organization.
You're a competitive guy and obviously you'll play wherever you get drafted, but does that come into play when wanting to be the second QB taken in the Draft? 
Honestly, throughout this process I know everyone says, "Ah, I'll just be blessed to be picked," but literally that's how I feel throughout all of this. Because you dream of something like this, like you're getting an opportunity to play in the NFL, you're getting an opportunity to go in and make your dream come true. For me, wherever, whatever team decides to pick me, that's where I fall. Regardless if its the first quarterback taken off the board or the last quarterback.
Have you thought about what your first big purchase is going to be?
That's a good question. That I have no idea. I've never even thought of that. I think I'll probably get something for my parents before I ever spend my money on myself.
Nick Saban just did an interview and he said not only has he never sent an email, but he said he's never sent a text message. He says if someone texts them, he calls them back. Is that true?
That's very true. Yeah. That is very true. I got a text from him, but I don't think he texted me. He probably had his assistant text me what he wanted to say.
That's so wild in 2020
Yeah [laughs]. Coach Saban really doesn't know how to work his iPhone.