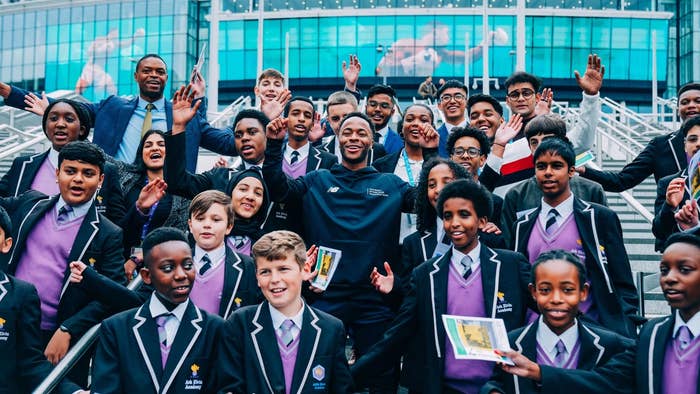 Raheem Sterling is a man of the people.
The 26-year-old Manchester City and England star recently revealed The Raheem Sterling Foundation at his childhood secondary school—Ark Elvin Academy—in Brent, North London. The organisation seeks to spotlight the next generation of youth talent across the UK, Jamaica and surrounding nations. Backed by The Power of 7, symbolic of Sterling's Man City number, the Foundation will champion greater social mobility, education opportunities, personal accountability and guide alumni through hardship. 
"My journey to date has been well documented, but nothing would have been achievable without belief, family, great mentors and the opportunities I have embraced," Raheem Sterling said. "My foundation is built on my experiences, successes, and the many challenges I overcame, I now want to help young people achieve and be the best they can be."
Various students at Ark Elvin Academy took to the stage alongside Sterling at Wembley Park to celebrate the launch this week. A plaque was mounted in Sterling's honour, featuring a "1962" emblem, which is symbolic of the 1962 earthquake that fractured Sterling's birthplace of Kingston, Jamaica.
Muhammed Butt of Brent Council said: "Raheem, our boy from Brent, has accomplished so much since he and his family moved to our borough many years ago. His actions have inspired many people around the country, and he is a great role model for our young generation. It is wonderful to see him launch his Foundation that will no doubt have a positive impact on young people in this country and Jamaica."
Throughout the years, Sterling has been praised for his socio-political aptitude and charity work. Back in 2017, Sterling was a vocal supporter of the Grenfell Tower victims, making a sizable donation to support those affected, as well as receiving an MBE this year for his efforts combatting racism in sport back in June. 
Sterling continues to inspire the nation, thanks to his selfless and admirable acts of nobility. The Raheem Sterling Foundation is yet another example of his relentless ambition and vision to improve the lives of those in his community. A real-life Black British superhero.