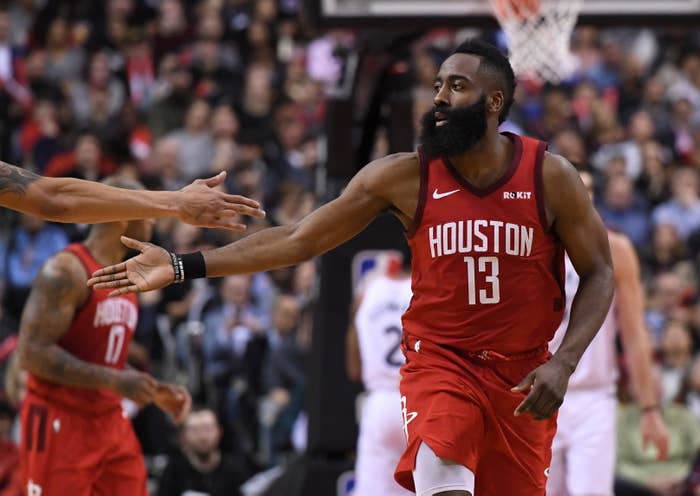 If there are two things the 2018-19 NBA season has taught us it's that Lance Stephenson is a hall of fame-level air guitarist and James Harden is offense.
In his 10th year of pro ball, the Beard has effectively turned what ought to be the most difficult shot in basketball—a step-back three-pointer—into his bread and butter. Should any brave soul attempt to stop the unstoppable and wildly efficient move, well, just ask Wesley Johnson what happens. Referees have even come to respect its illegal applications; shoutout to the "double step back."
Of course, the three-point line is so readily available for Harden because of his unparalleled ability to attack the rim and either finish in traffic, often drawing fouls in the process, or facilitate an easy finish for his teammates. He leads the league in both treys and free throws made—an utterly paradoxical stat.
"I've been feeling like I'm the best [player in the world] these last few years," Harden tells Complex Sports. "It's not being cocky or trying to be arrogant... It's just having that confidence in myself that I can go out there and impact the game on so many different levels."
Not only is Harden enjoying his best statistical season to date—averaging a mammoth 35.9 points per contest, most since '87 MJ—but the Rockets are close to finding their 2017-18 seed form, as winners of 12 out of their last 13. Most importantly, the team is healthy heading down the stretch.
We chatted with last year's MVP about his latest spot for BODYARMOR, which you'll be seeing a lot of during the NCAA Tournament, what it was like matching up against Kobe for the first time, why feeling like he's the best basketballer on the planet, and more.
(This interview has been edited and condensed for clarity.)
Before we jump into your new BODYARMOR ad, I saw you filled out an NCAA Tournament bracket and picked ASU, your alma mater to win it all.
Uh-huh.
But you do also have Duke getting bounced in the Sweet 16. What was behind that selection?
I think just experience. [Duke is] playing well, especially with Zion [Williamson], but, I mean, for a bracket like this someone has to get upset, so I just went with my gut, and that's why I chose that.
Are people not taking their youth into account? Their youth, is that something people maybe aren't necessarily taking enough into account?
Yeah, they're extremely talented, but, I mean, they're so young. I would love to see them do great things but wouldn't be surprised if they got upset. They're extremely athletic, they can get to the rim, you know with those three guys. Cam Reddish can shoot the ball very well, and you got Tre [Jones] as well, but other than that they don't really have any knockdown, consistent three-point shooters, so, I mean, we'll see. I hope they do well, though.
Jumping into this new BodyArmor armor ad. I heard it was directed by Kobe Bryant. Did he bring that same level of intensity on set as he did on the court?
Yes, yes. Like most, I know how great Kobe was on the court, but he was unbelievable at directing, as well. And that's what drives it, that's what makes the spot, and everything he does great. I was excited to be a part of it and see how much passion he had.
Did you go back and forth creatively at all for the commercial?
We didn't really go back and forth, but there was a lot of talking as far as, what do you think about this? Or how do you feel like this should be done? Or how this should be said? He put a lot of time and effort into it.
On the court you guys were opponents: Do you have any memorable Kobe trash-talking stories you can share? Either from your rookie year or maybe on the Olympic team?
I don't have any specific moments, but I remember the first time playing against him and being so nervous because I didn't want to get killed [laughs]. I wanted to be competitive, needed to be competitive. Growing up watching and trying to make it to where he was, that was always on my mind. Being in that situation against him, though, I didn't want to make a fool of myself.
Right, I can imagine that'd be intimidating. Post-NBA careers are so interesting to me. Obviously Kobe with the directing and storytelling. Chuck and Shaq as analysts on Inside the NBA. What do you envision for yourself when you retire?
That's a great question. Honestly, I don't know yet. I'm doing a little investing. I'm doing things here and there. I'm just in my 10th year. I hope I can play another 10 more. I'll figure it out when I start getting closer to [retirement] but as of now I'm just enjoying it.
I've been feeling like I'm the best these last few years. It's not being cocky or trying to be arrogant, or whatever you want to call it. It's just having that confidence in myself that I can go out there and impact the game on so many different levels.
Well you've been in a bunch of very funny commercials in the last few years, including this BodyArmor one. Is that something you could see yourself going into, the acting lane?
Definitely.
Maybe a Space Jam 2 appearance?
Yeah, why not? That would be amazing. I've done a couple of spots, you know for acting. I like it. It brings out my personality and brings out who I am. So that might be an aspect that I might want to try later in my career.
Let's shift to basketball. The Rockets got off to a slow start this year. Now, you guys have won 11 out of your last 12, are in third place in the West. How important is it to get that No. 1 seed and home court?
I don't think it's that important to get the No. 1 seed. I think that being healthy is more important. If we're healthy, I'm confident that we can compete with any team and win some games. That's the most important thing. So whether we're the number one seed or number eight seed, once we're healthy, we can beat anyone.
As far as what happened in last year's playoffs is concerned. CP3 goes down against the Warriors, y'all lose in 7. How much do you think about playing the Warriors in this postseason to get some revenge?
I mean, I don't really think about it just because we won't play them probably first round anyway. Or even second. I just think about our rhythm going into the postseason. If we have a rhythm, if we have our swag to where it needs to be, it doesn't really matter who we play, if it's the Warriors or another team.
Your offensive production this year has been historically great with the 36 points per game average. The 61 point game at MSG. Dropping 30 or more in 32 straight. Thinking about what you're doing, do you see yourself as the best player in the world right now?
Yeah, and I've been feeling like I'm the best these last few years. It's not being cocky or trying to be arrogant, or whatever you want to call it. It's just having that confidence in myself that I can go out there and impact the game on so many different levels.
When did you kind of start feeling that way? Was there a particular game or series?
I don't think there's a particular game. I just think over these last few years, it's me being more confident, more comfortable in my position, in my role. And just really studying the game, and figuring out ways to impact the game. Being a creator, changing the game, all that good stuff.
Speaking of the best, back in '87, M.J. averaged 37 points per game, you're at 36 right now. There's about 12, 13 games left this season. Is that a scoring mark that you're looking to break?
Honestly, I haven't even thought about it. As long as we're winning, [which] we've been doing. Last night I had 20 points and we won by 16.
When we had guys that were injured and guys that were out, and I had to score 35, 40, that's what I had to do to win games and keep us above water. Now, we've got our full roster, and I scored 20 points and we win by 16, like that's great.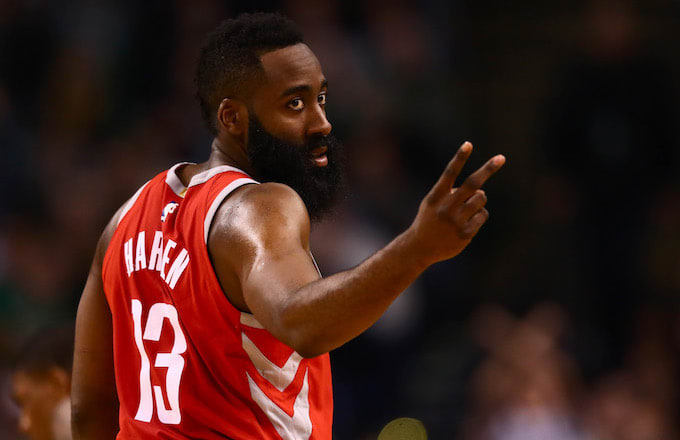 You won the MVP award last season, your name is very much in the discussion to win it again this season. Is that personal accolade an important one for you?
Of course. Going back-to-back, not many people have done it. Maybe five or so people. Steph, MJ, Kareem, Bron. Of course it's important.
Going back a couple of years, you were in Travis Scott's music video for "Way Back" and guarded yourself in a game of one-on-one. If you were assigned to guard yourself in real life, how would you go about shutting you down?
Why would I tell you that? Or anybody?
To give people a chance? To not fall down.
[Laughs]. Honestly, I don't know how I'm shutting me down. Contest my shot, make me uncomfortable, that's the only advice I can give you. For a high caliber player like Steph, [for example], with his ability to shoot the ball, you gotta try to make him get to the basket and contest his shot at the basket.
Who in your mind is the toughest defender in the NBA right now? That you don't look forward to knowing that he's going to be on you all night?
Nobody.
Nobody?
Nobody.
How about…
Nobody. Nobody.
I like it. Shifting gears, I was curious about your take on the situation that happened with Russ in Utah last week. In 2018, you had a similar experience, dealing with a crazy fan there. Is "excessive fan trash-talking" an issue that doesn't get enough attention?
It definitely doesn't get enough attention. Obviously, we know what the actions [against us] are if we curse a fan out or  touch a fan. But when a fan is able to say anything they want to us, or touch us, or do anything they want to us, they don't really face the consequences they need to.
I feel like that fan should be banned forever from the arena, and the [NBA] should start looking at this more because it goes both ways. We're human and we react like we're human. So the [league] needs to put more effort into looking into these instances and outlining the rules.
The onus is on the fan, as well.
Yeah, because if they were in their workplace and somebody came in to their workplace disrespecting them or calling them out by their name or just saying anything, it would definitely take away so it should definitely be both ways.