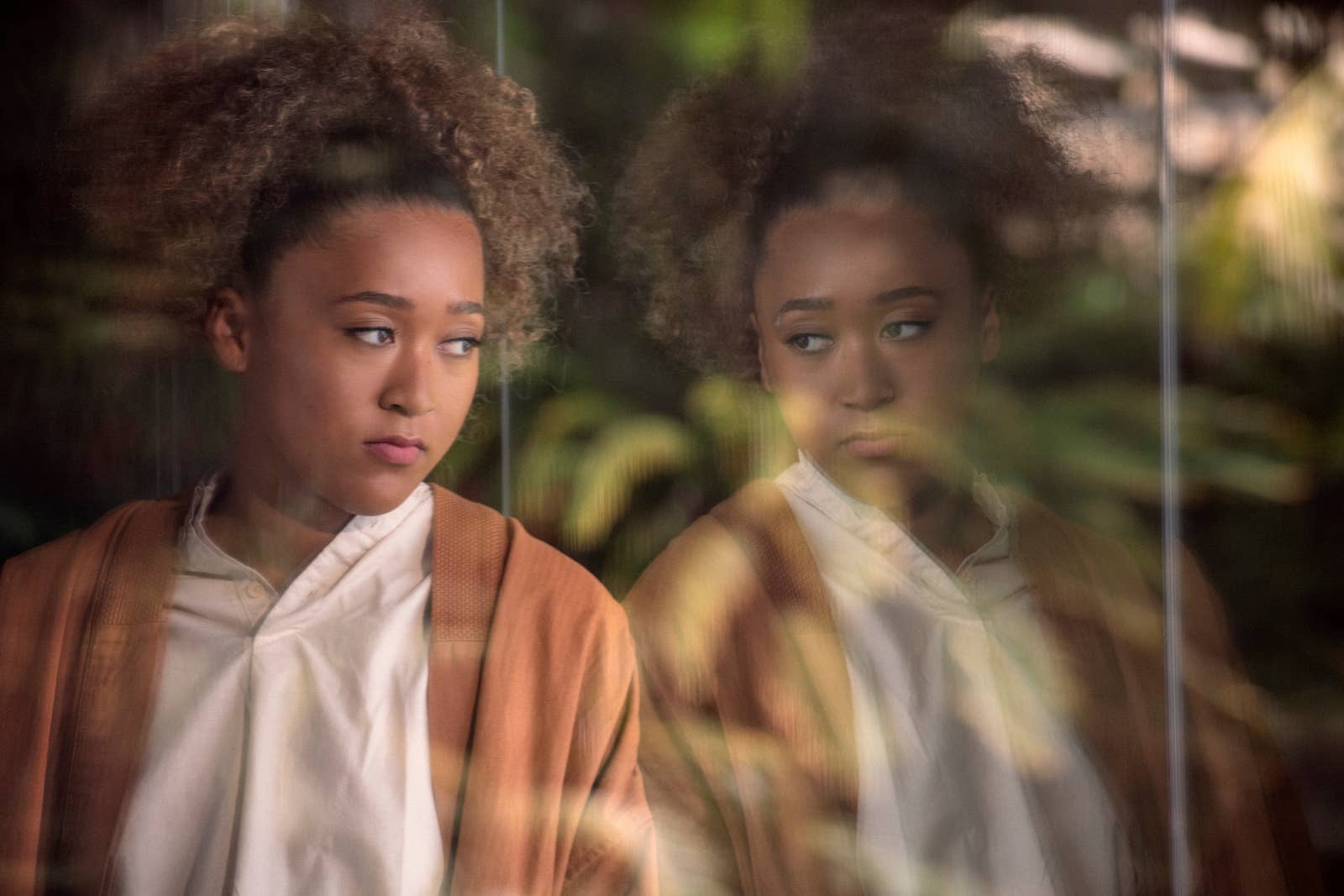 In sports, a perfect record is an inevitable yet ultimately futile pursuit. Every athlete plays to win, but the reality of competition is that you can only control how well you prepare. Everything else, particularly the proposition of a loss, is negotiated between you and your opponent. As a four-time Grand Slam singles champion and former No. 1 ranked women's tennis player in the world, Naomi Osaka understands this all too well. 
As she readies herself to compete at the 2021 Olympics in her home country of Japan, Osaka is locked in. After her previous 23-match win streak came to an end at the Miami Open earlier this year, the dominant performer bounced back with a straight sets victory at the 2021 French Open, before ultimately withdrawing from the tournament and revealing the toll that press conferences have taken on her mental health. Yet, in discussing her pre-tournament rituals with Complex—from the foods she eats to the sunscreen she wears—it's clear that wins and losses don't have much effect on the way Osaka trains. Including her newfound commitment to mindfulness as well as her recent investment in Hyperice, a company that specializes in warm-up and recovery technology, the 23-year-old has perfected the art of preparation despite having outgrown her tendency to be overly self-critical.
"I used to be so critical of myself during matches, to the point where it perpetuated my mistakes and sometimes cost me matches," Osaka confesses. "As I've matured in the sport, I've learned to control my emotions on the court, which helps me quiet my mind and gain composure. I've really focused on the mental part of my game over the past year. I've learned it's just as important as my physical training."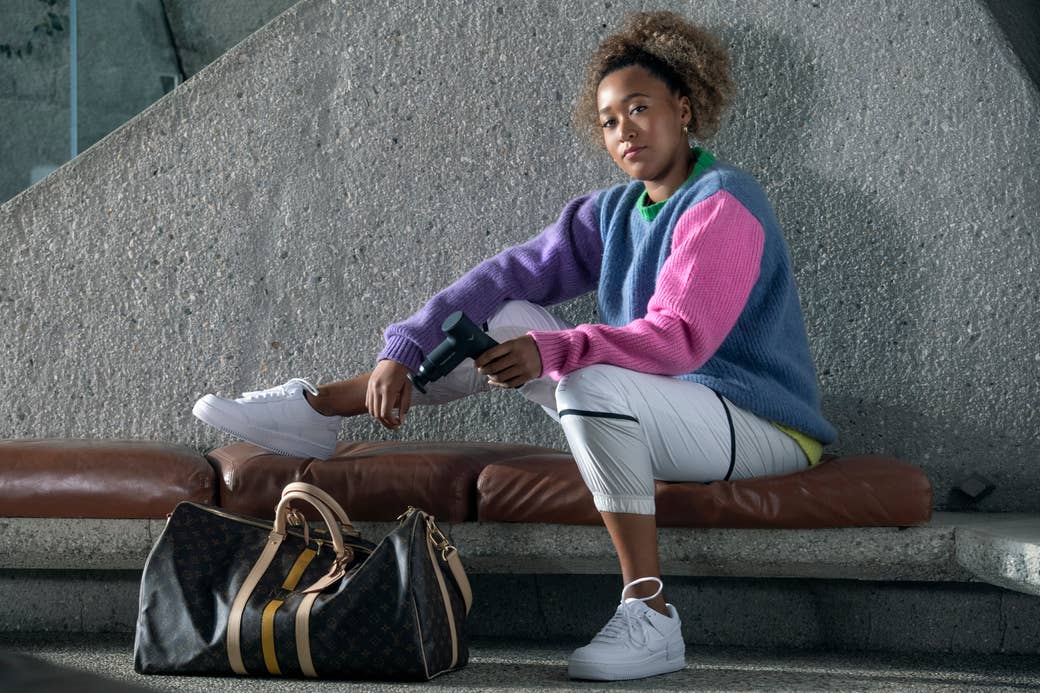 For Osaka, peace of mind is just as valuable as an elite performance. When explaining some of the more nuanced benefits of muscle recovery, she relates her Hyperice products to the idea of "selfcare," in that they "help relieve stress" and "are a great way to get the benefits of a spa massage at home."
In many ways, Osaka's approach to maintaining her mental and physical wellness is no different than that of the average non-athlete. Before a tournament, she begins each morning with salmon for breakfast because it's an optimal source of protein that keeps her feeling full without weighing her down. She also starts drinking water as soon as possible so she doesn't have to  chase her hydration goals throughout the day. Spending most of her time outdoors, she's cognizant about applying a healthy amount of sunscreen to protect her skin. Despite the role these small yet strategic practices play in Osaka's unique occupation, they are things even ordinary people should prioritize for their own well-being—this applies to her mobility routine as well.
Osaka's device of choice for loosening her muscles is the Hyperice Vyper 2.0, a three-speed vibrating foam roller that she keeps close by, whether she's actively training for a match or not. "I use my devices all year round," she explains. "Injury happens when you focus on specific periods of time. Keeping your body well conditioned all year round is important, even on days you aren't training hard. Those are the days you really need recovery."
Another device she relies on is the Normatec 2.0, which utilizes dynamic air compression to massage the legs and stimulate circulation. Although she uses this to recover after particularly grueling matches, Osaka insists people who live more sedentary lifestyles can also benefit from Hyperice's full line of products. "You don't have to be an athlete to experience muscle tension, pain or tightness," she explains. "Just sitting too much [or experiencing] a period of little movement can lead to hip, back and neck issues. I tend to hear more about the pain relief [these products provide] from non-athletes."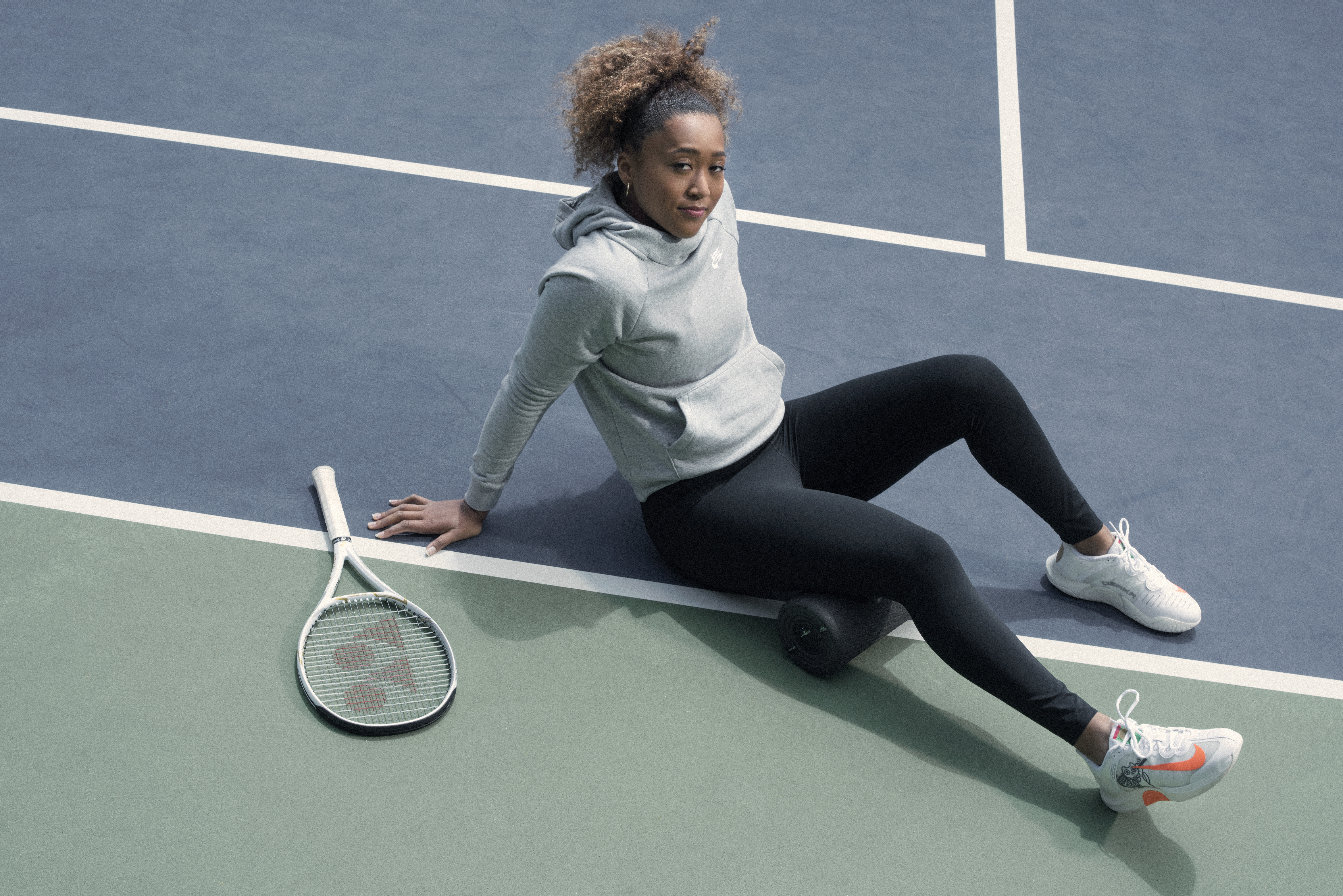 Relating to the average person despite competing at her sport's highest level could be considered one of the tennis star's most endearing qualities. But the level of grace and humanity she displays off the court is just as impressive. Despite being catapulted further into the spotlight after her defining victory over Serena Williams at the 2018 US Open, Osaka has managed to make headlines that are almost exclusively positive in nature even when they deviate from tennis. To her credit, she's maintained a public relationship with a bonafide rap star, but has never found herself in the whirlwind of gossip that's ensnared so many women who've dated men of a similar status. Her business moves are on par with sports' most prominent athletes-turned-moguls (through endorsements and partnerships Osaka became the highest paid female athlete ever in 2020), yet journalists who look like her never question her commitment to the liberation of marginalized groups. And most notably, she's become known for making powerful statements on behalf of those groups, but is armed with such poise in those moments that the kudos she's received has rarely ever turned to controversy.
Following her presence at the Minnesota protests in the aftermath of the murder of George Floyd, as well as the act of solidarity she displayed at the 2020 US Open in honor of six more notable victims of police brutality, Osaka was named Sports Illustrated's Sportsperson of the Year and one of TIME's 100 most influential people in the world. Yet, to call her a media darling for such praise would undermine not only the sincerity in her actions, but the thought she puts into them.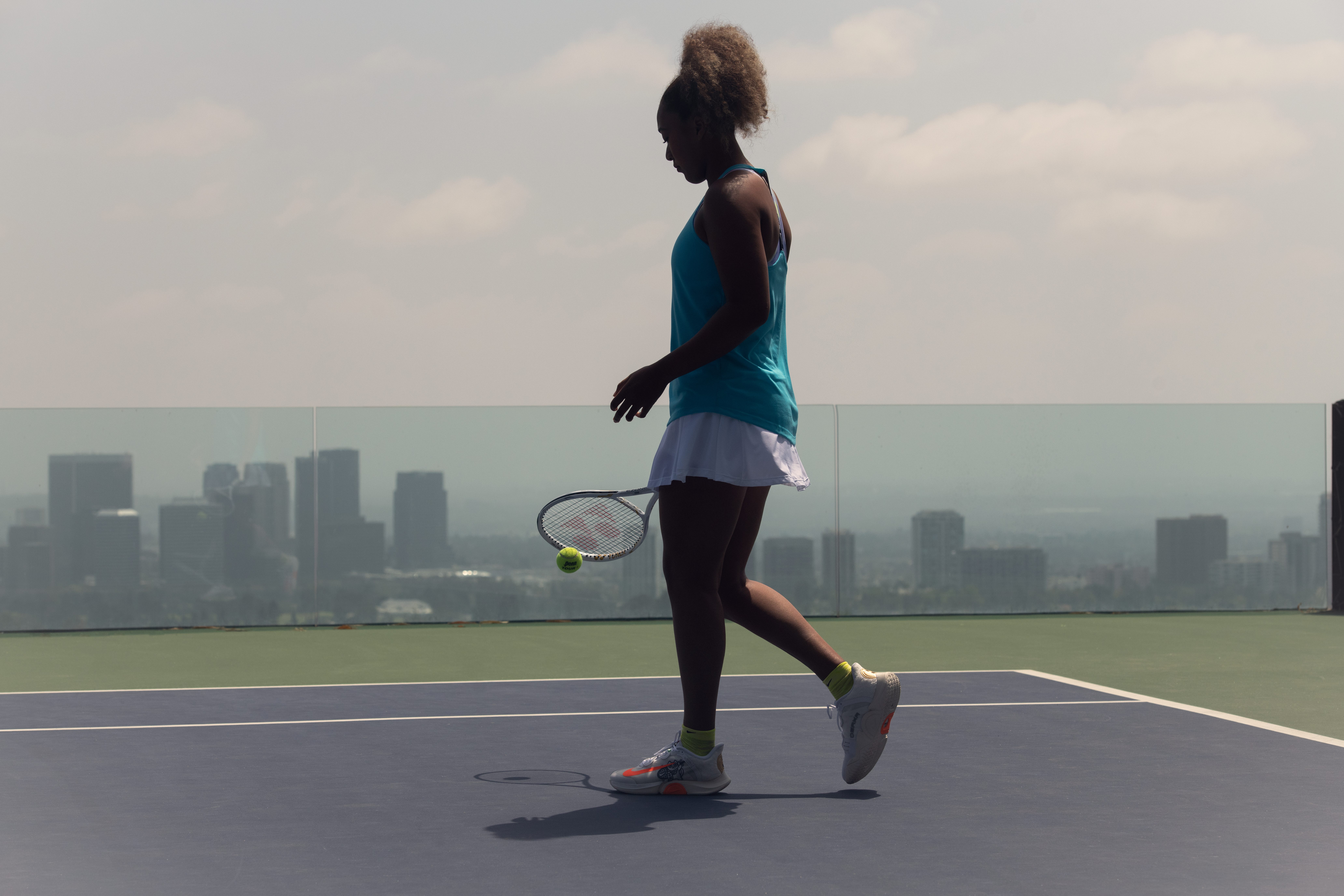 Even Osaka's investment in Hyperice, which was followed by the brand being named one of the 10 most innovative companies in sports, is something that was built with a careful consideration of her praxis. Though she was a fan of their products long before she acquired an equity stake in the company (alongside fellow pro athletes like Patrick Mahomes, Ja Morant, Fernando Tatís Jr. and Amanda Nunes), it was a meeting with the Hyperice brass that convinced her to partner with them not just in recovery, but also in reform.
At the height of the 2020 uprising, Osaka appeared along with a handful of other Hyperice athletes such as Blake Griffin and DeAndre Jordan in a 30-second ad titled "Humanity." The commercial premiered weeks after pros across multiple leagues and sports orchestrated a widespread strike, refusing to participate in their respective games in response to the police killing of Jacob Blake. Osaka was among these strikers, announcing on social media in both English and Japanese that she'd be postponing her semifinal match at the Western & Southern Open. 
"A commercial is not going to end racism," she narrates during the spot. "And a recovery tech company can not erase centuries of oppression. But we do have a platform for the next few seconds. And with it, we'll say this: Black rights are human rights." An image of Osaka, a self-identifying Black woman of Haitian and Japanese descent, is shown just before she utters that final affirmation.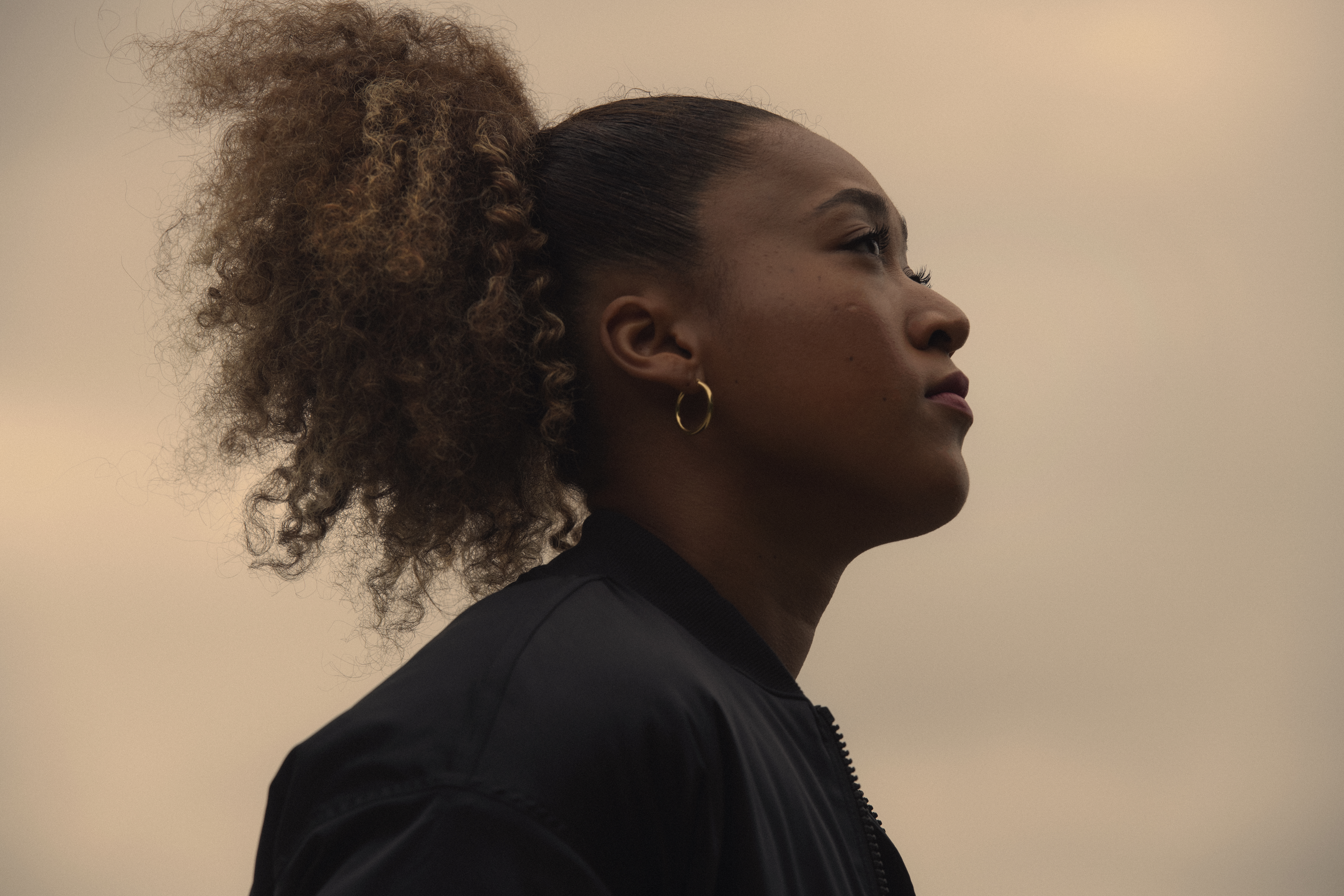 "I will always continue to stay true to myself when it comes to my success," Osaka explains. "I have a very strong team that believes in my authenticity, and with that comes a strong moral compass. With any business I'm aligned with—from Hyperice to BodyArmor or Nike—I ensure there's a social impact component."
The cohesion in the otherwise disparate parts of Osaka's life is what makes her such a fascinating activist. How she does one thing is typically how she does everything, which speaks to a perfection of self-image most athletes pursue in competition but neglect everywhere else. The synergy that connects the investments she's made in both her body and her business portfolio carries over to the way she pays her privilege forward as a celebrity with a platform. In each instance, the most important work happens off the court. 
"I want people to know I'm not defined by my sport. I'm defined by my cultures, my voice, my friends, and my passions," she shares. "I want to be a part of the important yet hard conversations. I want to support the companies that take chances and do big things. More than anything, I want to be a good person and someone young people can look up to as an example. They should know that being different is your gift—it's what makes you special."