The Pelicans entered Tuesday three games out of the final playoff spot in the Western Conference and with the easiest schedule remaining in the NBA, the only basketball fans not rooting for New Orleans to snag the last spot out West will be Grizzlies and Blazers supporters. 
Because what took place in downtown Los Angeles between the Lakers and Pelicans was a tantalizing preview of what could be an incredibly fun and compelling first-round playoff series that NBA fans deserve. 
In the most consequential meeting of the season between the Lakers and Pelicans, it was Los Angeles, the West's best team, turning it on in the second half behind a monster performance from LeBron James. He finished with 40 points (a season-high) to lead LA to the 118-109 victory over New Orleans in front of 18,997 at Staples Center. James, who was 17-of-27 from the field with 8 boards and 6 assists, was simply superb. Twenty-five of his points came in the second half, 16 in the third quarter, as he dunked and drained his way to scoring 40 for the 65th time in his storied career. 
James' brilliance aside, watching The King and Anthony Davis trade buckets with Zion Williamson and Brandon Ingram, while their supporting cast like Alex Caruso and Lonzo Ball dished out some incredible dimes over the course of 48 (mostly) competitive minutes was intoxicating. You'd sign up this second to see these two squads battle in April.
"I don't think I'll ever tell you I had a great performance when we lost. I don't think that makes sense, to be honest." — Zion Williamson
Tuesday's contest had been circled on the calendar of many fans since it marked the debut of Williamson against the loaded Lakers and one of his idols in LeBron—who, shockingly, Williamson had never met or talked to before they dapped up at center court, according to James. Williamson, the rookie sensation playing in only his 13th game, was great, finishing with 29 points and 6 boards as he wowed the crowd with several thunderous dunks, including a beautiful alley-oop from Ball in the second quarter. Over his 33 minutes, Williamson showed that his explosive athleticism will be a problem for the game's best defenders (like AD, who did block a few of Zion's shots but also got burned trying to keep him from scoring) and the defensive teams in the league (like the Lakers, currently fourth in the NBA in defensive rating). It just wasn't enough to lead New Orleans to a win. 
"I don't think I'll ever tell you I had a great performance when we lost," Williamson said. "I don't think that makes sense, to be honest." 
For the thousands that turned out to see him in person, many wearing a No. 1 Pelicans jersey or Duke gear, Williamson was worth the price of admission. And while his squad is still a work in progress considering how young it is, its issues with turnovers (they had 20), and other deficiencies defensively (they had no answer for LeBron, even though James praised Jrue Holiday's efforts after the game), New Orleans can give the Lakers trouble.  
"It was definitely a winnable game," Williamson said. "They did what they had to do in the stretch. This team can be extremely good. It's just our turnovers and sometimes our lack of communication that kills us. But I think we get that down, we're going to be super good."
If a few more shots had stayed down and they didn't turn the ball over so frequently—and LeBron didn't play like peak LeBron—things might have been different. While Gentry said there are no moral victories, especially when you're fighting for a playoff spot, the Pelicans left an impression. 
"I thought we played with a lot of confidence," Gentry said. "Against, I mean, there may be a better team in the NBA, but we'll see. And they have the best player in basketball, in my opinion."
Hopefully New Orleans can hold up its end of the bargain and keep winning to earn the eighth seed in the West so they can meet the Lakers when the games really matter. The overachieving Grizzlies, currently in eighth place, have the NBA's toughest schedule down the stretch so many expect them to fade. The Blazers, sitting at ninth, hope their hot steak is coming once Damian Lillard returns to the lineup and betting against a veteran squad like Portland usually is not prudent.
But New Orleans, fighting to reach .500, is 8-6 since Williamson made his scintillating NBA debut on January 22 and his impact on their playoff fortunes has been as obvious as one of his rim-rattling dunks. The Pelicans are a dynamic team that with an extremely high ceiling that needs more seasoning, but Williamson's arrival has brought about massive leaps in the Pelicans' offensive and defensive metrics. The assembled talent around him is intriguing and should be more than enough to carry New Orleans into the postseason. We haven't even given props to Ingram, a first-time All-Star two weeks ago, who dropped 34 points on 12-of-20 shooting against his former squad. He's blossomed into a nightly threat to cook up defenses.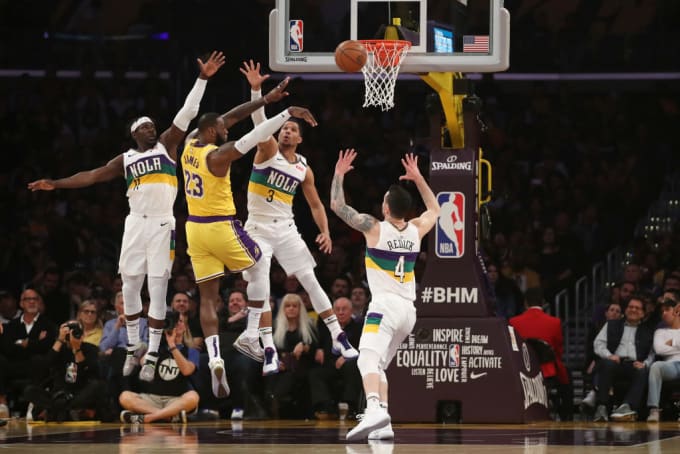 The storylines surrounding a potential Lakers-Pelicans playoff series, as we laid out in Tuesday's episode of the Load Management podcast, are plentiful. And after seeing Williamson do his thing against a one of the best defensive teams and individual defenders, run it back. Undeniably, he's already one of the game's top attractions and basketball fans deserve to see him play on the biggest stage against the biggest stars. We want way more LeBron vs. Zion come spring. We want more more AD trying to stick Zion. The up-and-down game we saw from the Lakers and Pelicans was a lot of fun to watch. Styles make fights. They also make playoff series. If you don't think these two wouldn't be fun dance partners in the playoffs then you must be a Grizzlies or Blazers fan. 
Here are seven more observations from Staples Center. 
Dunk Contest
This one featured a ton of dunks, mostly from the usual suspects of Zion and LeBron. Take your pick which one had the best, but Staples Center was never louder than when LeBron rose above Josh Hart to flush it Statue of Liberty style following Caruso's between-the-legs pass mid-way through the second quarter. 
💥 Another look at Caruso and LBJ attacking in transition! 💥

📺: @NBAonTNT pic.twitter.com/97k9Ndq6YB

— NBA (@NBA) February 26, 2020
"Myself and AC work well together," James said. "Momentum play. Our fans loved it. Great to be part of it."
Season Series
Tuesday's game was the third of four games between the teams and the Lakers took the first two contests between the clubs, sans Williamson. AD averaged 43.5 points in first two games between the clubs. He was slightly more pedestrian Tuesday, finishing with 21 points and 14 boards. But he was still highly impactful.  
Los Angeles will be in New Orleans Sunday to close out the season series. It'll be the second game of a back-to-back for the Lakers who visit Memphis, currently eighth in the West, the night before.
Get Elias on the Line
Someone who actually understands algorithms and spreadsheets could figure this one out—where's the Elias Sports Bureau when you need 'em—but there was an incredible amount of high draft picks in uniform Tuesday. The Lakers feature three former No. 1 selections in James, Davis, and Dwight Howard. Meanwhile, the Pelicans have Williamson (No. 1 2019), Ingram (No. 2 2016), Lonzo Ball (No. 2 2017), and Jahlil Okafor (No. 3 2015) Only Williamson, of course, plays for the team that drafted him. 
Vogel Owns New Orleans
A statistical note that doesn't really mean anything but I found interesting: Lakers coach Frank Vogel now has a 15-3 record against New Orleans. That, of course, includes his stints leading Orlando and Indiana before he took over Los Angeles before this season.
Markieff Morris

 Makes Lakers Debut
Recent addition Markieff Morris saw his first action with his new squad. Morris, who the Lakers signed five days ago, played 14 minutes and finished with 4 points. 
How, precisely, Morris ends up being used by the Lakers, who waived DeMarcus Cousins to make room for the former Pistons forward who was bought out by Detroit, remains to be seen. Vogel wouldn't rule out slotting Morris in at center against certain squads, especially come the postseason. The Lakers, currently the top seed in the West, could face the small ball Rockets in the second round or the conference finals.
"Obviously, I like having a big guy out there for size at the rim and spacing and all those types of things," Vogel said. "But there are certain lineups we'll face in the small ball era that will be more beneficent to have a small five."
When he got minutes with LeBron and AD, the 6'8" Morris drew the assignment of guarding Williamson. 
Legend Recognizes Legend
With LeBron hovering behind him awaiting the opening tip, wrestling royalty Ric Flair addressed Staples Center and pumped up Lakers fans by proclaiming everyone was in the "home of the greatest athlete in the world today, LeBron James." The ultra-popular Flair celebrated his 71st birthday Tuesday. 
LeBron Still Won't say Whether He Attended the Kobe Memorial
A day after many current and former Lakers attended the memorial service for Kobe Bryant Monday at Staples Center, James was asked about his presence—or lack thereof since he was conspicuously absent—at Lakers shootaround before the game.
"Like I said, man, it's just…I respect your question, for sure. It was a very emotional, very emotional day, very tough day for myself, for my family, for everyone involved," James told reporters.
"The one thing I can come out of this saying is how strong and how bold and how powerful Vanessa [Bryant] is to stand up there the way she did, to give the speech the way she gave that speech. I commend her. My heart is with her family still, with his three daughters that's still here, with his wife, with his mom and dad, his sister. It was just a difficult day for all of us. I'd appreciate it if we can move on tonight. That would be great."
James doesn't owe anyone an explanation for whether or not he was in the building Monday, especially after the eloquent eulogy he gave Bryant in the Lakers' first home game following the legend's tragic passing last month. But considering his stature in the game, how close he was to Bryant, and how honest and open James usually when asked direct questions by the media, his evasiveness on the subject is notable.