The Clippers strategy to keep James Harden in check Friday, as much as that is actually possible, was to trap him as well as switch coverage between Paul George and Kawhi Leonard down the stretch. At least when the two were assigned to guard him.

It didn't quite go according to plan since Harden still got his, pouring in 37 points. But it was the Clippers who hit the bigger shots and made the bigger plays when it mattered, erasing a 6-point deficit with 1:26 remaining to earn the 122-119 win at Staples Center in downtown Los Angeles.
Leonard was certainly one of the heroes on defense and offense, finishing with 24 point and hitting an 18-footer that was the game-winner with 15.4 seconds to go. But the biggest star for the Clippers was Lou Williams who poured in 26 points in the second half to help lead the way in what was easily one of LA's best wins of the early season.
"That's what he does," Leonard said. "He was just being patient with the game. We all trust him."
While the Clippers were able to avoid Harden going HAM in his hometown, he did hit 5 threes, and went 14-of-18 from the line, as he led the way for the Rockets who dropped their second straight game on the road.
"I don't think you can give Harden one look, personally. You do have to trap him some. You do have to run and jump him some. You do have to play in him one-on-one some. He is as clever a scorer as we've ever seen." — CLIPPERS COACH DOC RIVERS
"I love what we did," Clippers coach Doc Rivers said. "I just didn't like our execution. There's no doubt that when James Harden has a lot of attempts they win games. We were just trying to limit his touches and make him work."
Rivers said if it was later in the year he probably would have stuck either Leonard or George on Harden more down the stretch, but since they're both on a minutes restrictions and not in peak condition right now he had to pick his spots. "I'm still building those defensive legs," George said. Patrick Beverley and Moe Harkless drew coverage on Harden as well. The Clippers barely kept Harden, the NBA's leading scorer, from reaching his season average (38.4 points per game).
"You have to pick your poison," Rivers said. "I don't think you can give Harden one look, personally. You do have to trap him some. You do have to run and jump him some. You do have to play in him one-on-one some. He is as clever a scorer as we've ever seen."
When the Clippers doubled Harden, The Beard had plenty of help. Austin Rivers hit two threes in the fourth while PJ Tucker, Clint Capela, and Russell Westbrook helped pour in 35 points in the period. Unfortunately for the Rockets, it was their defense again that cost them since they allowed the Clippers to score 42 points in the fourth.  Going to the line 16 times in the fourth certainly helped LA and that did not sit well with the Rockets after the game. 
"I thought we played well enough to win," Rockets coach Mike D'Antoni "Didn't happen. They shot 16 foul shots in the last quarter. Stuff happens."
2. The blockbuster addition of Russell Westbrook to the Rockets raised a lot of eyebrows. Would Westbrook and Harden, two notorious ballhogs, be able to co-exist and thrive? Count Doc Rivers among those who had no doubt the pairing would succeed.
"He adds pace to the team," Rivers said. "I said that right away when that trade happened. People were like this won't fit and I was like, 'Oh my God, Houston's going to have pace now.' It's what coaches have always feared."
It's working since the Rockets at 11-5 (same as the Clippers), are third in the Western Conference as Harden averages a career-high in points while Westbrook continues to fill up the stat sheet. The Rockets entered Friday's action third in the NBA in pace (aka the number of possessions per 48 minutes) at 105.83 compared to last season when 98.39, good for 27th in the league. Westbrook's speed and ability to push the ball has opened up the offense and made the Rockets a whole lot less predictable than they were with Harden and Chris Paul dribbling the ball endlessly. Of course, more possessions for Harden and the other shooters on the Rockets squad is great for them and bad for their opponents. 
Despite dealing with the absence of some key players—five Rockets players were inactive against the Clippers, most notably sharpshooter Eric Gordon who is recovering from recent knee surgery—Houston is yet again one of the top teams in the West and will be expected to make a serious run at the NBA Finals for a third straight season.
"We've had a lot of injuries," Harden said. "In the first 15 games, we've had six guys out and a couple of guys out that are heavy in the rotation. But guys like Austin [Rivers], Ben [McLemore], Chris [Clemons], and Thabo [Sefolosha] are picking up the minutes and they've been playing well. Obviously, we wanted to come up with a win, but we're still very, very confident."
3. Austin Rivers got his daddy good when the two teams met for the first time Nov. 13. That's when the Rockets guard taunted his father, urging officials to give pops a technical foul late in the fourth quarter. Doc ultimately got ejected arguing over the loss of a timeout.
Austin Rivers telling the refs to give his dad a technical 😂😂 pic.twitter.com/8DVpNNczNZ

— Complex Sports (@ComplexSports) November 14, 2019
The video immediately went viral and Austin later joked on Twitter about how awkward Thanksgiving was going to be. Not surprisingly, the two talked after the game about the hilarious incident—Doc says they talk just about every day—and predictably pops was asked about the aftermath before the game.
"I've already talked to the refs about who they should throw out tonight," Doc said.
There were no techs handed out Friday. But there were plenty of arguments from players and coaches about the officiating.
"There were a couple of questionable calls and questionable non-calls," Harden said. 
LA committed 32 personal fouls while Houston was whistled for 27. 
4. The Clippers donned their City Edition jerseys for the first time and unveiled a new mid-court logo that's an ode to Los Angeles street culture.
While black isn't technically one of the Clippers colors, it's become one this season as the team continues to re-brand itself and establish an identity in a city dominated by the Lakers. The jerseys with "Los Angeles" splashed across the chest were designed by famed tattoo artist Mister Cartoon who called the jerseys a "great reflection of the city that I love" in a statement released by the team.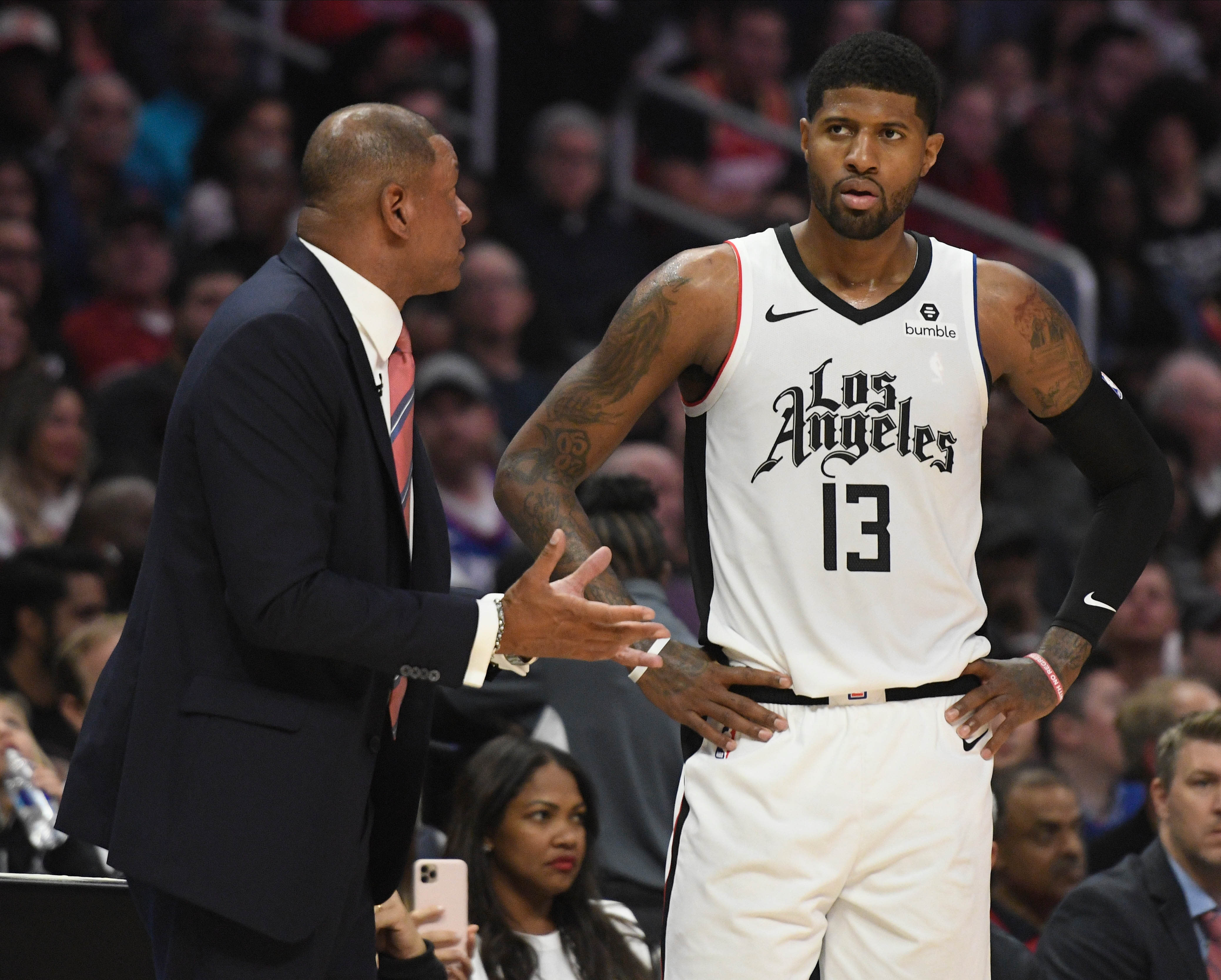 The jerseys technically made their debut on the cover of Sports Illustrated back in October, but this was the first time the team wore them for a game. It's received mixed reviews from jersey enthusiasts and on social media, but the ink-inspired Los Angeles script definitely fits with the more rugged and less glitzy persona the Clippers have embraced compared to the more glamorous Lakers.
While plenty of Rockets fans were on hand at Staples Center and got really loud when Beverley fouled Harden on a 3-pointer with 1:57 remaining that gave Houston a 4-point lead, Staples Center got just as loud—if not louder—as the Clippers nailed big shots to seal the game. If you know anything about them, that hasn't always been the case with LA's other team. 
"In the past when we played teams like Houston and Boston, 60 percent of the arena sounds like they're for the other team," Rivers said. "You can see this year there are still other fans that come in, but you can hear our fans. We're finally creating a home court."

For the first time in franchise history, the Clippers have opened 10-1 at home.