The winds of NBA free agency don't change every day, they change every hour.
Just look at what's been going on with Kawhi Leonard. We learned late this week that the two-time NBA Finals MVP would seriously consider the Lakers, despite the narrative preached to us for months, by almost every NBA insider, that the only LA squad Leonard had eyes for were the Clippers. 
At some point, things changed and Leonard appears headed toward a meeting with the Lakers. Since the news broke, NBA fans have been trying to wrap their heads around the idea of the Fun Guy teaming up with LeBron James and Anthony Davis on the league's most glamorous squad. 
Here's hoping it's just a flirtation on Kawhi's part that ultimately goes nowhere because I know I'm not the only NBA observer who is going to moan and groan and bitch and whine if the Lakers pull off the unthinkable and form a preposterous, ridiculous, ludicrous, comically absurd big three.
Whether it happens or not remains to be seen because who knows what the next report about Kawhi or the Lakers will reveal and, real talk, who really knows what the fuck Leonard is thinking since the Klaw forever remains a mystery. It was widely assumed he wanted to do things on his own and wasn't one of those guys that would hitch his wagon to LeBron. All the noise and reports have led us to believe it was essentially a two-horse race between the Raptors and the Clippers. Hell, two days ago it felt like the Knicks (HA!) had a better chance of sitting down with Kawhi than the Lakers. But 24 hours is an eternity in the non-stop news cycle of NBA free agency and as we inch toward the official start of it Sunday at 6 pm ET and digest the news that Leonard-LeBron-AD could be a legit possibility, we're begging Kawhi not sign with the Lakers.
I think I speak for at least some NBA fans and observers when I say I'm getting tired of superteams and I don't think I could stomach Leonard with LeBron and AD. We finally had the Warriors dynasty come to an end a few weeks back and while their run might not be over if they can get the band back together (by re-upping Klay Thompson and Kevin Durant), I'm ready to enjoy a wide open Western Conference and, for that matter, NBA next season. I'm amped for multiple teams to emerge as serious title contenders and be done with crowing a squad de-facto NBA champions before the start of Summer League.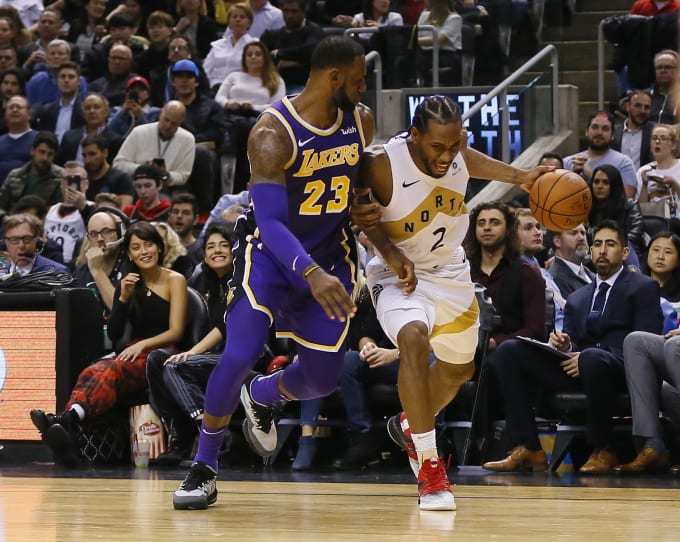 Parity isn't exactly a thing in the NBA, as research will confirm that the league has become way too predictable. With so much movement expected in free agency, next season has the potential to be a glorious crapshoot, possibly the first in five years. A three-headed monster of LeBron, AD, and Kawhi would destroy that in a heartbeat. They'd be overwhelming favorites to bully the Western Conference and run roughshod over whoever comes out of the East in the NBA Finals. Of course, things happen along the way to mess up a sure thing (hello, Warriors), but if those three are healthy what team is beating them? While devoting another max slot to Leonard would severely limit the Lakers ability to fill out their roster with a top-tier supporting cast, they'll piece it together and we all know there would be plenty of vets and role players willing and able to make practically nothing to go along for the ride.
On the flip side, there's an argument to be made—albeit, maybe not the strongest one—that the Lakers should split up their roughly $32 million in cap space instead of lavishing it on Leonard. Landing a few high-caliber 3-and-D guys, a point guard, and other key role players just might be the more prudent play. Let's not forget AD has a lengthy injury history, LeBron's getting up there in age, and Leonard is one season removed from playing nine games for the Spurs (plus, he's only played 72 or more games twice in his eight seasons). How did injuries and a suspect supporting cast work out for the Warriors earlier this month? We know the Lakers need all the outside shooters they can get. We know the Lakers need another ball-handler. We know the Lakers need reliable guys to come off the bench who can get buckets because you can't ride LeBron into the ground playing him 40 minutes a night in his age 35 season. Adroitly address those needs and the Lakers don't really need Kawhi. 
While all props are due to the Lakers front office for getting themselves in this position to pitch Kawhi—even after they gave up a haul to land AD—how can you not root for them to strike out trying to convince Leonard he should be a Laker? Having three of the top five players in the game on the same roster should be illegal because it so far tilts the balance of power to one squad that it's crazy. I don't want the 2019-20 NBA season to be a joke. Kawhi on the Lakers would make it a laugher.
So please, Kawhi, I'm begging you. Go back to Toronto or stick with the Clips like we all assumed months ago or flirt with anyone else with cap space—we don't care who it is. You'll make anyone an immediate title contender the second you join. The NBA universe needs you to sign with anyone but the Lakers. Basketball fans that don't bleed purple and gold should sacrifice something to the basketball gods this weekend so the best player in the world doesn't join LeBron and AD because this whole superteam thing is old and we're dying for something new. It used to be the only way you could pair three superstars was in a video game. Today's NBA makes fantasy a reality and I'd prefer my basketball not to feel like 2K cheat code.