Having spent New Year's Eve in Los Angeles, maybe the most impressive thing about the 76ers' performance on the first day of 2019 was the thing most conspicuously absent.
A hangover.
"I didn't see any Alka-Seltzer out there," joked Philadelphia coach Brett Brown.
Groggy, lethargic, and unprepared teams don't shoot 57 percent from the field and drop 76 points in the first half against a team sitting firmly in the middle of the Western Conference playoff race. Philadelphia played one hell of a first 24 minutes Tuesday at Staples Center and left L.A. with a feel good 119-113 victory over the Clippers even if things almost were derailed when Jimmy Butler earned his first career ejection.
But the physical play and the chippiness that earned Butler an early trip to the showers didn't earn the ire of his coach afterward. Nor did the chippiness from Joel Embiid that earned the big man a technical. Butler's near throw down with Avery Bradley and Embiid's shoving match with Patrick Beverly were the only things everyone wanted to talk about after the game. Both, in typical fashion, didn't shy away from the inevitable questions about what happened. And two of the game's most dominant and entertaining personalities assured everyone that there's more where that came from.
"I like it. We're supposed to be enemies on the court," Butler said. "I think that's what Philly likes to see. That's what league is there for, the competitiveness. Obviously nobody wants no fighting, but I like the energy."
"I love the physicality of it," Embiid said. "It's all fun to me."
While Butler's early exit was most notable (he finished with 16 points), it was Embiid who was the star, as usual for the Sixers, thanks to his game-high 28 points and 19 rebounds. Once again The Process torched the Clippers. After he dropped 41 on them back in November, Embiid had his way with whoever was guarding him last night—Boban Marjanovic, Marcin Gortat, and, most notably, L.A.'s high-energy big man, Montrezl Harrell. In typical Embiid fashion, he just had to take a shot at Harrell before leaving the building.
"He scored once and he was all up in my face," Embiid says. "I guess he didn't see what I was doing all game. I didn't pay him no mind. That's nobody I should worry about. Not even close."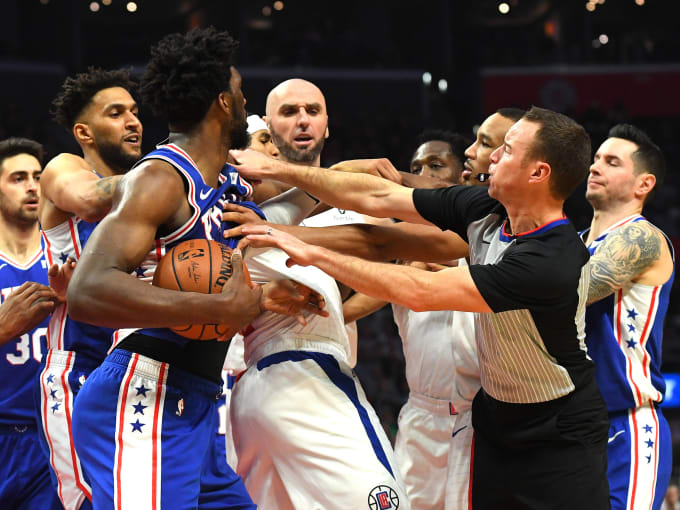 Harrell had himself another nice game and four Clippers finished with 20 points or more, but it was Philly's brilliant passing and efficient shooting mixed in with some trash talking and rough, rugged play that Brown loved. It's a recipe he hopes to repeat every single night as he continues to steer the new-look Sixers. Butler's only been around for less than two dozen games and Brown is still trying to figure out how to handle his Big Three. Since this is the NBA we're talking about, and egos are involved, you don't just plug and play. 
"What's most—by a mile—lately on my mind, is the growth of a team and the cohesion and the ability to share in somebody else's success to co-exist," Brown says. "That's all I care about. You don't just click your heels and you throw in Jimmy Butler and everybody's going to be playing the same way and style. So my job is to grow a team."
That's why Brown was hyped by the huge assist total Philadelphia racked up in the first half (20 of them). Distributing and hitting shots was the reason Philly got out to such a big lead and it turns out they needed just about all of it before the Clippers came up short in the comeback attempt.
Of course when you talk assists and the Sixers you have to mention Ben Simmons who had himself a pretty decent game—when he wasn't shooting, that is. The reigning Rookie of the Year continues to struggle with his much-maligned shot, but he still filled the stat sheet with 14 points, 9 boards, and 8 assists with his famous girlfriend, Kendall Jenner, looking on from courtside. We caught glimpses of Simmons' genius, with some precise passes and his clever, game-sealing inbounds play—he bounced it off Sindarius Thornwell's back, raced to the basket, and flushed it home with 14 seconds to go.
"Once you have guys who understand how to play together with guys who are very skillful, it's just easy to play," Simmons says. "We have a lot more to go. We're still learning."
They learned another way to win Tuesday and the rest of the NBA saw that testing the Sixers by mucking things up, by agitating them, isn't going to throw them off their game. It's only going to gas them up because Jimmy and Joel are here for it. Butler especially welcomes all the bruising, the banging in the paint, and the bullshit you can throw at the Sixers.