Entering his eighth season in the NBA, DeMarcus Cousins is averaging 21 points and nearly 11 rebounds a game for his career—Hall of Fame numbers. He's been an All-Star the past three seasons and he doesn't even turn 27 until next week. Hell, he might not even be in his prime yet.
But as he prepares to start his first full season as a New Orleans Pelican, after being traded from the Sacramento Kings literally during last season's All-Star Game (in, fortunately for him, New Orleans), he's still dogged by the same questions and the same concerns. Namely, can he keep things together on the court? It's an unfair question, really—a predisposition regarding his disposition that no doubt affects his treatment by fans, media, and officials alike. Can't a guy just get mad sometimes?
Fortunately with some years (and All-Star appearances) behind him, Cousins is able to poke fun at himself. He stars alongside All-Pro Dolphins tackle Ndamokung Suh in a new Foot Locker spot where they question their respective reputations. We talked to Cousins about reuniting with former Kings teammate Rajon Rondo, his expectations as a Pelican, and whether the refs have started to understand him any better.
(This interview has been edited and condensed.)
This year you'll be back with Rajon Rondo, what's your relationship like on the court?
Rajon's like a big brother to me. I think he's one of the best floor generals in the game. Extremely intelligent player, his basketball IQ is through the roof. He's a coach on the floor, he's always putting us in the best position to succeed, so I'm excited to play with him.
Did you know this was a possibility this summer; were you talking to him before it happened?
Actually no, I wasn't. My initial thought was that he'd be back in Chicago because of the way he played in the playoffs and how the season went for them. After everything went down with Jimmy Butler and all that I kinda felt we had a chance. I went at him, and we were on the same page right away.
Had you played with Rajon before with guys coming back to Kentucky?
I'd had a chance to play against him a few times in the summers. We went on a tour together during the lockout—I'd had a chance to play alongside him before we became teammates.
What was the biggest difference for you when you got to New Orleans from Sacramento?
Well, Sacramento was all I knew. I came into the league with Sacramento, so it was a big change for me—new place, new home, new teammates, new everything. So just that in itself was a big change for me.
What about playing with Anthony Davis? Two All-Stars playing up front, did you have to make any adjustments?
Of course there's adjustments. He's the most talented teammate I've ever had since I've been in the league, of course I'm excited about that. I think we both make the game easier for one another. The load for both of us was so heavy, trying to do it by ourselves, so I think we both appreciate getting some help.
Have you guys been working out together this summer?
Yes we have. We've been working out in L.A..
What is your summer like? Do you take some time off first?
I took about a month and a half off before I got back started, went on some vacations with my family, and after that it was back to business.
What are your goals going into this season?
My only goal is playoffs and winning games. That's my only focus.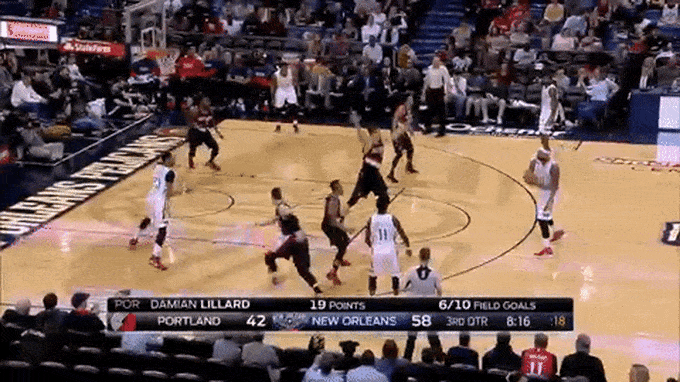 It seems like the West just gets tougher—Jimmy Butler moves to Minnesota, Paul George goes to Oklahoma City. Does it feel like the West keeps getting more loaded?
It's definitely gotten more competitive, but as a competitor I'm excited about that. Every night you gotta bring it, there's no off nights, there's no easy games, so I think this is gonna be one of the best NBA seasons for a lot of guys.
Were you surprised to hear about Kyrie Irving supposedly wanting out of Cleveland?
It was surprising but I don't really know the ins and outs of the situation. Kyrie's a good friend of mine and I support any choice that he makes—like I said, I don't really know the ins and outs of it, but he has my support.
One of the rules changes they put in this summer was moving up the trade deadline. You were the last All-Star traded under the old one—maybe they should call it the Boogie Rule—how surreal was that weekend in New Orleans.
It was crazy. Super crazy. I basically found out after the game, it's the nature of this business—shit happens.
I wanted to ask about the perception thing—do you feel like over the years treatment from the officials has gotten more fair?
Fair for who?
Fair for you.
HELL no.
Do you feel even with new guys coming in and old guys going out that they're still looking at you the same?
They're just passing the message along.
The good thing is you can't break Rasheed's technical record no matter what.That is a good thing about it. And I'm not really trying to either, so let's get that out there.