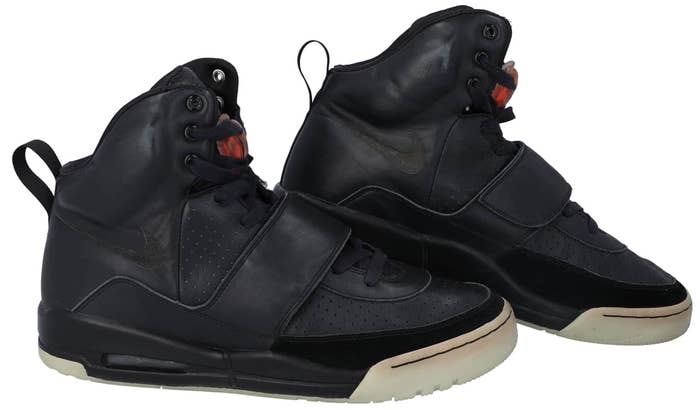 Remember when sneaker investing platform Rares bought the coveted "Grammy" Nike Yeezy sample for a record-breaking $1.8 million from Sotheby's? In a surprising turn of events, that exact sneaker just once again, but this time at a huge discount.
Auction house Goldin Auctions listed the aforementioned Nike Air Yeezy 1 samples in August for a starting price of $50,000. When the lot ended last night, the sneaker ended up selling for $180,106—a 90 percent drop from the previous auction. The grand total of the difference between the two sales sits at $1,619,894.
As the story goes, this size 12 sample version of the Nike Air Yeezy was made exclusively for Kanye West in 2008 and was worn by him at the 50th Annual Grammy Music Awards that year. That moment marked the first time that the public got to see the Air Yeezy 1. The silhouette was co-designed by West and sneaker industry vet Mark Smith, and this specific pair dons a stealthy black color scheme and a glow-in-the-dark outsole. The sneaker also comes with a custom wooden box that features lasered artwork designed by Smith.
While readers won't have a chance to own this historic "Grammy" Nike Air Yeezy sample, they can scroll through for a closer look at the shoe below.