When Kanye West claimed last week in his Beats 1 Radio interview with Zane Lowe that Yeezys would be made in the U.S.A. in two years, questions immediately came to mind. One: Is that even possible? And two: How much would they cost?
We spoke about these matters with Footwear Distributors & Retailers of America (FDRA) President and CEO Matt Priest, an expert in the industry, who had one of the FDRA's economists run the numbers to estimate what type of price increase the sneakers may see if production did in fact move to the U.S.
More specifically, they broke down the line's most popular model: the Yeezy Boost 350 V2, which currently retails for $220. The key in this equation is how much the increased labor costs offset the missing duty rates.
The FDRA estimates the sneakers to cost roughly $35 to produce, of which no more than $4 is labor. While retail pricing is typically a multiplier of 4.5 times that number, the premium West's name association adds to the line pushes that to over 6x. Using an hourly wage of $17 for a U.S. employee, that would add $84 in labor, less $7 on the duty, resulting in "a net increase of around $77.00, bringing the price to $297.00 a pair if made in U.S.A.," according to their calculations.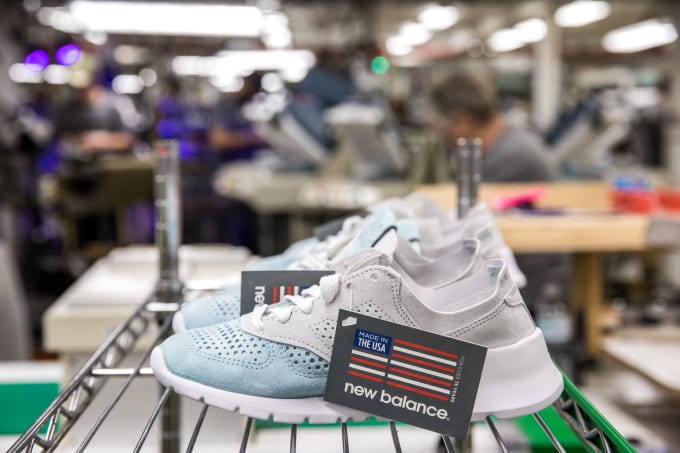 That figure assumes that the materials have been imported, as is common in U.S. manufacturing. According to Priest, "If you look at the New Balance factories, except for the product they make for the military, which by law has to be 100 percent sourced here in the U.S., all materials, all components—most of what they do is assembled components from China." If the materials were to be sourced domestically, costs go up even more. This would result in potential pricing of $324-$400 for U.S.-made Yeezys, according to the FDRA estimates.
Imported footwear comprises 99 percent of the shoes sold in the U.S., and the vast majority of the roughly 300 domestic makers are made up of one-person shops and cobblers. New Balance, the best-known of these makers, represents what could be a potential model for what Yeezy production could look like: limited quantities with premium prices, with the brand not being afraid to cross the $200 and $300 threshold on a regular basis to show the quality of their sneakers. 
On the bright side, while these prices do represent a significant increase, it's still less than price many of the shoes resale for, which means there could still be a market for the sneakers even at higher retail prices. Only time will tell if bringing Yeezy production to America comes to fruition, but it does appear possible from a pricing standpoint, at least in limited quantities.