Originally unveiled during Nike's Innovation Summit last March, the VaporMax is Nike's most advanced Air Max shoe ever. The reason? The VaporMax essentially allows the wearer to stand on nothing but Air.
The unisex VaporMax was eight years in the making and is comprised of over 39,000 parts. The sock-like sneaker also holds the title for the lightest Nike Air cushioning created to date, coming in four ounces lighter than its predecessor, the Air Max 2017.
According to Kathy Gomez, VP Nike Innovation, the idea was to focus on the sneaker from the sole up from the very beginning.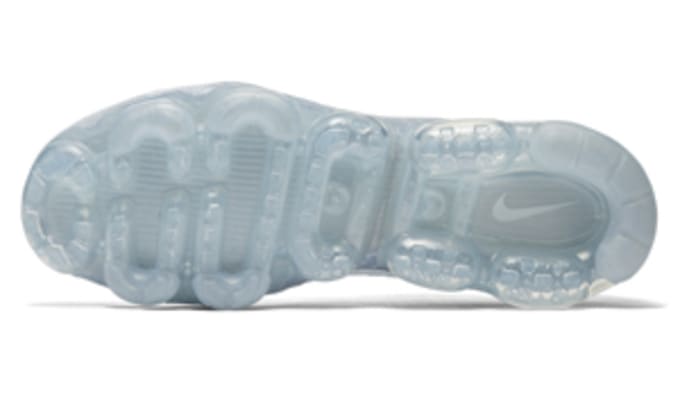 "The VaporMax represents a breakthrough and a dream come true for Nike Air. We've built Nike Air and made it more visible and prominent over the years, but what's been elusive is the sensation of air," she says. "We had to really reimagine how we built the whole system to unlock the sensation of air. We did that by removing layers and engineering a system where the outsole connect directly to the Air bag, meaning your foot is directly on top of the Air unit."
"The upper and the Air sole unit have a symbiotic relationship," adds Andreas Harlow, VP and Creative Director of Footwear Design for Nike Running. "To amplify that sensation of running on Air we had to create an upper that gets out of the way so ultimately there's very little material separating your foot and that new Air bag."
That means there's no glue in between or layers of foam or rubber. The low-top silhouette is truly minimal but surprising strong thanks to its tightly knit structure of Flyknit and Flywire technologies. Runners, athletes and weekend warriors will appreciate the stability and added bounce, while style watchers will appreciate the beautiful, seamless design.
"It's a huge leap forward in performance and the way you experience Air Max," Gomez says.
Nike Air's highly-anticipated VaporMax drops on Air Max Day on March 26, 2017.