Foot Locker's new Times Square store opens this week and while it isn't their biggest store in New York City, it's certainly the brightest. There aren't many brighter NBA stars than Kyrie Irving, so calling on him to prepare for the grand opening makes perfect sense. With his face, sneakers, and apparel spread out throughout both stories of the 17,000 square-foot space, it was only right that he gave us an early tour of what customers can expect in the future.
For the first time, Foot Locker has brought all of its "shop-in-shops" into one space, including House of Hoops, Puma Lab, the Adidas Foundation, Nike Fly Zone, and Six:02, it's women's-specific shop. This diverse array of products, from performance to lifestyle, truly offers something for everyone, but Irving was there to talk hoops. From his "hero athlete story" in the kid's "Nike Fly Zone" to the Kyrie 3 being featured alongside his teammate LeBron James' signature sneaker in the House of Hoops, we caught up with the NBA champion to discuss the evolution of his signature sneaker line, his relationships with Kobe Bryant and LeBron James, and why his "Black History Month" sneakers mean so much to him.
How has your approach to design changed since your first sneaker?
Irving: It hasn't. I'm definitely hands on. A lot of the stylistic stuff as well as artistic stuff just comes natural. Also, I allow our team to empower themselves and come up with different ideas. It's not just me, it's a total team effort, and I'm truly appreciative of that.
Your first sneaker was inspired by your love for fashion. Why hasn't that inspiration been included on the Kyrie 2 and 3?
On purpose. My plan was that the 1 was going to be more lifestyle basketball. Like what Michael Jordan did with his 1. The first one was like, 'Is this really a basketball shoe?' It could be something outside of that. The second and third were just like, 'OK, now we got to dedicate it to basketball.' I was coming off an injury, so it was part of my life. Every shoe is definitely a snapshot of what's best for me on the court.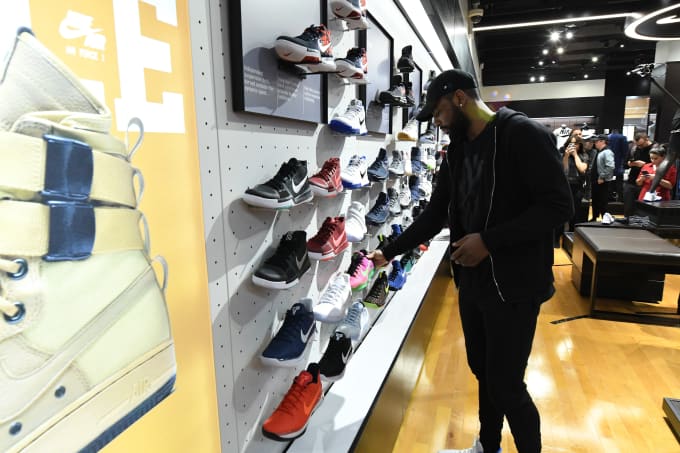 Nike has announced that there is not going to be a traditional All-Star basketball signature collection. How do you feel about that?
Nothing. It's really just a total team effort. A total team consensus. We'll move onto another moment in time where we can capture a culture similar to All-Star Weekend.
What does it mean to be able to have a Black History Month sneaker? How much does that sneaker mean to you?
Personally, it's definitely more than just a movement. It's more or less the truth that I've been living my entire life. Being able to not only celebrate just the month, but the lives of people who have come before me. That doesn't exclude or just only include one particular race. I think as humans we've come a long way in terms of where our world is and where it can change. There is definitely things we can all get better at, but as a country we remain strong and together. If we stay true to one another, then everything will be fine. This is only a small step. A lot of the fight and a lot of the courage and pride that we all have comes from within, and we just need to release it to the world.
What is your relationship like with LeBron James when it comes to sneakers and being Nike family, is there a friendly rivalry?There could never be a rivalry there cause ultimately we're under the same roof. We try to push one another brand-wise and the play on the court takes care of itself. The way we push our brands and the way we push our team is something second to none, and Nike does a great job of allowing us to be designers and be in control of it.
LeBron James has roasted Kevin Love's sneakers in the past. What is like when someone comes into the locker room with sneakers you aren't feeling?
We don't have too many other brands going around our team. The chances of one full team being all Nike and Jordan is pretty special.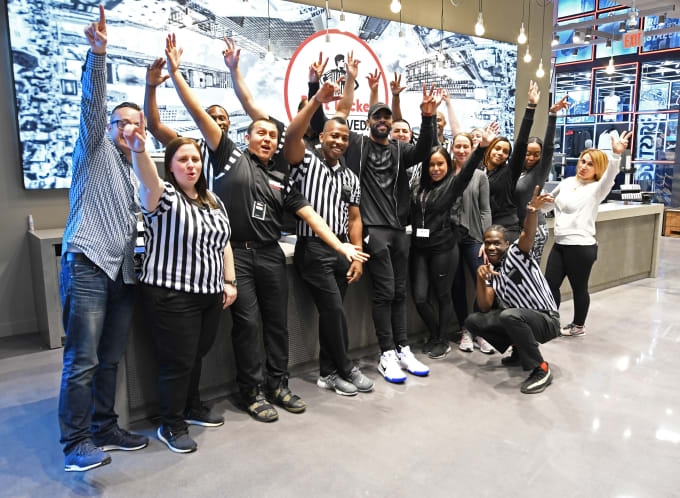 I know Kobe Bryant is a big fan of yours. He's been really quiet since he stepped away from the game, but do you still keep in touch?
I talked to him after we lost to Sacramento. That's when everyone was like, 'What's going on with the Cavs?' I called him and we talked for about twenty minutes. The mentorship is just open dialogue. What he's brought to the game is something bar none. For me, the mental aspect is something I'm always interested in. Not so much how much success he's had, but his journey that came along with it. A lot of the things that give you the mental edge and mental push, not just in the game of basketball but the game of life. Being able to separate all that, he does it best. He's always staying true to who he is, he's always going to be Kobe. Being able to come from a great family foundation that I come from and have a mentor like that is awesome.
This new Times Square Foot Locker has you front and center in the kid's section. How does it feel to have Nike and Foot Locker positioning you as one of their top athletes when marketing to kids? What kind of responsibility comes with that?
A lot, but you also understand that they really are quenching knowledge. To be a part of that and be able to get that story out, about not only myself, but what Foot Locker does, Kids Foot Locker, House of Hoops, everything that those brands entail. I think we all share the consensus that we want to inspire what's best for the next generation coming up as well as moments that are culturally defining for what's now. It's moment to moment but for me, I just take it as a social responsibility to connect everyone and anyone, especially the kids. They're so awesome, they're so innocent and they really just want to do what's best, and all we want to do is lay out that foundation for them to follow.