Sneaker customization has gone from painting a different color Swoosh on a pair of Air Force 1s to completely deconstructing sneakers and remaking them out of exotic leathers. No one has done the latter better than Jake Ferrato, aka JBF Customs, whose made-to-order items have prices that range in the thousands. And he's calling it quits for now.
This news comes at the time when a leaked image of a snakeskin Air Jordan 1 surfaced on the Internet yesterday.
Ferrato—​who came to infamy in sneaker circles for making python-skin Jordans for the likes of Wale, Marcus Jordan, and DJ Clark Kent—posted on his Twitter account that he would no longer make his signature customs after December 31. It was a surprising move, but Ferrato, who's made over 200 sneakers using python skin, told us, "I'm stopping now for a lot of reasons, but I mainly just need to switch focus. I'm getting bored, and that's never good."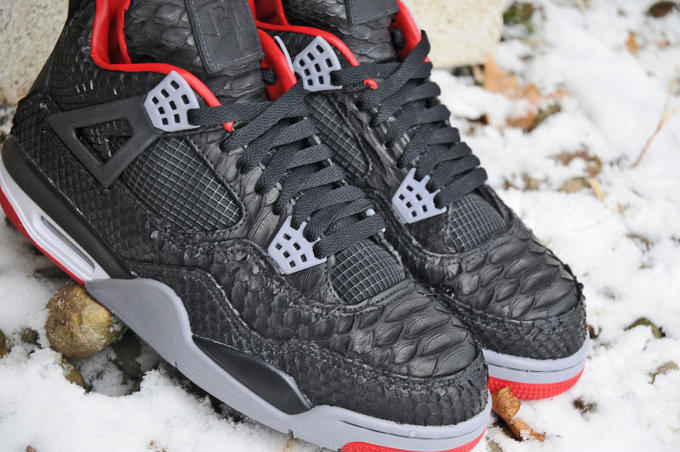 This move also comes at a time when Ferrato's custom designs were drawing very close parallels to Nike's inline product, most notably between his denim-and-ostrich Yeezys and Nike's Air Flight Squad. But when he's approached with the idea that Nike might have copied his work, he said, "People always ask me that. But to tell you the truth, I don't care. We can argue endlessly about who did what first, but at the end of the day, it only matters who did it best."
It's not just python-skin customs that Ferrato feels have flooded the market, it's the trend of using various exotic skins and leathers. He's not, however, proclaiming them all completely extinct. "I think exotics all kind of rise and fall together and will always be fashionable to some extent," Ferrato said.
One of his most popular customs in 2014 wasn't even a pair of Jordans made from a snake, either. It was a pair of denim Air Force 1s that used a jacket from Supreme's Spring/Summer 2013 collection, which were commissioned by well-known sneaker collector and AF1 enthusiast John Geiger.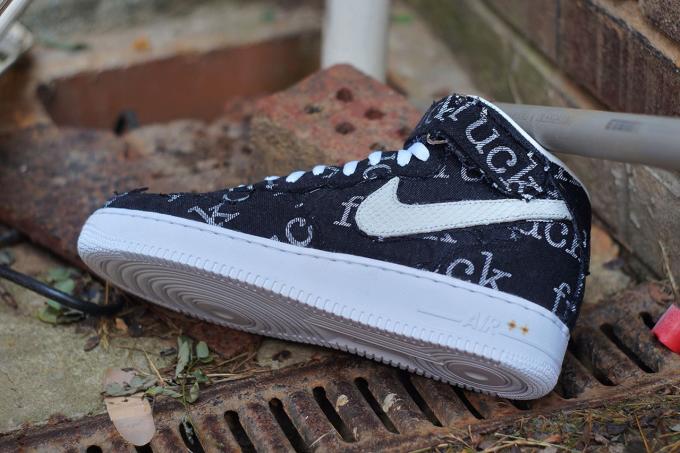 That doesn't mean that python-skin customs are completely out of the question for Ferrato. "I'm not going to stop forever," he said. " At some point, me or a close friend will want some python Jordans again, and then maybe I will do a release. But that is no time soon."
He's also not going to stop working all together. As he claims, "As far as what I'm doing next, I'd rather just wait and show you."