The first rule of running in the adidas Micropacer is DON'T run in the adidas Micropacer. Judging by the heavy leather build, retro silver shellac and velcro panels, it should be assumed that these are not the breathable, knitted clouds we're used to running in. adidas has re-released the Micropacer for the umpteenth time since its original 1984 release, celebrating the first shoe with a computer in a time where most homes didn't have one.
This year marked the 30th anniversary of the Micropacer, a shoe originally debuted with a built-in pedometer and a pop art appeal that made it an instant classic. Pegged as a product for "yuppies," the shoe was targeted to a young generation with money to blow and an interest in computers and the mechanics of running. In a 1985 issue of International Magazine, Allison Turnbull of Running Magazine dismissed the shoes for technical and financial reasons.
"No person, however rich, should pay $100 for a pair of running shoes," Turnbull said.
How times have changed.
The model has since been updated with an EVA midsole and high-quality foam for a bit more shock absorption than the early days, but the shoe is still a bit of a clunker. The Micropacer is a far cry from today's performance technology. A sensor in the toe helps calculate distance, average pace, and calorie burn, but to call it a performance shoe would still be a stretch.
Equipped with a small digital screen and two buttons labeled "mode" and "reset," the heavy overlay that holds the device makes a satisfying riiipp when you go to lace up. I've been procrastinating going on a true run in the shoes, resorting to short jaunts around my neighborhood. But an invite to test out TomTom's latest activity monitor, the Runner Cardio GPS Watch, during a beach run in Montauk, NY gave me the ideal opportunity to put the 30-year-old kicks to the test.
So, how much has technology changed over 30 years? Quite a bit, it turns out.
In the pre-Google Maps era, TomTom functioned as a stand alone GPS system for your car, and ultimately blossomed into a brand that has offered technology for both your drive and your runs. Setting up the watch is super simple. Select "Run," "Treadmill" or "Stopwatch" and then plug in a few details about yourself (how far are you running, what's your goal time, etc) and push the "Go" button.
An optimistic pie chart slowly fills up as you run until chirps a cheerful buzz to let you know that you have made it to 100%.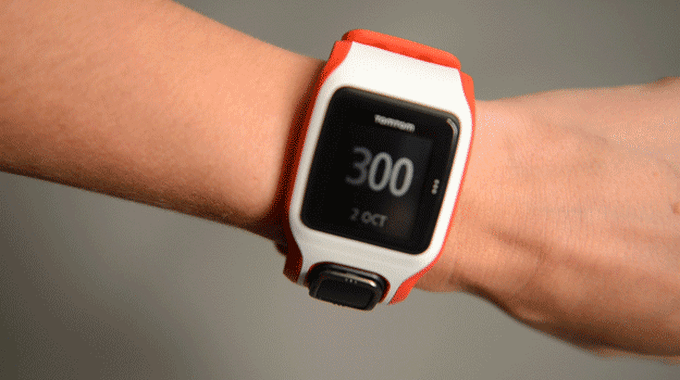 The Micropacer is a bit harder to grasp. After fiddling with the two buttons for a bit, you clear out all former data to reveal four rectangles signifying "0000." As a person that can't turn on the cable most days, this is a struggle for me. After a series of clicking through and mashing buttons 'just to see what happens' (my favorite problem-solving trick), the shoes start to tick away numbers.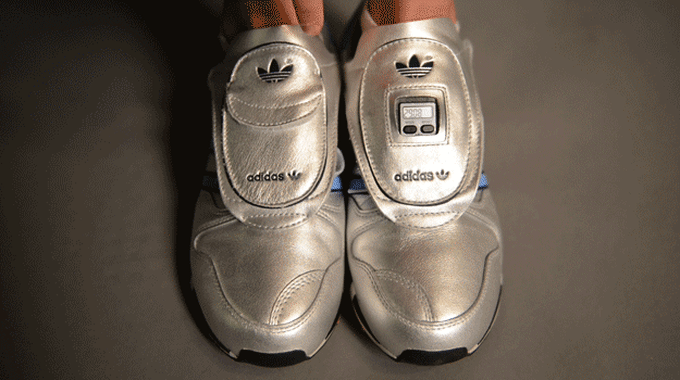 Running on the beach can be fun if you have the right sand-to-sneaker cushioning ratio right. If the sand is too hard, you'll need your cushioned shoes; if the sand is too soft, you're going to need some minimal kicks. Today, the sand is quicksand soft and the shoes feel like bowling shoes⎯leather, rigid sweatboxes that cut into my ankles with every stride. The watch effectively ticks away at the time, but in order to read my heart rate it needs to fit a bit tight. On the plus side, it is super easy to read and operate, despite the blazing sun and the level of concentration it takes to run through the sand without falling it a former running mate's footsteps.
The run is over in a flash and I check my running tools to compare how I did. According to the kicks, I've taken 1,264 steps and burnt 162 calories; the TomTom reads 88% of my goal at 1.50 miles with 102 calories burned. The shoes, with their outdated technology, are a bit complicated to read in the hot sun (it appears to read 8888 at all times, so it's hard to check your progress during the run) and aren't nearly as accurate as today's activity monitors. While the TomTom is on the obnoxiously large side, any runner can agree that it's frustrating to have to slow down your run to adjust something on a small screen, so this can be forgiven by today's less style conscious runners.
Released a year before Back to the Future brought the Air Mag to the silver screen, the Micropacer is still viewed as ahead of its time. Sure, technology from 1984 looks cooler today, but modern tools are inarguably more effective. And, let's be real—if we put the TomTom against the latest tech in 2044, it would hold up just as well (which is to say, not well at all) as the Micropacer. In a 1985 issue of New York Magazine article, Fred Lebow, the then president of New York Road Runners observed, "...since runners can already figure out most statistics using some simple formulas and a $10 digital watch, the shoes' sole attraction may be snob appeal."
What would Fred think of us all today?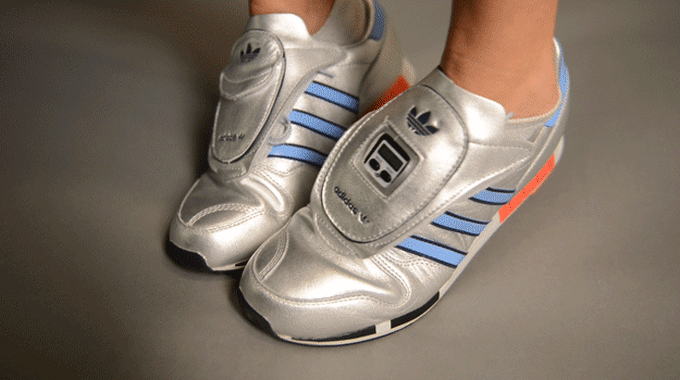 Calvy Click is the Editor-in-Chief of Sneaker Report. When she isn't writing about performance footwear and apparel, you can find her running around Manhattan to Rick Ross anthems or hitting the tennis court. Keep up if you can on Instagram or Twitter.
RELATED: I Played Tennis with Mats Wilander, And I Won
RELATED: The Real Problem with Models Taking Over the Fitness Industry