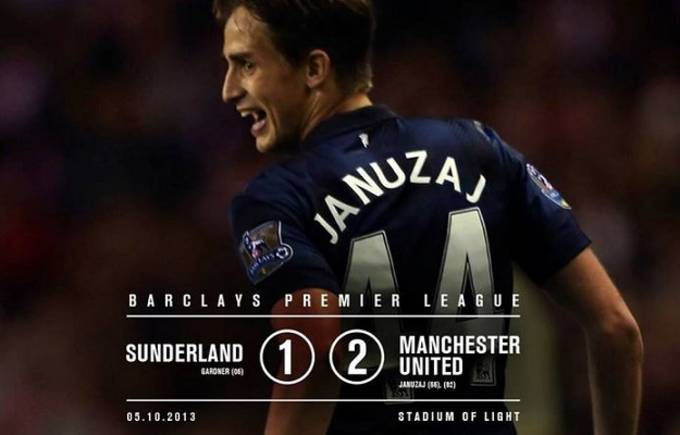 Every weekend we are treated to goals and some top class, high performance games. And then there are weekends when we are introduced to new rising stars - this was one of those weekends! Manchester United have been under fire this season and this last weekend was no different, until an 18-year old stepped up and scored two magnificent goals. Then there was the last minute double that secured a Real Madrid win and in Italy we had some old guards showing they are still some of the top players in the world not to be forgotten.
Here's what you missed this weekend in soccer.
Bryan Byrne is the founder of SoccerCleats101. Got a question about boots? Hit up Bryan on Twitter.
RELATED: 5 adidas Cleats vs 5 Nike Cleats: Breaking Down the Competition
RELATED: This Weekend in Soccer: Puma Boots Take the Spotlight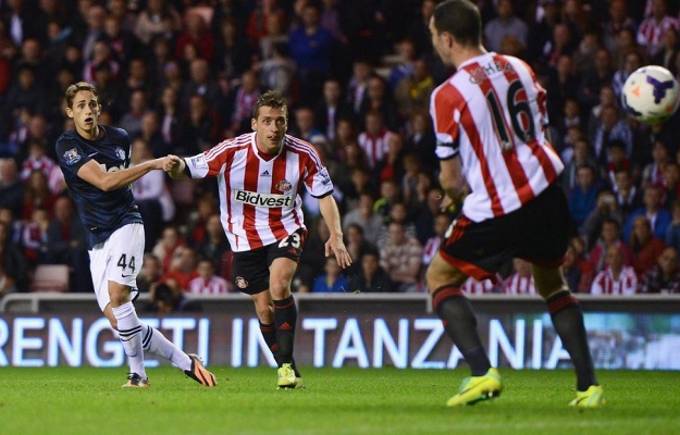 No. 1 – Adnan Januzaj – A Star is Born
Manchester United is in crisis. Well, at least that was the message being sprayed around the media last week and reinforced by the 1-0 losing scoreline at half-time on Saturday. Sunderland, who is bottom of the EPL, looked more threatening than United and it felt like they were going to score a famous win.
Then, up stepped the young Belgian, Adnan Januzaj. The 18-year old was handed his debut in this specific game and took full advantage. Both his goals were terrific and well deserved considering his all-around impact on the game. On his feet, Januzaj wears the Nike Hypervenom Phantom – again bringing much appreciated publicity to the agility boot. If you have seen him play, you will notice Januzaj has a unique ability to shape his body in order to get around players. And his ability to create space for shots is pretty impressive. I'm sure there might be talks of a new Nike contract on the way to go with his new club contract!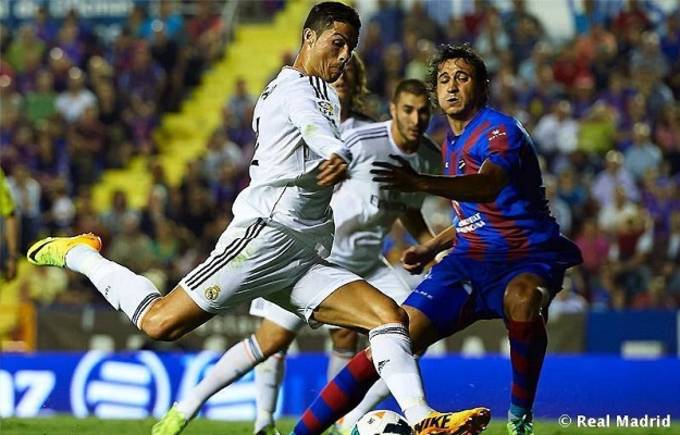 No. 2 – Cristiano Ronaldo Scores Last Minute Winner
First it was Morata then Ronaldo as Real Madrid scored 2 dramatic 90th minute goals to steal a win versus Levante. Going into injury time, Real were down 2-1 and under threat of falling further behind Barcelona and Atletico Madrid. It wasn't the prettiest goal in the world, but Ronaldo's shot took a deflection and found the back of the net.
As you would expect, Ronaldo was again wearing his trusty pair of Nike Vapors. He continues to wear the Volt/Bright Citrus colorway, although there is a more updated Purple hi-vis colorway that we expect to see him in over the coming weeks. The Vapor is a boot built for speed and explosive power as you look to accelerate away.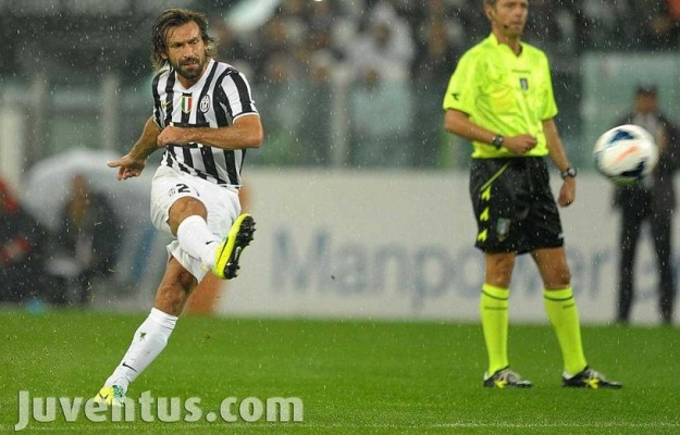 No. 3 – Andrea Pirlo Returns to Haunt AC Milan
I often wonder why AC Milan allowed Pirlo to leave on a free transfer in 2011. Since leaving, Milan have taken a large step backward yet Pirlo has continued to be a star in Serie A. Again on Sunday, he demonstrated his abilities by opening the scoring with a cracking free-kick, not that AC Milan would have appreciated it. Juventus went on to beat the Rossoneri 3-2.
Pirlo has been spicing things up of late by sporting the Nike Tiempo IV, Hi-Vis collection pair. These boots are bold and extremely bright, yet they look pretty good on a player renowned for his desire to wear a more traditional boot. Pirlo is a creator and a playmaker, so the look works!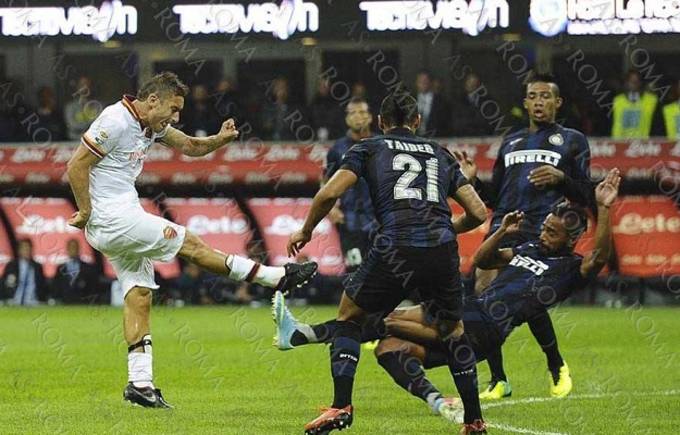 No. 4 – Totti Shows His Never Ending Class
Totti continued to demonstrate his abilities with a double in Roma's emphatic 3-0 win away to Inter Milan on Saturday. The 37 year old bagged a double and the result took Roma to the top of Serie A, with a 100% record after seven games.
As a long term Diadora endorsee, it is unusual to see Totti wearing any other boot. He is another player who has consistently looked for no-nonsense performance and limited technology. Right now, he is wearing Nike boots – and they have been personalized just for him. Nothing about the boot matches the current selection of boots Nike has on the market. These feature an overlapping tongue and a bladded stud configuration. When you are a player of the caliber of Totti, I guess you can demand your own custom boots!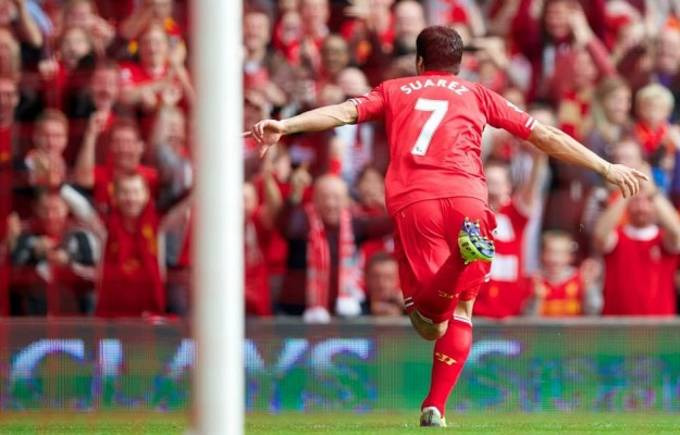 No. 5 – Sturridge and Suarez; A Perfect Partnership?
It seems like the S&S partnership for Liverpool is working tremendously well at the moment and it has them sitting second in the EPL table. Although they didn't get assists on either goals, both players scored on Saturday and again displayed an extraordinary ability to find each other throughout the game. Where other strikers look straight toward goal, Sturridge and Suarez are always looking for each other.
Even thought they play beautifully together, they actually wear pretty opposite boots. Sturridge is currently in Nike and the Hypervenom Phantom specifically. Suarez, meanwhile, is a key part of the adidas F50 adiZero marketing strategy. Both boots are lightweight, but where the adiZero is all about speed and offering players a lightweight option, the Hypervenom is designed for agility and offering players the ability to cut with the ball close to their feet, at top speed.