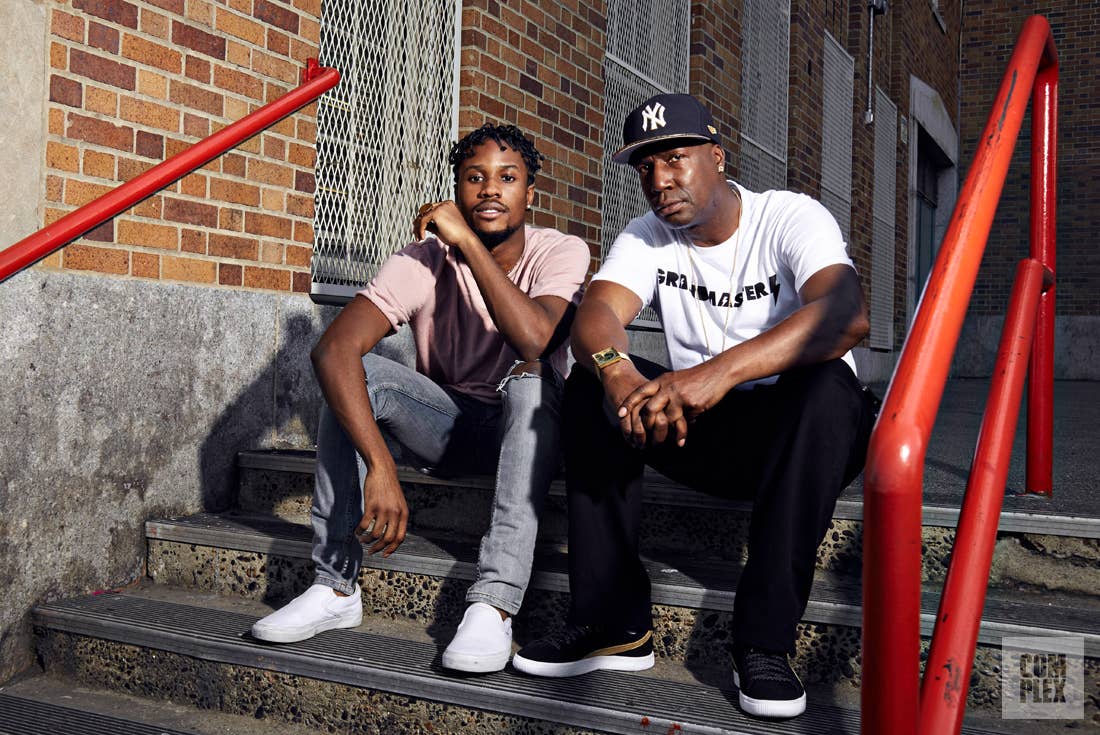 Grandmaster Flash is pacing around Behagen Playground, a park draped by Bronx apartment buildings and full of basketball courts and jungle gyms that the legendary DJ has hung out at since he was a teenager in the mid-seventies. To residents of the nearby Forest Houses, who are chilling on benches eating shaved ice, seeing Flash is just an everyday occurrence. Some were even there decades ago, when he was more commonly known as Joseph Saddler and would "plug up in the parking house and jam," Flash, 58, recalls.
The DJ checks his watch. He's waiting for Shameik Moore, the 21-year-old actor who stars in Baz Luhrmann's Netflix original series The Get Down, which features a fictionalized version of Flash (the DJ also consulted for the show, and makes a cameo himself). When he finally spots Moore strolling onto the courts, about an hour later than when the two agreed to meet, Flash turns into something like a jocular uncle. He slings his arm around Moore and starts schooling him on the importance of timeliness. Moore, apologetic, slumps his shoulders as if to say, "I KNOW," before leaning in for the lesson.
For the last 17 months, Flash and Moore have been side by side making The Get Down, a quintessential Baz Luhrmann production about the sliver of time when disco was dying and Flash and other Bronx DJs like Kool Herc and Afrika Bambaataa were creating what would come to be hip-hop with their fingertips. To become Shaolin Fantastic, a youngblood graffiti artist turned aspiring DJ in The Get Down, Moore relied on Flash, picking his brain on the art of the turntables and the era in which Flash blossomed. The two quickly became like family, Flash says: "The first time I seen him, I'm snatching him up and grabbing him. It's like we grew up together." On this sunny afternoon in August, they've reconvened in the Bronx so that Flash can show Moore around his old stomping grounds and, yes, continue to impart wisdom.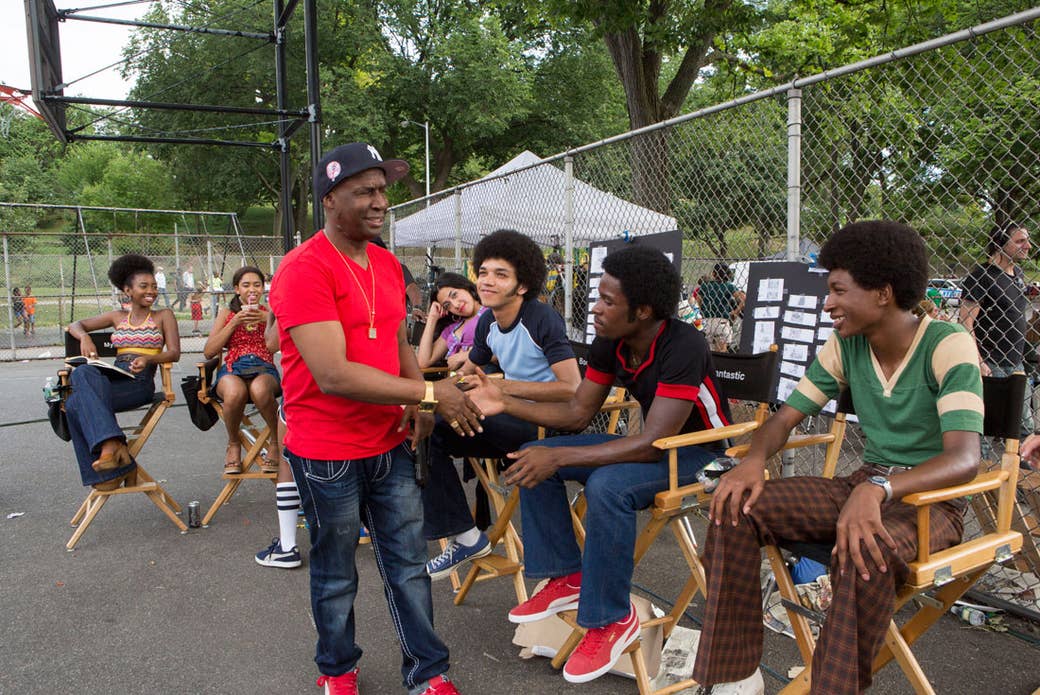 It would've been more surprising if Flash and Moore didn't forge a familial bond while making The Get Down, considering the intensity of the show's production. Premiering only half of its 12-episode first season on Aug. 12 (the other half will drop in 2017), the show took two-and-a-half years to make, the budget ballooned to $112.5 million, and Luhrmann (Romeo + Juliet, Moulin Rouge, The Great Gatsby), who initially thought he'd be taking a less hands-on approach to making the show, was tempted to walk away when it became clear that production was going to be extremely strenuous and time-consuming. Thankfully, he didn't. The Get Down has received largely positive reviews, and if the buzz on Twitter is any indication (Netflix doesn't release streaming statistics), the show is being voraciously consumed. "Baz didn't make a hip-hop movie—it's a love story," Flash says. "It's so many emotions running parallel with each other. It was almost like Baz was DJing, but with pictures."
The Netflix series intertwines the storylines of a pair of star-crossed teenage lovers and their friends over a soundtrack fusing Latin music, hip-hop, soul, funk, and disco. Acting as a backdrop to this story is the birth of hip-hop and the South Bronx of the late 1970s, characterized by burning apartment buildings, rising violence, and bureaucratic neglect, if not all-out corruption.
The show is more mythology than real-life history, and one of its central mythological figures is Moore's Shaolin Fantastic. A conflicted protagonist, Moore's character has his sights set on taking over the world as a DJ; he dreams of being a king like his mentor, Grandmaster Flash, played in the show by Mamoudou Athie. And just as Athie's Flash teaches Shaolin, so too did the real Grandmaster take Moore under his wing. "I'm teaching him things about life that he needs to know: how to handle stardom, criticism, being praised," says Flash. And just as he begins describing Moore as "a sponge," the actor jumps in: "I'm a person that, if you don't want me to learn something, you shouldn't have me around."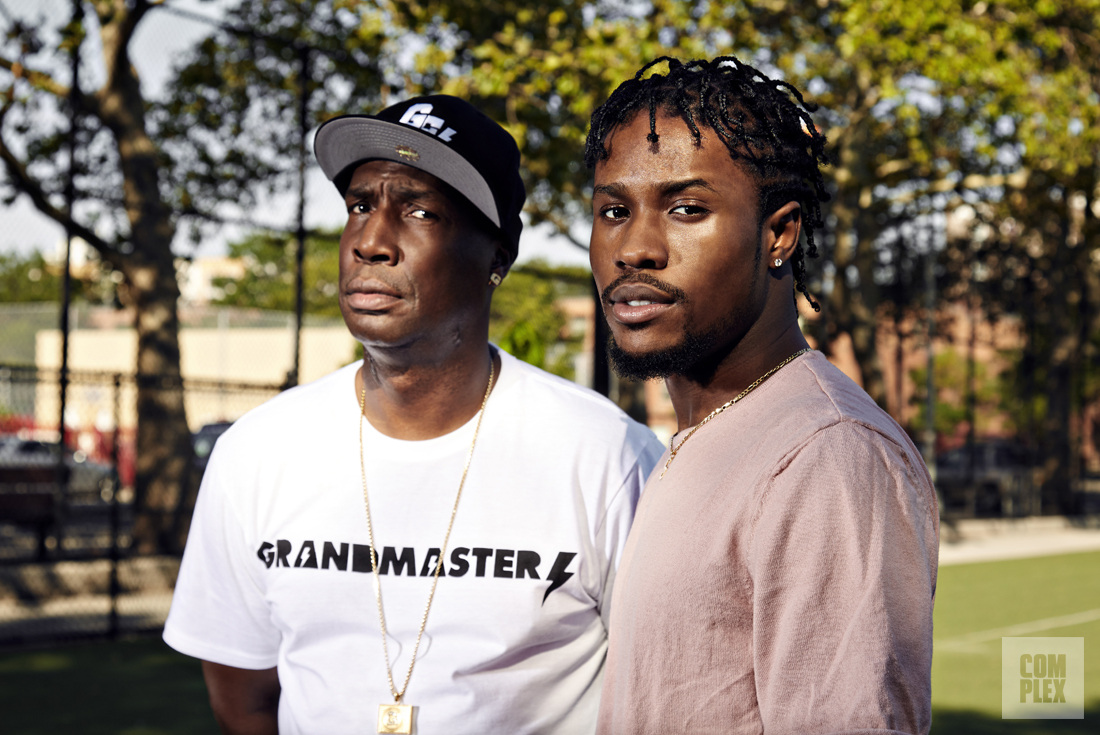 Moore is probably best known for his starring role as a capricious teen in the 2015 movie Dope, but he's not just an actor: he released his debut R&B album, I Am Da Beat, in 2013. He's currently working on his sophomore follow-up, and has been since The Get Down started shooting—a secret he kept from Flash for most of the production. Moore never told a soul—a decision that coincidentally mirrored the way Flash approached his earliest days learning the turntables in the early '70s. Neither wanted to be influenced by the doubts or thoughts of those they'd share their music with, not until it was finished at least.
"I think of creativity as a painting," says Flash, "and when you're beginning, it's about the colors and strokes. The closest person—even your parents—won't get what you're doing. You can't let anybody, especially during the embryo stage, get close, because someone will say, 'That shit is never going to work.'"
"That's why I don't play my music!" Moore blurts out. He still hasn't let anyone hear his new work. But as we pile into an Uber to make the 15-minute drive over to Samuel Gompers Career and Technical Education High School in the Bronx, Flash's alma mater, Moore apparently has a jolt of courage and passes his mentor his Beats headphones. Everyone in the Chevy Suburban gets quiet, even though only Flash is listening.
After a few minutes of listening, Flash looks at Moore with a stone-cold face. "I'm gonna keep it real with you," he says ominously.
"Keep it real with me," Moore replies, nervously.
"I like this," says Flash. "Girls are going to love it!"
It's August, so the gates of Samuel Gompers High, which sits in the Southeast Bronx where Southern Boulevard hits 145th St., aren't currently open. We approach the school's security guard; Flash asks if we can wander the halls, but no dice. The guard knows who Flash is, and knows he may be the school's most famous alum, but he just can't make any exceptions. Instead, Flash and Moore walk around the high school, a hulking, industrial brick building distinguished by two grand symmetrical columns, before finding a spot to sit down, where they begin bemoaning their old school uniforms.
"I hated it," Moore, who grew up in Atlanta, says. "I would stand in the mirror for 30 extra minutes before going to school, but I was just wearing the same thing as everyone else anyway. I had no other options."
Flash recalls being a "nerd" in high school. "I was a geek. I'd go to school, then come straight home and work."
Moore did nearly the same while filming The Get Down: after finishing a scene, he'd pack up and go straight to the studio. But on set, he was fully focused on the job. "I like to give acting 100 percent, because it's fueling my career," Moore says. "When on set, I'm not really thinking of music, because I need to be Shaolin to really give you what you get on The Get Down. I've got to focus. I could be just another black actor, but if I'm going to do this, I want to be the best black actor to ever hit the screen."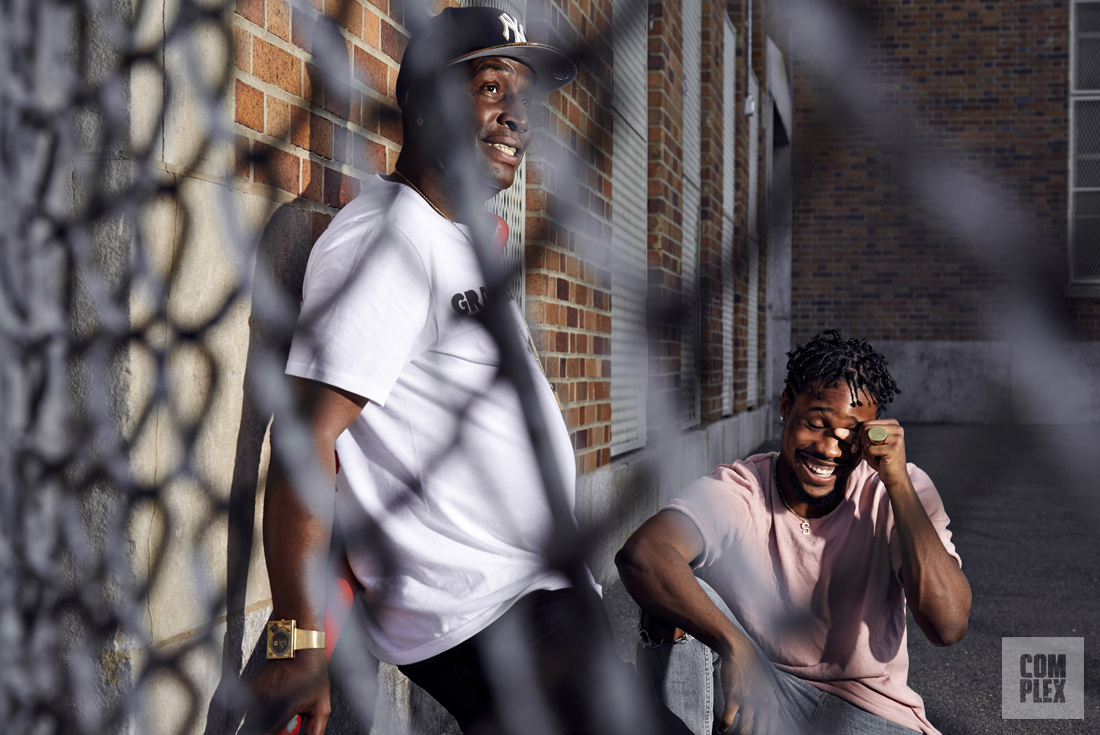 As an aspiring DJ, Flash also had that tunnel vision. His only concern, he says, was moving the crowd. You see that in the first episode of The Get Down, where Athie's Flash brings together a sweaty crowd at an underground club, united by the dire need to escape the harsh reality of their surroundings and, most of all, dance. That scene looks a lot like how Flash remembers his early days at Behagen Playground. In those moments, Flash was "in search of something missing," he says. "I was looking for unity with music. I had to figure out a way to cut and paste all the most important, best parts of records, of different genres, and [paste them] into a song, on time to the beat."
While The Get Down's characters are seemingly aware of the decline of their neighborhood, Flash wasn't concerned with it in real life. "To be quite honest, we didn't know nothing about what the mayor was doing. We'd see things on the news, but we [were] too busy out here. I won't say we didn't care, we just didn't know politics, the left and right. When I was a kid, [I thought], A building fell down? Oh shit. We'll go to the next building."
Moore doesn't take his eyes off of Flash as he continues to share gem after gem. Six episodes behind them, the young actor continues to soak up his mentor's wisdom; you can hear it every now and when Moore talks.
"The power of now: Learn from the past, use that knowledge for the present, live in the moment, and create the future," Moore says before we leave the high school. "You can do that with your mind. But you don't know what's going to happen." 
Flash finishes the thought: "You don't know—but enjoy the journey."