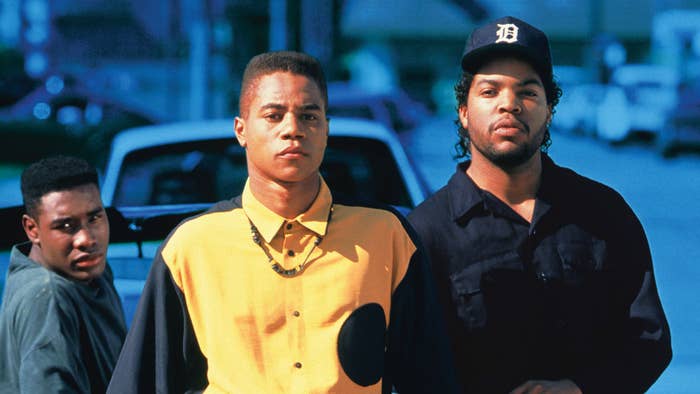 To honor legendary filmmaker John Singleton, who passed away earlier this week, the Tribeca Film Festival announced today it will be holding a free screening of Singleton's Academy Award-nominated directorial debut, 1991's Boyz n the Hood, on Friday, May 3.
The film, which follows three friends as they grow up in South Central Los Angeles, highlights gang culture and parental issues in the hood. The film—which starred Ice Cube (in his debut film role), Cuba Gooding, Jr., Morris Chestnut, and Laurence Fishburne—was nominated for Best Director and Best Original Screenplay at the Academy Awards, making Singleton the youngest person nominated for Best Director (he was 24) as well as the first African American nominated for Best Director.
Jane Rosenthal of the Tribeca Film Festival released the following statement about the announcement: "John Singleton accomplished what all creators strive to. He entertained, but also inspired a generation of audiences. As the first African-American director as well as the youngest director to be nominated for an Academy Award at the age of 24, he allowed so many to envision themselves as changemakers. We want to celebrate him as we consider the legacy that he has left behind and so the Festival is adding a free screening of Boyz n the Hood on Friday May 3 for the community to come together, see his pivotal film, and honor John."
The influential film was brought up by writer-producer Lena Waithe, who told Complex that, "As we tell stories, I always tell people, you can't look at [Boyz in the Hood characters] Doughboy, Tre, and Ricky, and not think about [The Chi characters] Jake, Kevin, and Papa; it's a direct reflection of those characters. Even me, [I said], 'I wanted a chubby kid to be a part of this trio.' It was written in the paperwork and I think a lot of that was because of Doughboy; that flashback of them kids is in my DNA. I remember seeing a chubby kid who was cool and interesting and kinda had the most depth among the crew. And so you can't deny that one happens to be in L.A. and one happens to be in Chicago."
The screening of Boyz n the Hood will take place at 5:30 p.m. on Friday, May 3 at SVA. While it's free, you must sign up for tickets.