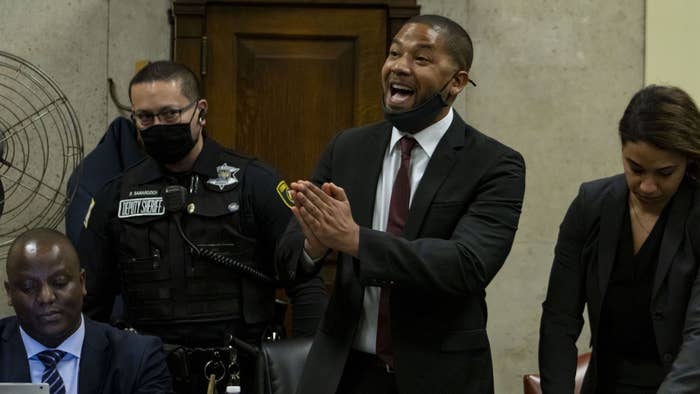 UPDATED 3/16, 9:32 p.m. ET:  Jussie Smollett has been released from Cook County Jail. You can watch video showing the actor leaving the jail and getting into a vehicle below.
See original story below.
Jussie Smollett will be released from jail as he appeals his conviction of staging a hate crime against himself and making a false report to police, AP reports. 
Smollett was sentenced to 150 days in Illinois' Cook County jail on Thursday where he was being held in protective custody. After his sentencing, the Empire actor delivered an impassioned plea, maintaining his innocence and declaring that he isn't suicidal. "I am not suicidal. And if anything happens to me when I go in there, I did not do it to myself," he said. "And you must all know that." 
Smollett was ordered at the time to pay a $25,000 fine and $120,106 in restitution. He was also given 30 months probation.
Smollett's attorneys argued that their client would wind up serving the entirety of his sentence during the appeals process, coupled with the claim from the actor following his conviction that being behind bars would put him in harm's way. Deputy special prosecutor Sean Wieber denied his lawyers' stance and warned against establishing a precedent among those who believe they should be free when facing a sentence shorter than a few years.  
As part of his release following a 2-1 decision in appeals court, Smollett would be required to post a $150,000 personal recognizance bond, meaning he would simply need to agree to show up to court on the appointed date, but putting down any money wouldn't be necessary. 
Smollett claimed he was walking in the streets of Chicago in the the early hours of Jan. 29, 2019 when two masked white men hurled racial and homophobic slurs in his direction before attacking him and tying a rope around his neck. He has repeatedly denied the notion that the incident was staged, even though both attackers have since been identified as Abimbola and Olabinjo Osundairo, both of whom worked with Smollett on Empire.