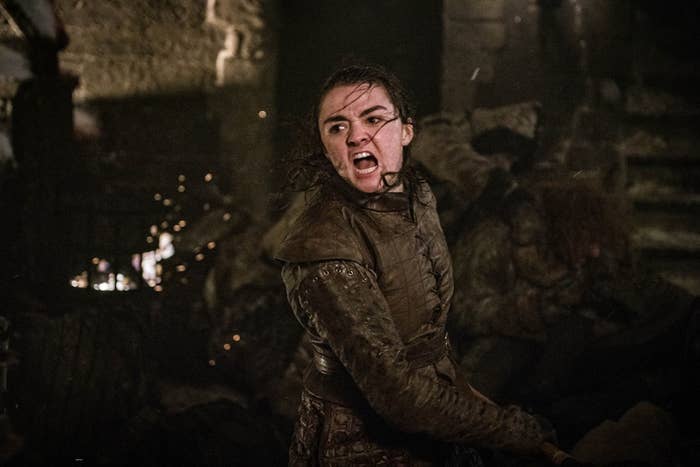 At a Game Of Thrones press junket, Maisie Williams, Sophie Turner, Nikolaj Coster-Waldau and more spoke to Complex AU about the challenges of keeping scripts secret, the impact of the show on its millions of fans worldwide, and what they stole – or tried to steal – from set in the final days of shooting.
It's been a long seven months since the Game of Thrones finale left our screens. Fantasy shows abound on streaming and cable networks, but few have come close to the visionary series first penned by George R.R. Martin and adapted by David Benioff and D.B. Weiss.
Steeped in millennia-old lore, with dragons and an undead army to boot, the show was a gamble that paid handsomely for HBO.
"It's been a really fascinating experience watching this show grow from its origins of being a fantasy show people weren't convinced about, to the global phenomena it's become," says Gwendoline Christie (Brienne of Tarth).
"When I was first gearing up to start season 1, and people asked what I was up to, I'd go, 'It's kind of like a magic, medieval thing… there's a dragon in it,'" recalls Joe Dempsie (Gendry Baratheon). "I'd see eyes glaze over, and thought, 'I'm not selling this well, [but] think it's going to be quite good.'"
"Quite good" is quite modest. The show has garnered tens of millions of fans across the world (around 44 million viewers in the U.S. alone watched the final season) and holds the record as the most awarded series in television history.
With all the hype around season 8, HBO took extreme measures to keep things under wraps. Scripts were digitized and locked with two-factor authentication.
"We had to carry our phones with us to read our lines," recounts Liam Cunningham (Davos Seaworth). "It drove Peter Dinklage mad because he couldn't see the words that were so small on the phone."
"Also, you had different names on the call sheets, all sorts of made-up names," says Carice Van Houten (Melisandre).
"I kept forgetting my name," says Cunningham. "Me, too!" adds Van Houten.
As an added security measure, the cast threw around red herrings at the season 8 press junket.
"Everything we say is always factual," said Maisie Williams (Arya Stark) sardonically.
"Maybe I'm giving away a huge spoiler, but when Danaerys meets Bronn, her knees go [weak]… he makes a good right-hand man. And Jaime could be doing their garden," Jerome Flynn (Bronn) offered unhelpfully.
Aside from an unfortunate coffee cup gaffe in season 8 (that momentarily sent Starbucks' share price soaring), the show has long been lauded for its intricate prop, costume, and set design. So, of course, the cast would want a keepsake or two.
"I couldn't get away with anything," sighed Flynn. "I wanted my leather outfit, but they weren't having that."
Liam Cunningham fared better. "I liberated quite a few props. Do you know the stag that I carved for Shireen? I gave it to my daughter."
Further north, Sophie Turner (Sansa Stark) took a corset and a scroll. Maisie Williams kept some "Faceless Man" coins and a jacket from the final season.
To supplement their findings, the cast received hand-illustrated storyboards from artist William Simpson that depicted their characters' significant moments: Bronn's face-off with Drogon, Gendry's leeching by Melisandre, Bran's shove out the window.
"I felt sorry for the artist," says Dempsie. "He thought he was done, then they were like, 'Oh, by the way, can you do storyboards for all the actors?'"
There would be no Game of Thrones without the fans. Back in May, an estimated 10.7 million U.S. workers were predicted to skip work on Monday, the day after the series finale. Zealous fans have reworked elements of the show into fan fiction, cosplay, weddings (none red, thankfully), and even baby names. 
Responding to fans' love for the show, Christie says: "It can be deeply moving actually, and I never failed to be overwhelmed and moved by it, because the character of Brienne of Tarth seems not only to resonate with women, but to people who feel some sense of isolation or being marginalized." 
"It's been interesting to feel the love of the fans cheering for Tormund to come out from the snow [at the end of season 7]," says Kristofer Hivju (Tormund Giantsbane). "I saw this beautiful valentine's card that said, 'I love you as much as Tormund loves Brienne.'" 
These days, even showrunners can't outrun the feedback loop. Fans are live-tweeting as episodes air and conceiving theories by the end credits. Episode-centric memes proliferate timelines until being replaced by those of following week. 
"Technology has transformed our lives, and it's happened at the same time as this show. It's been an interesting pairing, where forums are created and everybody has an equal voice," says Christie.

Toward the later seasons, it became obvious that HBO was listening. Take Gendry Baratheon: back in season 3, Davos sent him on his way in a rowboat. The young blacksmith's continued absence for the next few seasons prompted fans to joke that he had been rowing since season 3. 
His eventual return in season 7 was met with Davos' gloriously meta line: "Thought you might still be rowing."
Thanks, writers' room.
But they weren't done. Gendry's athleticism was again comically put to the test when he ran all the way to Eastwatch… in the snow, through a blizzard.
"Someone asked me, 'In the Game of Thrones Olympic team, is Gendry a rower or a runner?'" laughs Dempsie. "He's not winning any medals for rowing… he was rowing for three years. Hammer throw, maybe."
With some actors filming together for almost a decade, the cast was understandably sentimental about wrapping up for the last time. 
"I'm going to miss working with Gwen [Christie]. We'll find something else hopefully, but it's really nice to be done. I feel really proud that we've done it, and we've ended it," says Nikolaj Coster-Waldau (Jaime Lannister).
"The further distance I get from it, the more special it seems. When we were filming, it was so intense in the bubble and routine of it. Now, we're starting to look back on it and realise how special a time it was," adds John Bradley (Samwell Tarly).
Ending a show this momentous was never going to be easy. Some viewers felt slighted by the final season's episode count: a mere six, down from the usual ten (though season 7 only had seven).
Those closer to the action felt the showrunners made the right call.
"I really thought that they'd done an amazing job, because it is impossible," says Coster-Waldau. "I'm sure there must have been temptation, but they never seem to want anything but to tell the story in this exact way. And that does give you a sense of pride to be part of this thing, because it didn't overstay its welcome."
"Respect to [David Benioff and D.B. Weiss] for not just trying to pad it out and get a whole ten episodes out of it," concurs Isaac Hempstead Wright (Bran Stark). "They know where the story is going, they know what they want to tell, and they know what portions need to be featured. So they've kept it like that." 
The Long Night may be over, but fans can soon relive the series to their hearts' content. Just ahead of gift-giving season, HBO is releasing various collectable packaging editions, including Game of Thrones: The Complete Collection, which comes as a wooden case, featuring multi-layered panel designs by artist Robert Ball that summarise the Game of Thrones story. The nine custom plated disc sleeves are held in place by a "Hand of the King" pin clasp. 
Not after the bells and whistles? Season 8 and The Complete Collection are also available without the collectible packaging. All editions will contain the following exclusive content:
Game of Thrones: The Last Watch: A documentary featured on DVD in two parts by filmmaker Jeanie Finlay chronicling the making of the final season.
When Winter Falls: Exclusive 30-minute featurette with showrunners David Benioff and D.B. Weiss, along with major stars and behind-the-scenes players, breaking down all that went into the colossal filming of the "Battle of Winterfell" in Season 8, Episode 3.
Duty is the Death of Love: A compelling look at how the team behind Game of Thrones and its major stars, including Kit Harington, Peter Dinklage and Emilia Clarke, brought the show to its conclusion in the series finale, "The Iron Throne."
Audio Commentaries: 10 Audio Commentaries with cast and crew, including the show's creators, Benioff and Weiss, on the final season.
Deleted and Extended Scenes: 5 never-before-seen deleted or extended scenes from season 8.
Histories and Lore: New animated pieces giving the history and background of notable season 8 locations and storylines.
Game of Thrones: The Complete Collection and Game of Thrones: Season 8 are available on DVD and Blu-ray from December 4.