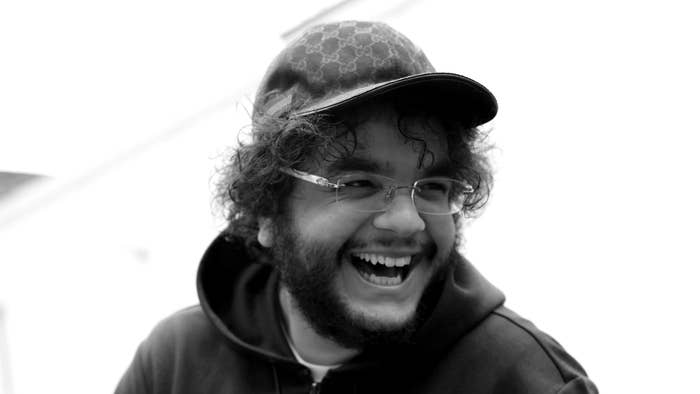 UK presenter, gamer, and entrepreneur Alhan Gençay has announced the launch of a new multi-million pound venture that combines "eSports, gaming, lifestyle and entertainment" and builds "a bridge between music culture and gaming culture."
It's all built around his ULTRA HAZE brand, founded in 2017, a production company dedicated to music and lifestyle content. A lifelong gamer—with a penchant for GTA—23-year-old Alhan saw the opportunity to build a new platform to help unite the UK's relatively narrow eSports industry with the wider world of casual gamers. There's a huge market over in the States, but in the UK, more casual gaming is often overlooked by the industry, despite the huge appetite for it.
We had a quick catch-up with Alhan to talk about his love of gaming and how his new venture hopes to change the way casual gaming is perceived.
COMPLEX: What's your background in gaming? What kind of games did you grow up playing?
Alhan Gençay: I'm a big gamer. Hours and hours every night. Lockdown was absolutely mad and probably the best time ever for it. If it wasn't eating or sleeping, then it was respawning. Growing up I'd only really play the GTA franchise. Mainly GTA 3, which I used to play on my dad's IBM ThinkPad. My mum bought me the PC disc in Brent Cross when I was a kid. I remember the guy behind the till telling her she shouldn't be buying a game like this for me. She told them it was for herself.
We'd go on family holidays to Turkey and in the evenings I'd just sit in the internet cafes playing Vice City and San Andreas for hours. Genuinely the best games ever. Now it's mainly Warzone but still a tonne of GTA. I ended up buying another Switch just to have the refreshed GTA Trilogy with me everywhere I go. Got the Oculus VR headset too, that's a crazy one and I'm excited to see where VR takes gaming in the near future. 
Why do you think more casual gaming is so overlooked here in the UK?
The main problem is that there isn't much appetite to work on something bigger in the UK. There are massive eSports organisations that are based in London, turning over serious money in revenue, but they simply can't resonate with a wider audience. They focus primarily on eSports and ignore the casual gamers and the reality is that only a very small demographic cares about competitive gaming. Some of these teams have massive headquarters in Central London and people have no idea who they are. People don't care about nerdy teenagers at their keyboards all day long. They want to be entertained. 
If we look at our American counterparts, they've absolutely smashed it, and the gaming market is super mature out there. FaZe Clan recently signed Snoop Dogg should tell you everything you need to know about how exciting gaming can get out there. 100 Thieves is also another prime example; that's one of the most exciting projects I've seen in a while. But while these organisations and their founders come from an eSports background, the brands quickly pivoted and made a lot of casual gaming-related content with artists and other talent, ultimately building a bridge between gaming and culture. A lot of the big money in the gaming world is just pumped into eSports teams, and they burn through that cash quickly. Yes, they win tournaments and have talented players, but nobody really cares.
What will ULTRA HAZE be doing to change that?
Over the past year, we've been developing and putting together a state-of-the-art gaming studio in ULTRA HAZE's Central London offices. We've made something super special and we know that because whenever people come by our office they end up staying for hours or more playing on the systems. We've got a fantastic relationship with a lot of artists and key talent in the UK, who all game, but none of them would have ever entertained the idea of streaming or working on gaming-related content.
Just think about everyone you've ever wanted to see play games, it's our mission to make that a reality in the UK. Soon after the launch, we'll announce some super exciting signings and your favourite artists will be streaming games just like you've always wanted. I've been busy working on a lot of other gaming projects, some of which are under strict NDA, but ultimately we'll be focussing on casual gamers and not just eSports. Myself and the team have been the audience for years now, so we know exactly what to create and, more importantly, what we shouldn't be creating.
Outside of gaming, you work closely with a lot of UK music talent. Who have been some of your favourites to work with so far?
Most memorable was definitely the Skepta event at the Hippodrome. That was probably one of the best events and I can't see us topping it anytime soon. Headie and his team are always a pleasure to work with; they're a bunch of great guys and it's always a great time working on content with them… But they're always late! I've worked a lot with Bandokay and we've travelled to Jamaica a couple of times; he's trusted me with the vision for his latest projects, and that's been a real treat to work on. I've also been spending a lot of time with Meekz, who is currently my favourite artist. I know he's going to have a fantastic year.
What's next for Alhan more generally?
I took some time out to focus on the business side of things, but I'm ready to jump back on screens. Running a business is fun, sometimes stressful, but balancing that and doing stuff on-screen is something I haven't quite mastered yet. So yeah, I had to take time out and get everything in order. Generally, though, there's lots going on, but currently, there are two projects taking up most of my time. First, and probably the most exciting thing for me, is the much-anticipated return of GASWORKS; there's been a lot of hard work behind the scenes that people can't see, but soon we'll announce a launch date. Second is a new series I'm making for a major broadcaster that'll be on your screens in June—very excited to announce that one properly and I can't lie, it's hilarious.
---

Keep up to date with all things ULTRA HAZE here.