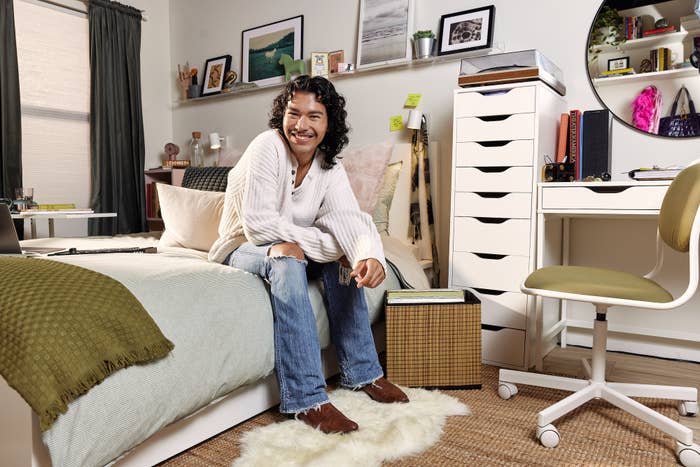 Summer may be a time to chill and take your mind off of the demands of the previous semester, but it's never too early to think about creating the room of your dreams. Whether you're living in a dorm or studying in your off-campus apartment, one of the best aspects about being on your own is decorating your space the way you want. Still, it can be overwhelming (and expensive) to bring every aspect of your inspo board to life.
That's where IKEA comes in.
Since opening in 1943, IKEA has provided affordable, stylish furniture decor options for everyone's aesthetic. If you're a minimalist, IKEA has what you need. If you believe more is more, IKEA can accommodate that too. Looking to revamp a small space or need ways to create space, IKEA is a one-stop shop for all your furniture and needs.
To demonstrate how easy and fun it is to turn interior design dreams into a reality, Complex teamed up with IKEA to help bring two students' decor ideas to life. Emma Patel, 18, a Pace University acting and film major, and 22-year Jacob Agulair, an online student at Arizona State University studying interdisciplinary arts and performance arts. Both students have distinct styles they wanted to convey, and IKEA helped bring that to life.
Here's how it all went down.
Complex: You both have unique tastes. How would you describe your aesthetic?
Emma: Simplistic, practical, and welcoming! I want my space to feel cozy, but not too crowded.
Jacob: I'm a mix of thrifty, serene, and funky. My previous apartment was a combination of items from resale sites and the thrift store. I'm obsessed with green and pink. Green because all good things come in green, food, money, plants. And pink is just pretty, she speaks for herself.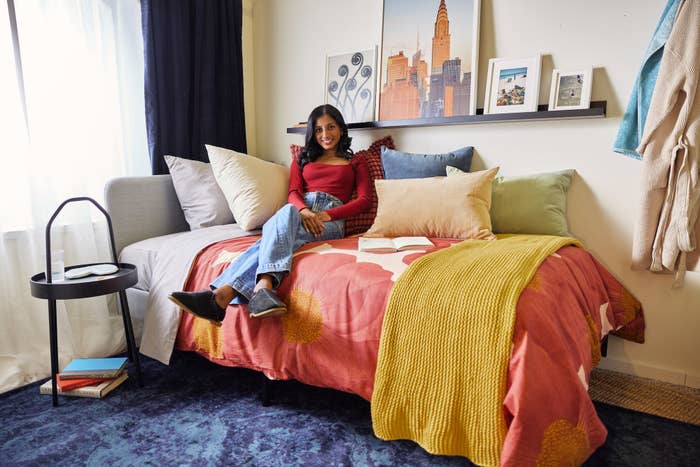 Complex: What do you like most about how IKEA created the space?
Emma: My favorite part of the dorm I designed with IKEA is how cozy and practical it is. One of my favorite pieces of furniture is the foldable kitchen table. I love that I could make a table appear in a few seconds. It's a great way to have more space but still have somewhere to eat other than the bed or desk. I also love the bookshelf in the center of the room, creating a space between the bed and the desk. The bed area is a mini bedroom rather than one giant room.
Jacob: The room just felt authentic, like it was all me! It couldn't have been anybody else's but mine. I love reality TV, so my favorite is the pull-down blind that doubles as a projector screen. It's super nifty because I can use it to binge-watch RuPaul's Drag Race, and it's only $63, which is such a deal. Those things are so expensive!
"I want my room to look good, but it needs to be affordable."
Complex: What are some must-haves when it comes to furnishing your space?
Emma: I must have a place to organize all my makeup and skincare, a nightstand, and a mirror. IKEA has a fantastic dresser and vanity where I could store all my makeup and skincare in the drawers. The drawers were big and even had space for clothing. I also loved the file cabinets by the desk. They're great for storing papers or notebooks and keeping everything organized.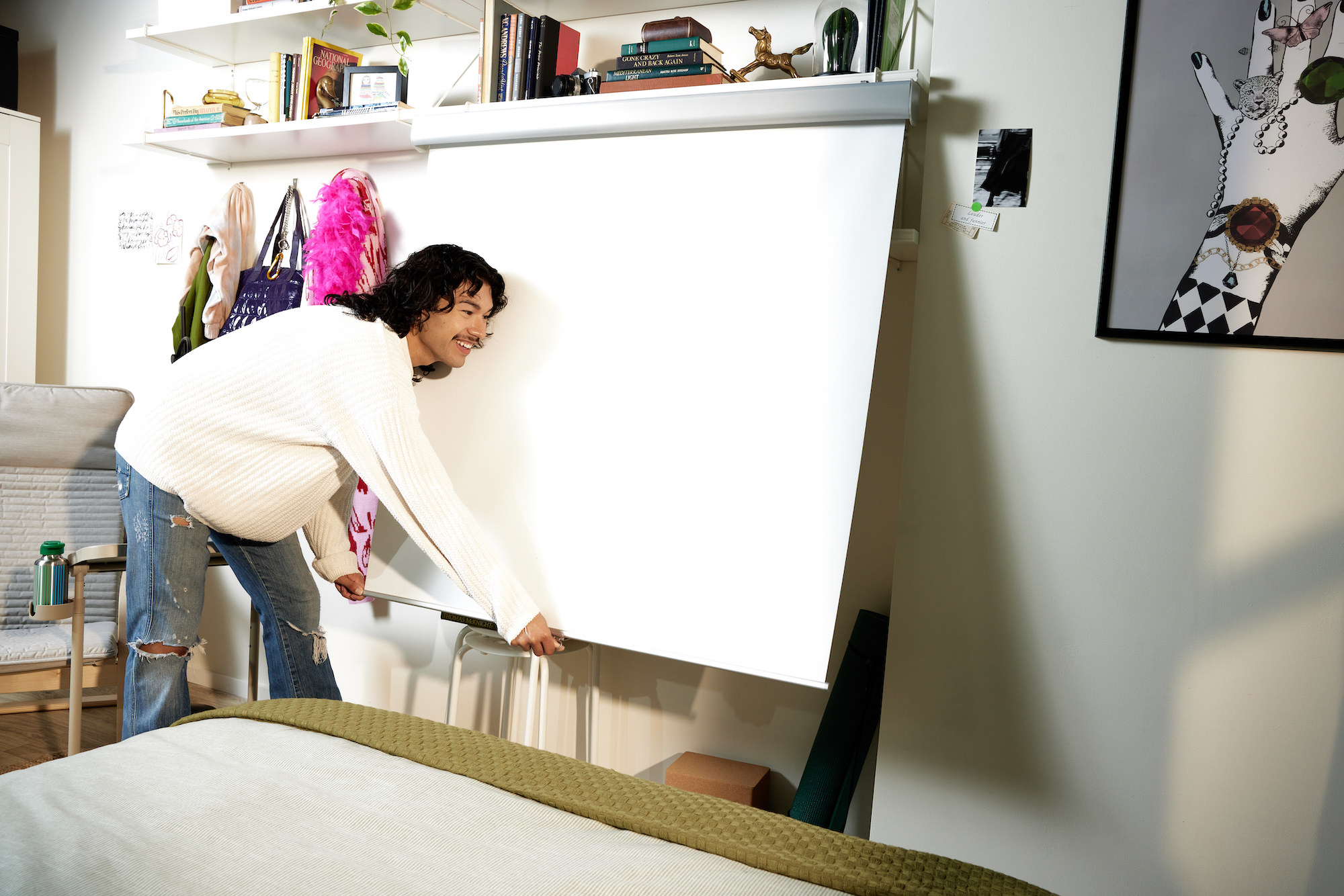 Jacob: I need a comfy, cozy bed with a great duvet that I can crawl into after a long day of slaying. I need storage near my desk and a vanity desk that lets me have a specific spot for every little thing. Oh, and a record player! When the day is over, I get into my bathrobe, do my skincare at my vanity, and listen to a record. It's a romanticized and necessary part of my day.
Complex: Decorating your space can get expensive. Do you prioritize what's most cost effective when shopping for decor and furniture?
Emma: I want my room to look good, but it needs to be affordable. As a college student, I'm learning how to budget and use my money efficiently. So, saving on furniture is a huge plus. You want your dorm to feel like home without spending too much money.
Jacob: As a college student, bougee on a budget is my motto! IKEA created an elevated space that doesn't hurt the pockets. After seeing the price tag, I was like, "Oh! Might as well throw that in there too!"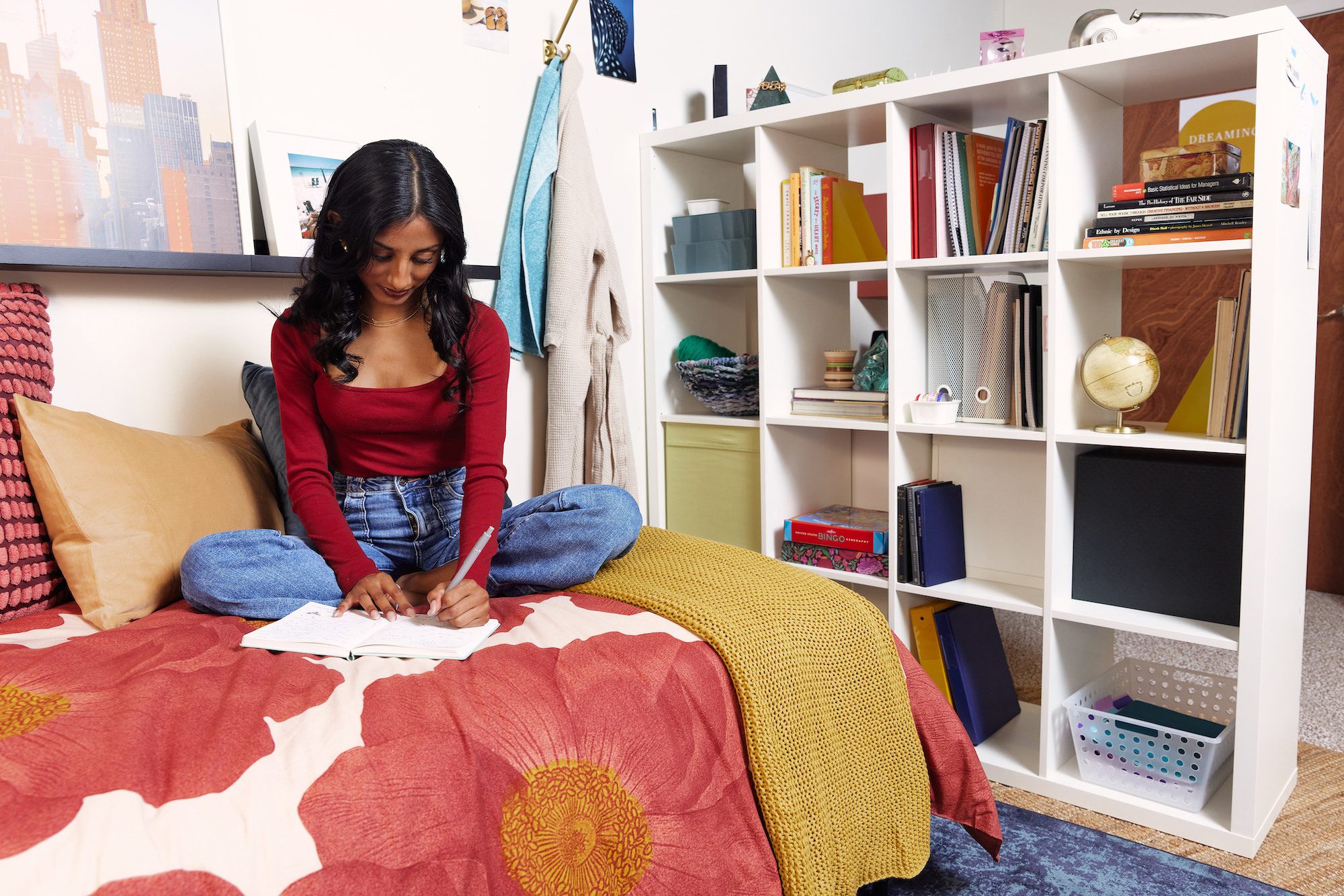 Complex: Clutter makes even the largest spaces look small. How important is storage when it comes to decorating?
Emma: Storage is one of the most important things. Luckily, IKEA has so many multipurpose space-saving items. One of my favorite storage pieces is the kitchen supply organizer on the wall. It keeps the kitchen space tidy and gives me counter space so I can move around and make no-hassle meals quickly after a long day in class.
Jacob: When you live in New York City, there's no such thing as too much storage. Because even if you think you won't use it, you're wrong. My favorite IKEA storage pieces are their shelves and dresser drawers. I like to think I'm a minimalist, but then I realize I own too many things. The IKEA shelves and drawer space gives me somewhere to put all my stuff and organize my chaos.
"The room just felt authentic, like it was all me!"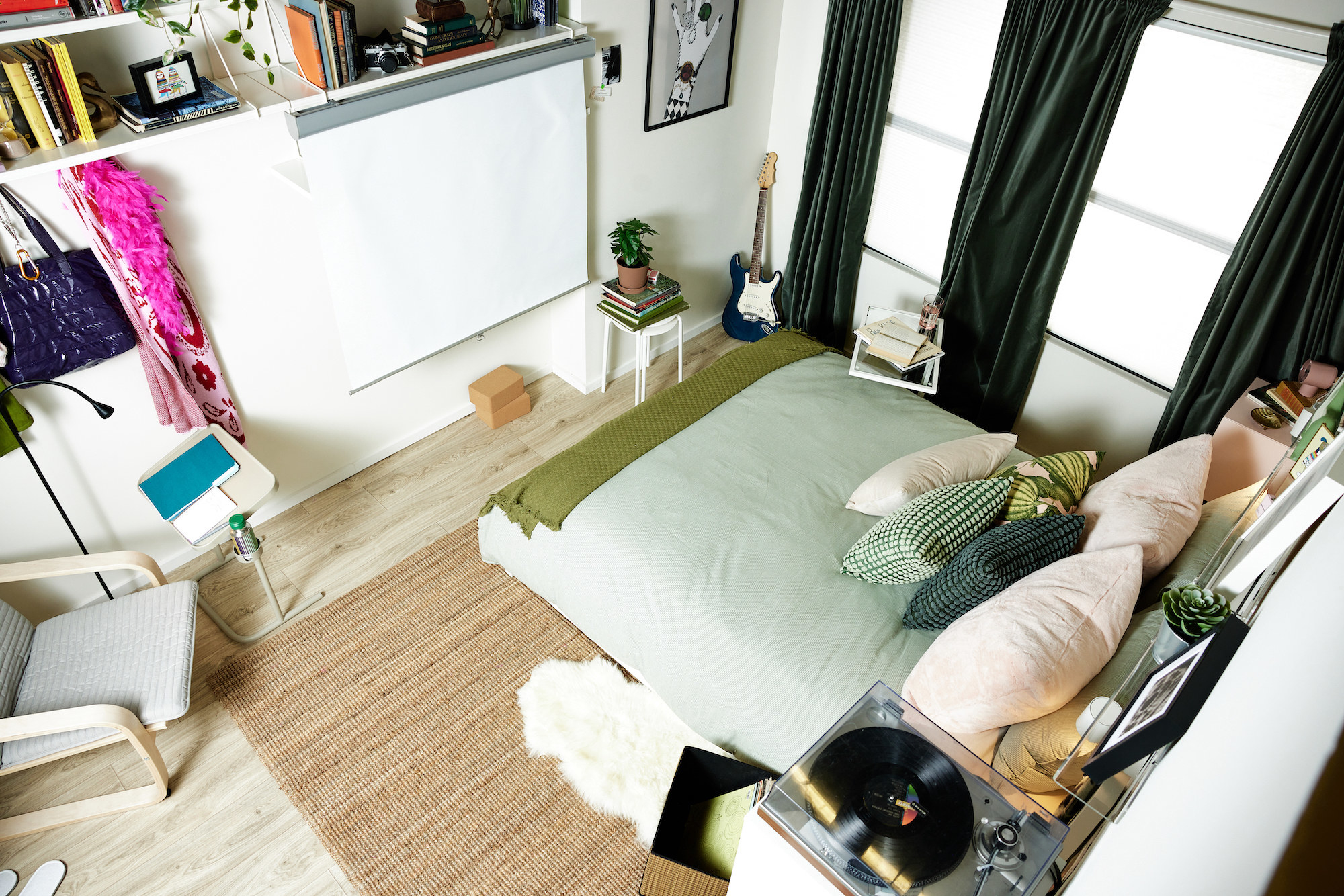 What are the vibes in your new space?
Emma: The bed, which can be used for daytime seating, made the space feel like a home away from home. I can go from taking a nap to journaling, hanging out with friends, to watching television. Because my living space is tight, I need to be able to turn my room into whatever I want quickly, and IKEA made that happen. My space is comfy, cute, organized and I love the duvet cover to bring a pop of color.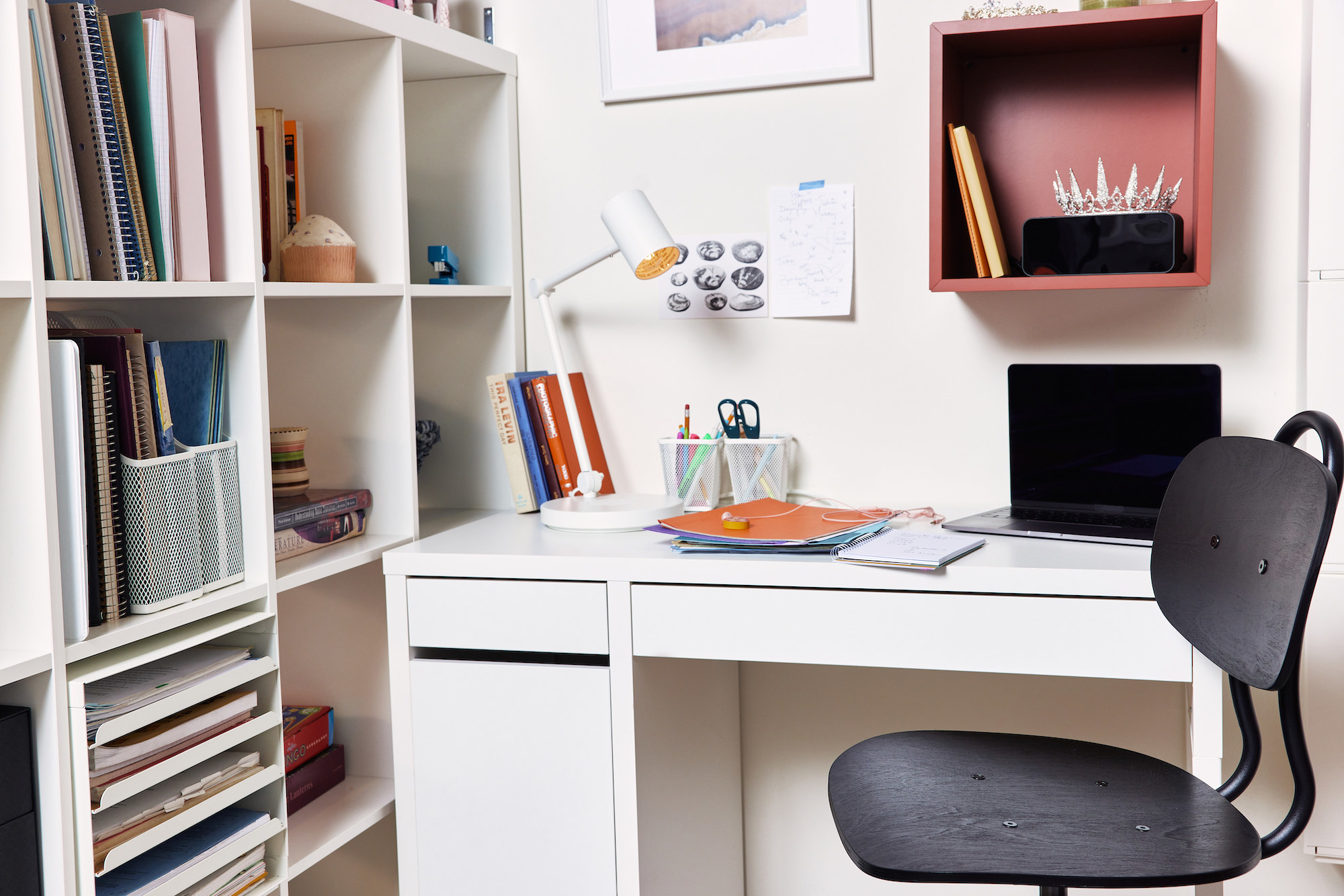 Jacob: IKEA helped me create an oasis from everything else. The space is small, so it needs to be sectioned off. I need an area for sleeping, getting ready for work, or chilling. One thing about me is I love to chill. They designed a beautiful bed area with a green duvet, a spot for a rocking chair to relax in, and a spacious vanity area. The vanity gives the room extra seating, so my roommates always have a space to hang out. Thanks to IKEA and Complex, I really brought my mood board to life.
Emma and Jacob created the space of their dreams using IKEA's stylish and affordable back to college products. For more college inspiration visit IKEA