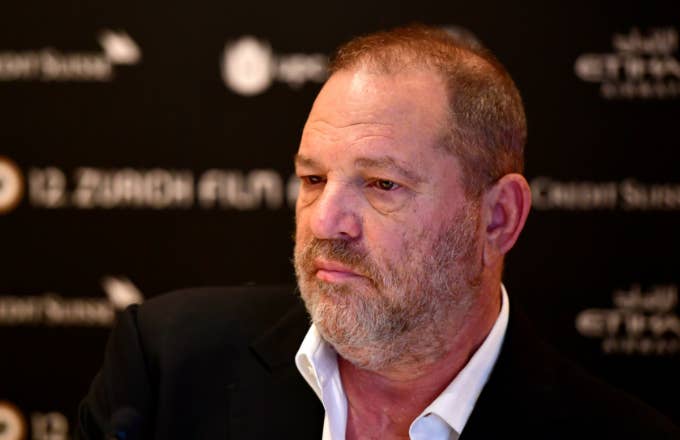 A group of investorshad hoped to announce a purchase of The Weinstein Company on either Sunday or Monday for $500 million, but that transaction is now on thin ice (or at least severely complicated) as New York Attorney General Eric Schneiderman filed a civil rights lawsuit against the mini-major film studio on Sunday afternoon. 
According to Variety, concerns were raised after the AG's office learned longtime Weinstein Company executive David Glassner was set to become the CEO for the new ownership group.
The alleged concerns are that Glassner didn't do enough to protect employees who worked for the company, and also that there will be no compensation for victims outside of insurance payouts. As Variety wrote:
Glasser was a right-hand man to Harvey Weinstein, and the attorney general's office has come to believe that he failed to protect employees from Weinstein's sexual misconduct. The office has also raised concerns with the new ownership group about whether a proposed victims' fund would provide adequate compensation. Sources close to the deal said the fund would be as much as $50 million or more, but the A.G.'s office worried that there was no "fund" beyond the Weinstein Co.'s insurance coverage.
The investor group has reportedly not accepted the AG's oversight proposals which, according to Schneiderman's office spokeswoman Amy Spitalnick, "surprised" them.
"We expressed to them how important it is that any deal adequately compensate victims, protect employees, and not reward those who enabled or perpetuated this egregious sexual misconduct," Spitalnick said. "We were surprised to learn they were not serious about discussing any of those issues or even sharing the most basic information about how they planned to address them."
According to documents that Variety reviewed, the AG's office sought to oversee management hires and employment policies under new ownership. They also sought to have ex-employees released from non-disclosure agreements so they could further investigate. These stipulations were presented as being negotiable.
As pointed out by Variety, the final sale is not subject to Schneiderman's approval, it just makes it more of a pain in the butt. The entire lawsuit (all 38 pages of it) can be read here.