Every few years, an adolescent actor delivers a definitive performance that illuminates the beauty and struggle of Black boyhood. Although these stories arrive at a pace that passes much too slowly to qualify as progress, the actors themselves always appear to be right on time. In 2020, as Hollywood begins to recover from its temporary halt, 16-year-old Jahi Di'Allo Winston appears to be the young man of the moment.
In Charm City Kings, slated to premiere October 8 exclusively on HBO Max, Winston delivers an emotional performance as Mouse. Set in Baltimore, a notoriously neglected city for Black residents, the film is about freedom, and how simple desires can often be complicated by disenfranchisement. All Mouse wants is a dirt bike and the respect of the city's OG street riders, one of which is played by noted bike enthusiast Meek Mill. But with no money and police constantly on the hunt, he has to face the harsh realities of dreams deferred. 
In some ways, the film is a work of serendipity. Originally scheduled to be released in theaters by Sony Pictures Classics in April, the Sundance Jury Prize-winning drama was shelved due to the COVID-19 pandemic (before being acquired by HBO Max). Since then, the country has experienced a racial reckoning, with protests and various forms of resistance becoming the norm. Much like Black coming-of-age films backed by major studios, these sorts of movements tend to occur only once every handful of years. During a recent interview on Complex's Watch Less podcast, Winston describes this sort of symmetry as "divine timing."
Elsewhere on the pod, the budding star discussed his first leading role in a feature film, as well as how Charm City Kings relates to America's current social climate. Winston is no stranger to politicized art and the implications of his work. In 2019, he found himself at the center of Queen & Slim'smost controversial scene, in which the film's protagonists make love on-the-run while a young protester murders a police officer. 
Although Charm City Kings never puts any cops in that level of danger, one scene in particular prompts Winston to consider the power of fiction in real world terms. "This is the truth," he explains, preemptively defending a confrontation one of the film's characters has with the police. "My job as an actor is not to [just] look for the facts in the situation—it's to tell the truth. I think a lot of people get facts and truthfulness and honesty confused."
"Truth and facts are completely different things. You can make lies out of facts, [but] truthfulness is always going to be truthful."
"Truth and facts are completely different things," he continues. "You can make lies out of facts, [but] truthfulness is always going to be truthful. So that's always been my job as a storyteller… just to tell the truth."
At its core, the truth of Charm City Kings is much bigger than the facts that dictate its world. It's a story set in a city with unique circumstances, but for Black boys, its truth is universal. Even at this early stage in Winston's career, that nuance isn't lost on him.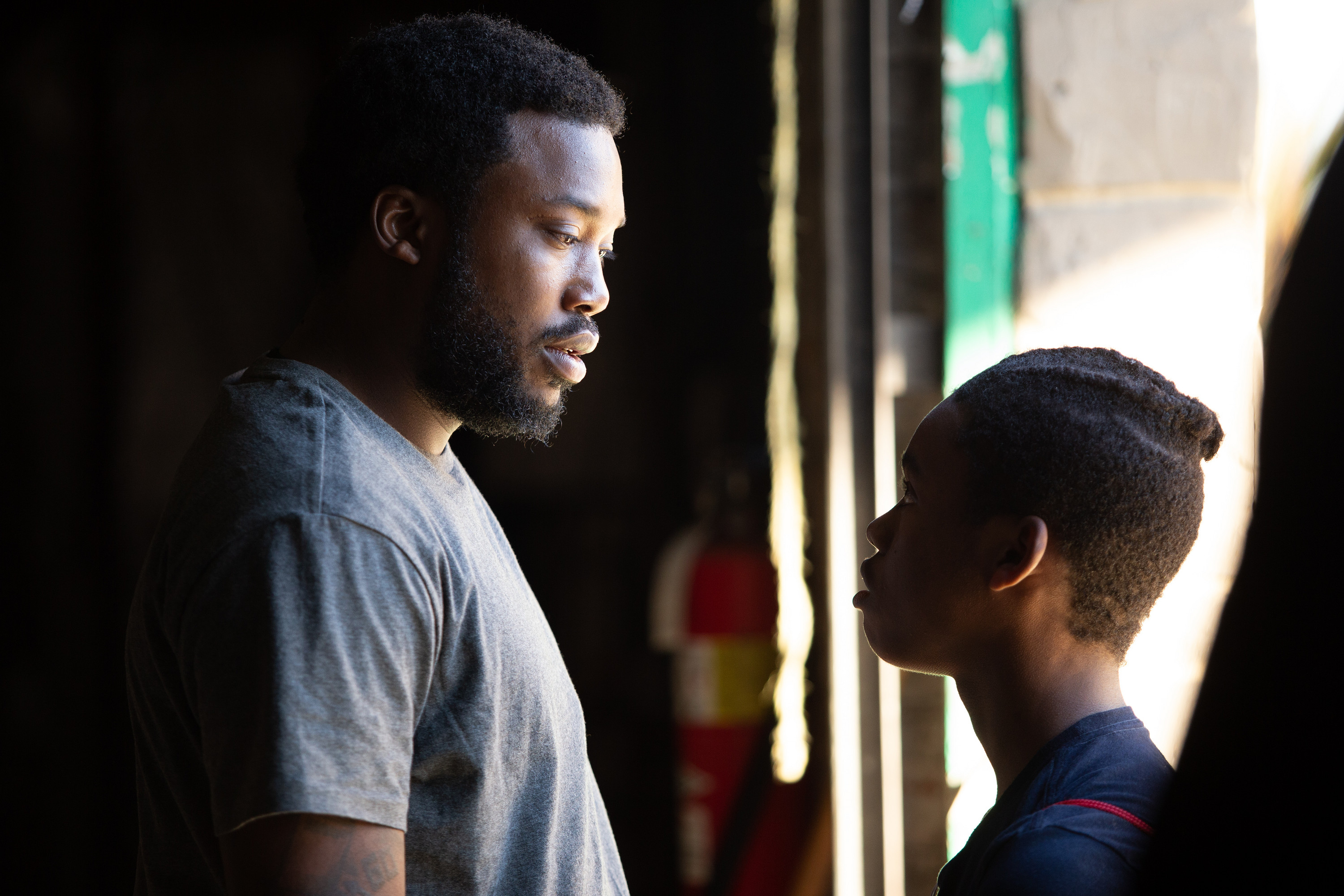 TELLING MOUSE'S TRUTH 
Mouse is an overzealous middle-schooler enamored by the Midnight Clique, West Baltimore's most infamous group of dirt bike riders. Perhaps if it were set in the greenery of rural Maryland, this premise would make for a slightly less urgent summertime story. But in a city plagued by poverty and over-policing, an otherwise innocent interest forces Mouse to weigh some dire options.
Winston, an Atlanta native and lifelong actor, is governed by enthusiasm in a similar way. While Mouse spends the summer building a dirt bike from scratch in hopes of someday joining the Clique, the real-life actor spent the past few months writing a pilot and studying Mystic River with ambitions of broadening his range as a storyteller. "If you're an actor and you don't regularly watch films, it's like being a football player and you don't watch highlights of great games," he explains. "You got to be fully immersed in the culture."
Although the outcomes are different, what connects Mouse and Winston is precocious passion, and an unusually clear idea of how they want to spend their formative years. Watch Less host Khal unpacks this similarity with Winston on the podcast.
Khal: How did you first hear about the role of Mouse, and what was it about the role that intrigued you?
Winston: My agent sent me the breakdown for it, which is basically the script and the character description. I put off reading the script for a while. I just wasn't sure if I wanted to go full steam ahead into this, and [if] this was the right next step for me. But nevertheless, I auditioned for it, and I saw [Moonlight director] Barry Jenkins' name [listed as a producer], and I was like, "Okay, this is something different."
I loved the simplicity of the story. I loved that at its core, it's just about a boy who wants a bike and wants validation from his friends and validation from his mentor… and so I knew that—similar to reading the script for Queen & Slim—if it feels like I sat down in a theater and watched a movie for an hour and a half, then it's definitely a sign that this is something that I have to do.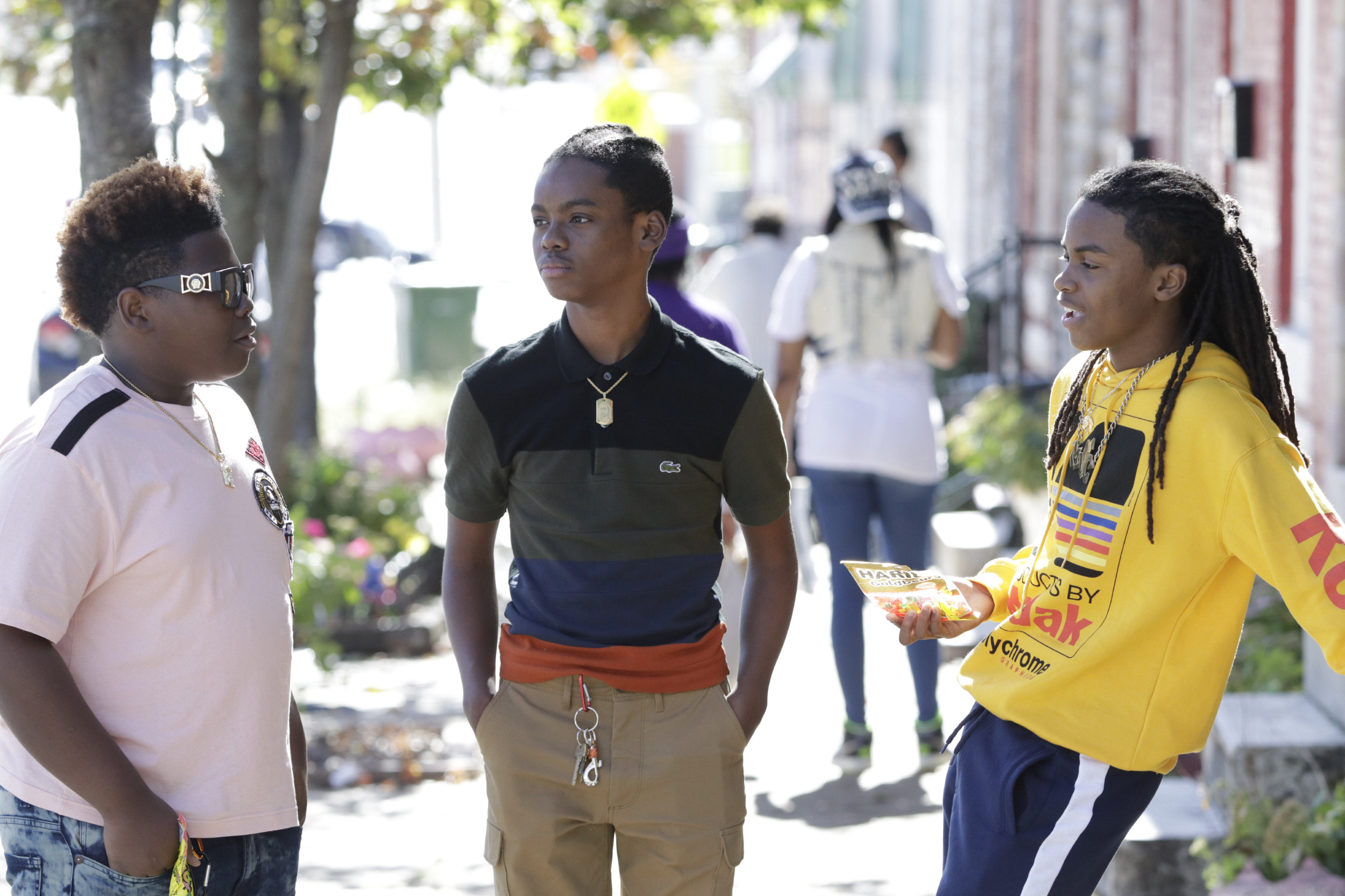 There are some elements in the film that feel like they're plucked right from the headlines, especially when it comes to the police and young Black men. With the way things are going in the world right now, were you thinking about the impact that this story could have for other young men like yourself?
I don't think I was. I can sort of get in my own way when I get into that space of [thinking about] what it's going to do next. [Black Panther director] Ryan Coogler gave an incredible analogy when he talked about how he would do certain routes in football. It was a certain route that he had to do where he would catch the ball, and then after catching it, he would immediately have to go for the endzone for a touchdown. But he said every time he thought about what he had to do next, he would always drop the ball. And so I thought that was a brilliant analogy, because it's so true.
I'm fully immersed into the story that we're telling, so I didn't think about it as much on set. But with [the film] originally being scheduled to [be released] earlier in the year, and the fact that it's coming out now in this moment in the culture, really speaks to the divine timing of it all. Because it was not supposed to come out this late. I think God knew… this is the time for it.
"Really, at his core, Mouse is all of us. We've all been in a situation where we wanted validation from an external force other than ourselves."
When I first saw the trailer, and I saw Mouse breaking down the world and the love and the passion he has for that culture, it really spoke to me. It's sad, because that's ultimately what got him in trouble. When you were reading that, did you connect with Mouse at all? Were there certain points where you might say you're very similar to him?
Really, at his core, Mouse is all of us. We've all been in a situation where we wanted validation from an external force other than ourselves and other than the people who really matter to us. We sort of get caught up in the hype of trying to be this thing for this person and trying to look a certain way and going about [it] with something to prove.
I think I had to tap in from that space… I don't live in the 'hood, you know what I'm saying? I don't have a hyper-obsession with dirt bikes and being a part of this group of bike riders. But I do know what it's like to seek validation from other people and to [want to] be a part of something, and to want my friends to think I'm cool… I'm still there.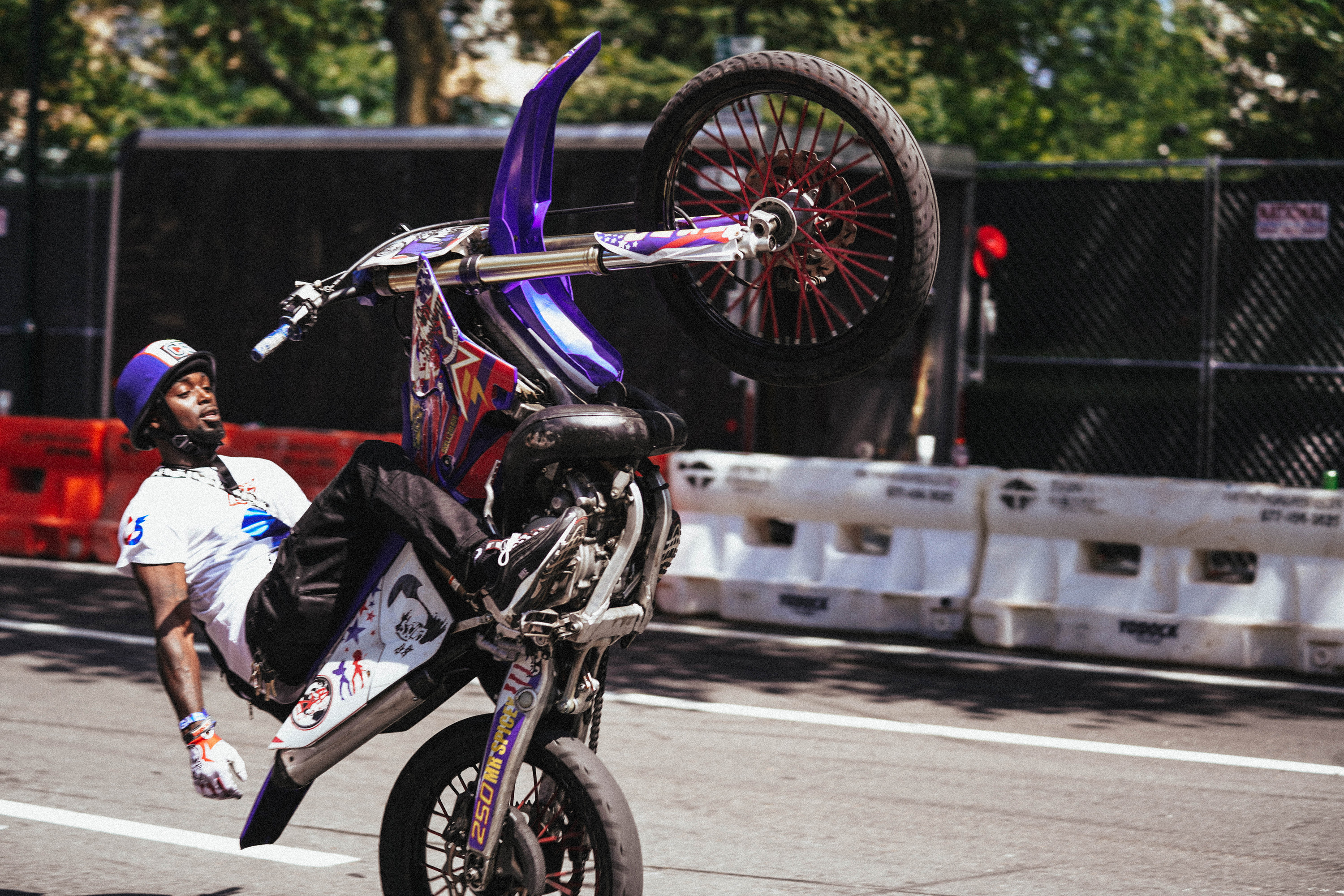 THE FACTS OF LIFE IN BALTIMORE
From the accents to the source material, the driving force behind Charm City Kings' portrayal of Baltimore bike culture is authenticity. The film is an adaptation of 12 O'Clock Boys, a 2013 documentary by Lofty Nathan that similarly follows a Baltimore boy's desire to join the city's premier riders. In director Angel Manuel Soto's version, the leader of the group is played by Meek Mill, someone who's all too familiar with the sort of trouble dirt bikes can lead to when ridden in the wrong neighborhoods.
Real-life Baltimore bike legends Pacino "Chino" Braxton and Lakeyria "Wheelie Queen" Doughty round out the cast of the Midnight Clique (the film's fictionalized version of the 12 O'Clock Boys). Winston describes them as "ballerinas" on wheels, as they can raise their bikes straight up in the air like the hands of a clock at 12 and tap dance on the seats with graceful precision.
Braxton, who many recognize as the most iconic biker in the city, has a particularly powerful impact on the film. When the police attempt to shut down "The Ride," which is the city's annual block party for its local riders, Braxton's character, Jamal, throws a brick through the window of a cop car. The high-speed chase that follows only lasts a few minutes, but it sets the stage for Mouse's introduction to lawlessness. Winston's own crash course in Charm City 101 went a bit differently, as he explains during his Watch Less interview.
Khal: What was your situation in terms of training for the film? Did your stunt coordinators help you get better acquainted and feel more comfortable on the bike?
Winston: I hate to ruin the magic of cinema, but I did not ride at all. It was like a labor law thing—child labor laws. I couldn't ride. But I think just being in that environment though…  it was hard to tell which riders were a part of Charm City Kings when we were filming and which riders were just in Baltimore riding their bikes down the street.
[The environment] was the best reference material. One hundred percent of the film was shot in West Baltimore.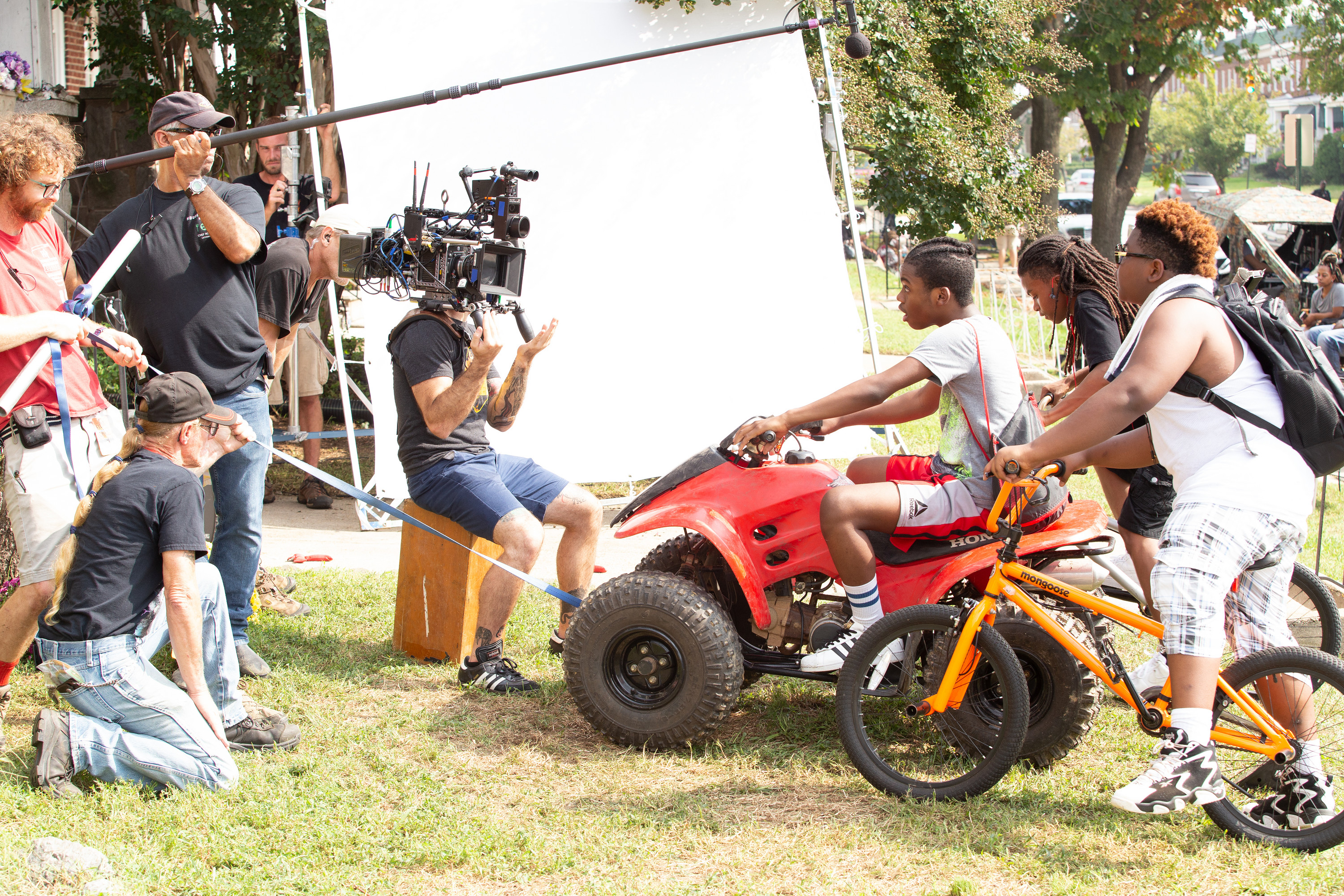 Can you talk about the process of adopting the West Baltimore accent?
That was really important to me from jump. At least in my immediate circle, that's one of the main things I knew about Baltimore—like blew, tew, dew—all those eccentricities in how they speak.  
I was doing a panel that had a white moderator last night. He was like, "I'm just fascinated by these accents." That's what I wanted you to feel. I wanted you to feel like you knew this kid, but he's in an environment and in a setting that you had never really seen or experienced before. There's still an element of mystery about where he's from… as a storyteller, it's definitely better to have the audience behind you instead of in front of you.
Have you gotten positive feedback from Baltimore residents who have seen the film?
The GOAT Chino Braxton, who plays Jamal was like, "Yeah, he killed it." So that's all the validation I need. He's like the Michael Jordan of Baltimore; the Jordan of bike culture. He's widely regarded as the best to ever get on a bike.
"I wanted you to feel like you knew this kid, but he's in an environment and in a setting that you had never really seen or experienced before."
I had no idea who he was. It wasn't until my homie Fraizer mentioned Chino that I was like, "Oh, he's not an actor?" He was the coldest person I'd seen in the film.
Yeah, Chino has an infectious energy. I love that chase scene at the very beginning of the movie. The Ride is one of my favorite parts of the film, because I think Chino carries that like no other. That image of him picking up the brick and throwing it [into the window of the cop car]. It's like, "Yes!" 
You feel it. Especially with the timing of when the film is coming out. It hits way different right now.
For sure. I'm glad they didn't take that out. We don't demonize police, but we also don't glorify them either. This isn't a "Hey, leave police alone" movie. This is the truth, you know what I'm saying?
That was our overall objective as storytellers and filmmakers. What is the real environment? And what's the real essence of the environment? I think we captured it beautifully.