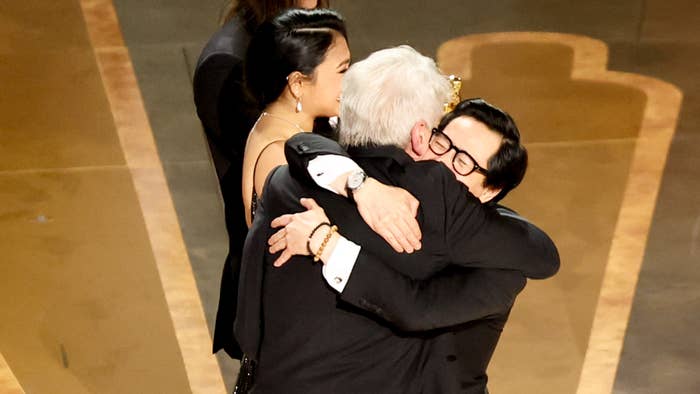 Fresh off after winning an Academy Award for Best Supporting Actor for his role in Everything Everywhere All at Once, Ke Huy Quan reunited with Harrison Ford nearly 40 years after the pair appeared in Indiana Jones and the Temple of Doom.
The reunion occurred during Sunday's 95th annual Academy Awards, when Ford took the stage to award Everything Everywhere All at Once with Best Picture. Quan, 51, who hours earlier had won his first Oscar, made his film debut as a child actor in 1984's Temple of Doom alongside Ford, 80. As the Everything Everywhere All at Once hopped on stage to celebrate their accomplishment, Quan embraced Ford, planting a kiss on his cheek.
While accepting the award for Best Supporting Actor, Quan detailed his journey from child immigrant to Oscar-winning actor.
"My mom is 84 years old and she's at home watching. Mom, I just won an Oscar!" Quan said. "My journey started on a boat. I spent a year in a refugee camp, and somehow I ended up here, on Hollywood's biggest stage."