If pulling off a non-corny biopic is hard fucking work (it is), then pulling off a non-corny biopic about a brilliant rap artist is even more difficult. Nailing the mannerisms of, say, J. Edgar Hoover is one thing, but finding an actor capable of making the audience forget they're not actually a musician or artist of any kind is a brutal uphill battle that many simply can't surmount. Just ask Val Kilmer, who sadly fell face first into a pit of Oliver Stone-helmed cliches trying to capture the brooding fuck-it-all attitude of renowned Lizard King Jim Morrison in The Doors. But F. Gary Gray and an undeniably stellar cast defied the odds with last year's Straight Outta Compton, reviving the art of the biopic and giving N.W.A. fans (and hip hop enthusiasts alike) the masterful slice of cinema we rightfully deserved.
In the shadow of that film's gargantuan success—more than $200 million in global box office receipts and generally favorable reviews—Hollywood power players immediately started throwing some serious weight behind other untouched stories of artistic triumph. Big Boi teased an Outkast biopic. RZA confirmed an Ol' Dirty Bastard movie was finally gaining some traction. There were even talks of a Def Jam Records biopic starring the seemingly too-good-to-be-true duo of Michael B. Jordan and Jonah Hill. (Please make this happen!)
But most notably, the once-troubled Tupac Shakur project All Eyez on Me finally recovered from its history of false starts by scoring a new director, a stacked cast, and a generous budget in relatively quick succession. Early set images were promising. Demetrius Shipp Jr. was a spitting image of Pac. Jamal Woolard promptly signed on to reprise his role of The Notorious B.I.G. after his portrayal of the late rapper in the 2009 film Notorious. Not one, but two stars from The Walking Dead joined the cast. And when what would have been Pac's 45th birthday rolled around, we were gifted with the first proper look at All Eyez on Me in a much-hyped teaser:
After the whole FUCK YEAH THIS IS FINALLY HAPPENING wore off, nerds (it me) who like to compare trailers and teasers and other things that normal, working people probably don't even watch, something started to click: The All Eyez on Me teaser was hitting a lot of the same marks as the Compton trailers did just one year earlier.
That's not exactly a bad thing. Compton, as you should surely know by now, was really fucking good. But even F. Gary Gray's guiding hand couldn't prevent Compton from taking the occasional detour through the tried and true cliches of the biopic formula. As Grantland (RIP)'s Wesley Morris wrote in his review, Gray's film ultimately lacked "classified information" that deeper, more incisive biopics crave to provide:
It's not an oral history you're getting with Straight Outta Compton, just the smushy boilerplate that happens anytime screenwriters (here it's Jonathan Herman and Andrea Berloff) get near musicians. This is Behind the Music stuff that never goes far enough behind. There are cameos by someone pretending to be Tupac and by Keith Stanfield, who's pretty great in his couple of scenes as Snoop Dogg. But by this point, you're no longer in a film; you're on a Wikipedia page conveyor belt.
Furthermore, Compton was criticized by some for omitting what might be considered key details in the story of N.W.A., i.e. Dr. Dre's assault of Pump It Up host and music journalist Dee Barnes at a record release party in L.A. in 1991.
So how can All Eyez on Me, a film that does indeed have all eyes affixed on its every move, build on the biopic-reviving vibes of Straight Outta Compton without stepping into the same tired cliches?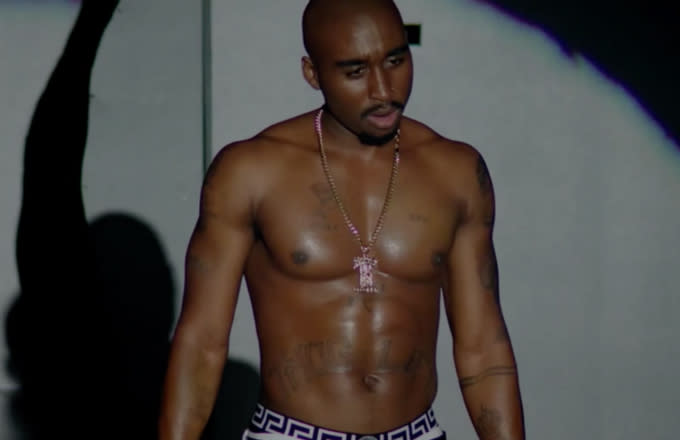 The grittier, the better. Let fans see the artist as a human being, rife with flaws and perfections in equal measure, not an unattainable superhero. An artist is often holy, but should never feel holier than thou. A legacy doesn't suffer due to the injection of truth. That would include Tupac's 1995 first-degree sexual abuse conviction, the details of which he disputed during an interview with Arsenio Hall.
Don't fear the power of the message. Embrace it fully.  Whereas Compton, a very fine film indeed, often seemed a bit restrained in its handling of the social impact of its central characters, All Eyez on Me has the potential to ignore those restraints outright. Be as fearless as the subject of the story itself. Pac wouldn't want a glossed-over, corny AF adaptation of his life.
Don't panic and add Paul Giamatti at the last minute. Paul Giamatti is a fucking fantastic actor. Sideways, The Truman Show, and—yes—Straight Outta Compton are remarkable turns in a consistently remarkable career. But Giamatti also has a bit of, um, history with biopics. In addition to Straight Outta Compton, Giamatti has also starred in Cinderella Man, Man on the Moon, Love & Mercy... you get the picture. Dude's a symbol of the traditional biopic. Avoid that.
Pay very close attention to wardrobe deets. A small Chicago White Sox mishap caught the attention of detail-seeking hat enthusiasts in Compton. This is a small slip-up, but can be jarring for anyone accustomed to, say, the painstaking accuracy of period pieces like Mad Men.
Walk the line. The line between fact and fiction is quite the tightrope, but not an impossible task. Here's to hoping director Benny Boom and company have set aside appeasement in favor of something ultimately more interesting. Something real. That's the kind of movie that people, especially fans of Tupac, really want to see.