Over the weekend, AMC unleashed their latest comic book adaptation, the God-questioning Preacher. While the show stars Dominic Cooper as Jesse Custer, the preacher that the show inherits its title from, he's far from the only cog that keeps the wheels moving. There's an assorted cast of intriguing characters, including a boy with an ass for a face, a drunken Irish vampire, Cassidy, and most triumphantly Tulip, Jesse's gun-toting ex-girlfriend (portrayed by Ruth Negga, who is also receiving high praise for her role in the upcoming film Loving). This is more of an ensemble piece: most of AMC's press photos feature the threesome of Jesse, Tulip, and Cassidy together, just like it was in the comic.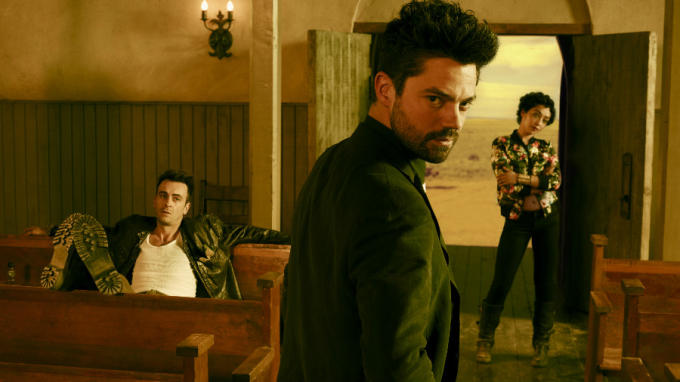 As with anything that's fresh and nerdy (and popular), the collectible companies are having a field day incorporating the show and its characters in a number of items. Trading card company Topps will be dropping super-limited edition trading card sets, Gallery1988 has teamed with Sony and AMC for a round of posters, and Funko has previewed a series of their popular Pop! vinyl figures featuring characters from Preacher. Well, to be specific, featuring Jesse, Cassidy, and Arseface.
Yes, you read that right. While Ruth Negga's Tulip has been heavily utilized in promotional material, and had one of the most action-packed scenes of 2016 as her introduction, she's completely missing from the Funko Preacher figures series.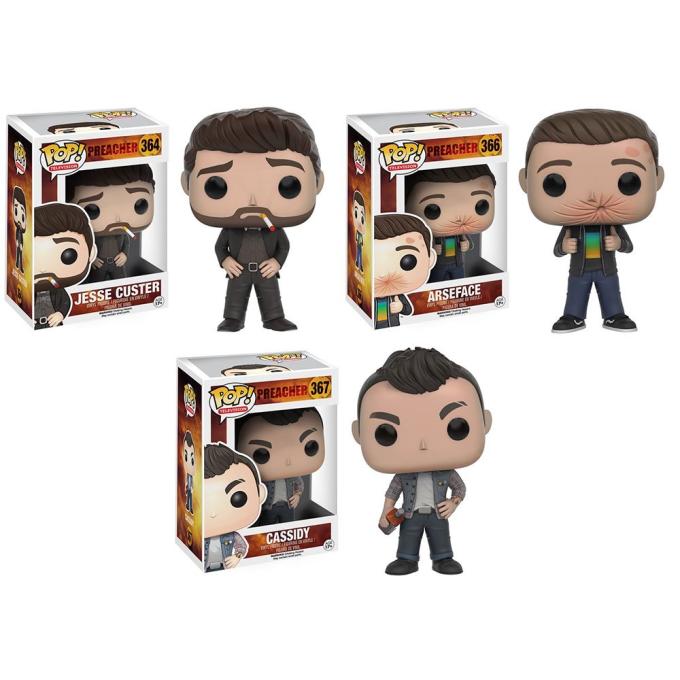 Twitter was quick to ask Funko where the hell Tulip was.
@OriginalFunko make a Tulip one.Stop embarrassing yourselves.Shes one of the 3 leads.Arseface isnt

— b(abs) (@OR0ROMUNROE) May 23, 2016
.@sadwhitegrrrl @OriginalFunko @PreacherAMC Yeah,wait, seriously, no Tulip, are you kidding me right now? #Preacher #women #Funko

— Amy Meek (@amedawg18) May 23, 2016
Well done Funko for releasing Preacher Pops but with no Tulip O'Hare. It's not as if she's a major charac..oh wait. pic.twitter.com/c2HqpWPuPd

— Chris Siviter (@gutterandsplash) May 23, 2016
(The fact that Tulip wasn't included in this Funko trio is blatantly sexist. She's a bigger fucking badass than Jesse goddamn Custer!)

— Alicia Lutes (@alicialutes) May 23, 2016
@OriginalFunko ima need a Tulip POP tho

— jeong, bro (@yourgwyneth) May 23, 2016
If you've followed the way toy and collectible companies have done female characters in some of these film and TV franchises, this isn't new. The infamous #WheresRey hashtag was born after fans noticed how Daisy Ridley's Rey—the movie's MAIN CHARACTER—was grossly underrepresented when it came to The Force Awakens figures and merchandise. There was a similar uproar over Scarlett Johansson's Black Widow character from the Marvel Cinematic Universe when Avengers: Age of Ultron merchandise didn't represent her properly; the same situation happened for Zoe Saldana's Gamora from Guardians of the Galaxy.
It's a weird dynamic: while strides are being made to have more women in ass-kicking roles on the silver screen and on television, for some reason that effort isn't being matched by the merchandise. For some reason, it seems these companies don't think people want to own female figurines.
I'll keep it 💯 right now, Tulip is my favorite character. When I saw a super-incomplete version of the pilot late last year, and saw Tulip enter the series at high speed, kicking ass and taking down planes, I knew her character—which is a big change from the comic book series—would resonate, especially because Negga isn't just some muted assassin. There are layers to Tulip that you see in the pilot, and as the series progresses, you get to understand more of her motivations for her wild acts of violence. The key, as Negga told me during a recent Preacher press event, is that "the writers and the producers didn't want to limit this character. They've created an atmosphere where Tulip gets her hands dirty as much as the boys do—if not more." That's a huge step, especially for a woman on television, but there's yet another level to this: the Tulip of the Preacher comic book series was white, and they went for the Ethiopian-Irish Negga to portray Tulip as an African-American. There's a lot to unpack there, and while I'm not going to go as far as some outlets have and suggest that "Funko is excluding a woman of color...in favor of a white male character that offers an unflattering portrayal of people with facial disfigurements," a red flag went up when I saw that Tulip was omitted from Funko's Preacher figures. The question is: why? 
... did they seriously make an Arseface pop funko thing but not a Tulip one? Are you serious???

— ari y (@thirtyfourseven) May 23, 2016
Does it have something to do with Eugene—a.k.a. Arseface—being an obvious choice for the cute Funko Pop! brand? That's possible. He's one of the more unique characters in the show, and the comic series. He's immediately memorable, and the mixture of cute and frightening that is encompassed in Funko figures can be a draw for the crowd that's going to enjoy Preacher. But keep in mind that he's legit in one scene in the pilot, and while he's memorable because of his looks, he's not touching Tulip when it comes to lasting impressions. (And I highly doubt Funko had to choose between Arseface and Tulip—it's not like anyone was stopping them from creating four figures instead of three.)
So what gives? What could companies like Funko and Disney/Marvel be afraid of? Is it that difficult to try and see how pushing female-led merchandise would do? Fans—especially the women who are being grossly underrepresented—are obviously dying to get their hands on the shirts and figures and whatever other merch that features their favorite ladies. If these women are great enough to get their own badass characters and storylines, we should be pushing it to the limit, and seeing how well Tulip-licensed Preacher swag could go. If not, it's almost like that work is all for naught. Equality is about giving everyone the same opportunities; if Tulip were in your face IRL, would you deny her her own Funko figure? 
Didn't think so.
UPDATE While Funko didn't respond to us about Tulip's whereabouts, they did answer one fan's question about the lack of Tulip in this pack of Preacher figures.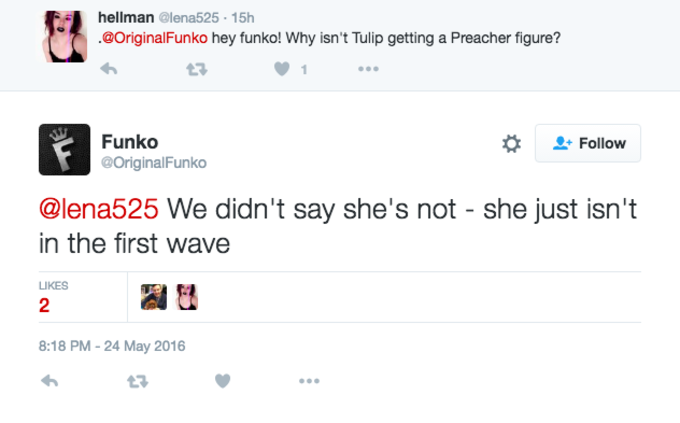 So that's good to hear, although there's no word on WHEN a Tulip figure would be out (or WHY they'd choose to exclude her from this first wave). Per their site, Preacher figures are set to drop in August.
UPDATE (6/02/2016): Funko has announced three more Preacher vinyl figures, and guess who's front and center?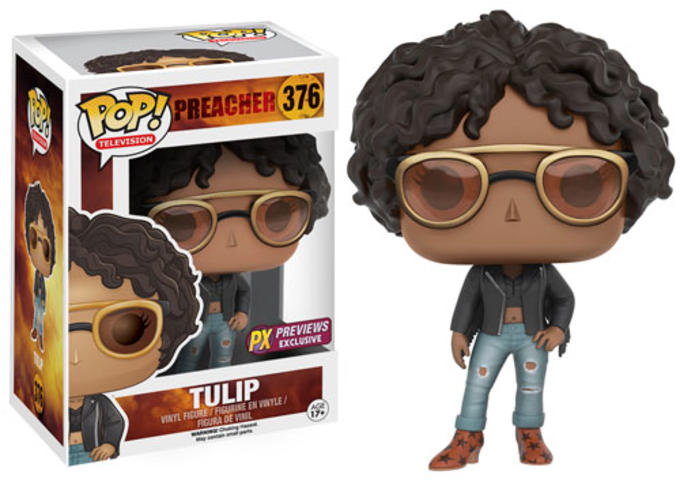 There's also a new Jesse Custer one and a gross bloody Cassidy figure. They also offered this explanation (which kind of confuses what a true "first wave" of these releases is, based on their previous explanation).
@ComplexPop @FanBoy275 She's actually in the first wave & on the back of the boxes. Sometimes retailer exclusives are just announced later.

— Funko (@OriginalFunko) June 2, 2016
Nice one, Funko! Look out for these when they hit retailers in August.