We get it, y'all, Leo got fucked by a bear in The Revenant. Hosts Kevin Hart and The Rock turned this tired joke into an entire musical number during one of MTV Movie Awards' ~wild moments~ and it was uncomfortable af because 1) it's not funny and 2) not to be that person, but think about the implications here.
Anyway poor Common had to introduce this hot mess, while Kendrick Lamar wasn't even asked to perform, all leading to this...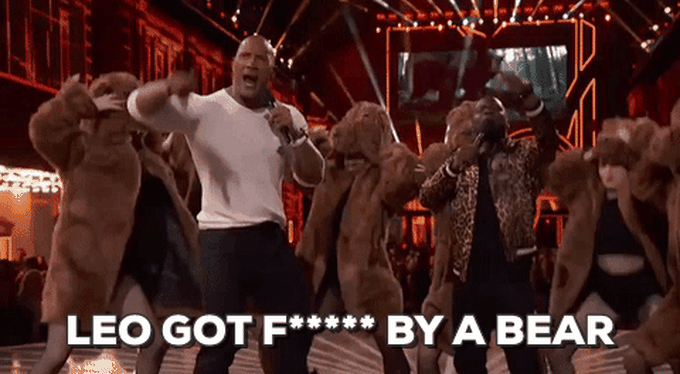 Watch a clip of the skit above. One of the lines goes like, "You will always remember where you were when Leo got fucked by a bear." I'm pretty sure most of us were sitting in a movie theater, right??? So yeah, we do remember where we were when Leo got fucked by a bear. 
Many more F-bombs were dropped during the MTV Movie Awards outside this expletive-heavy skit, because remember you guys, this is a fun awards ceremony. We get loose at the MTV Movie Awards. If The Rock and Kevin Hart came out of this number embarrassed, at least they were followed by The Lonely Island—three white dudes—rapping a tribute to The Fresh Prince of Bel Air himself, Will Smith.