UPDATE 3:03 p.m.:
Subway has issued a brief but firm statement on the latest Jared Fogle discoveries, once again reiterating their definitive detachment from Fogle and related entities:
UPDATE 1:00 p.m.:
Katie Fogle is now expected to seek a divorce from husband Jared Fogle, following his official court appearance and the public release of the documents detailing his child pornography charges. Fogle was released after his hearing under strict conditions including constant monitoring. According to documents discussed during the U.S. Attorney's press conference, some of the children depicted in videos viewed or otherwise in the possession of Fogle were as young as six years old.
UPDATE 08/19/15:
Jared Fogle has officially agreed to plead guilty to the charges as part of a plea deal. Fogle is charged with one count of "travel to engage in illicit sexual conduct with a minor" and one count of distribution and receipt of child pornography, according to AP. According to newly released documents, Fogle traveled to New York City to pay for sex acts with minors and received child pornography from the former director of his Jared Foundation: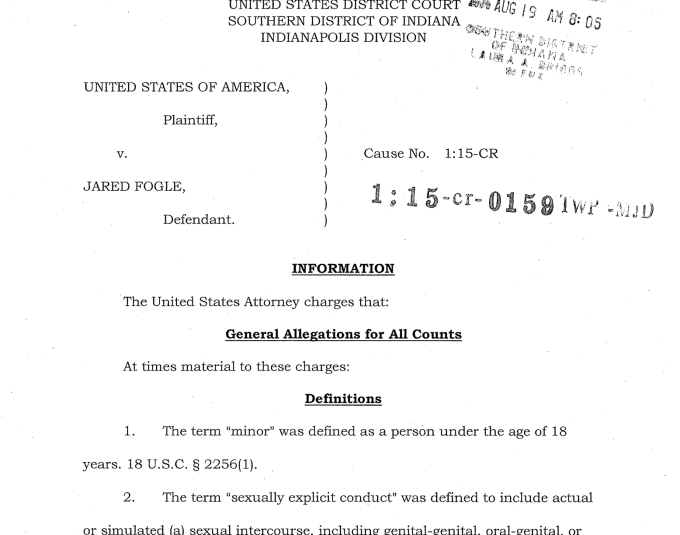 As part of the agreement, Fogle must pay $1.4 million in restitution to 14 victims ($100,000 each), register as a sex offender, and undergo specialized treatment for what is being deemed a sexual disorder. The recommended sentence is currently 12.5 years, with Fogle and his lawyer(s) not expected to ask for anything less than five years. Peruse the full documents here.
See original story from 08/18/15 below.
Former Subway spokesperson Jared Fogle, who swarmed headlines earlier this year after his Zionsville home was raided and searched by the FBI as part of a supposed child pornography investigation, is now expected to plead guilty to related charges as part of a plea deal. Fogle's attorney, Rob Elberger, has yet to make a statement.
The former director of Fogle's Jared Foundation was previously arrested on similar charges, with local authorities reportedly finding more than 500 videos containing images of child pornography. Shortly after the raid of Fogle's home placed a new spotlight on that case and its potential attachment to Fogle, Subway swiftly suspended their partnership.
The U.S. Attorney's Office is expected to hold a press conference on Wednesday to outline Fogle's charges and related plea deal, according to Fox 59.