An image from the currently-filming Steve Jobs' biopic starring Michael Fassbender as the Apple co-founder hit the Internet today. And the Internet hit alarms. Newsflash: Fassbender looks nothing like Steve Jobs. With his slicked back hair, and dapper duds, he looks more like the suave (but empty) Sex God of Shame. Which, by the way, is the film that got Sony's attention to approach him and his massive penis (that the Sony email leak revealed they were in awe of) for the part.
But let's not get carried away just yet. Perhaps Fassbender is just walking to the hair and makeup trailer to get his Steve Jobs' wig. That'd probably be easier to put on over that perfectly slicked-back, just-about-to-fuck hair. Or maybe he just needed to get it professionally swooped over to look like Jobs' earliest computer days. Perhaps they'll also apply some movie-magic stubble (actually, a Sex God should already have that covered). Still concerned? Look at co-star Seth Rogen's hand placement: over his heart. Expressing a certain emotion. That emotion could be awe. Perhaps Rogen is also in awe of Fassbender's sex appeal. Because, according to a quick Internet search, the man he's playing—Apple's other co-founder Steve "Woz" Wozniak—hasn't been photographed in such a vulnerable pose.
Uh-oh. Here he is getting notes from the film's director, Danny Boyle, who would get to sign off on last-looks: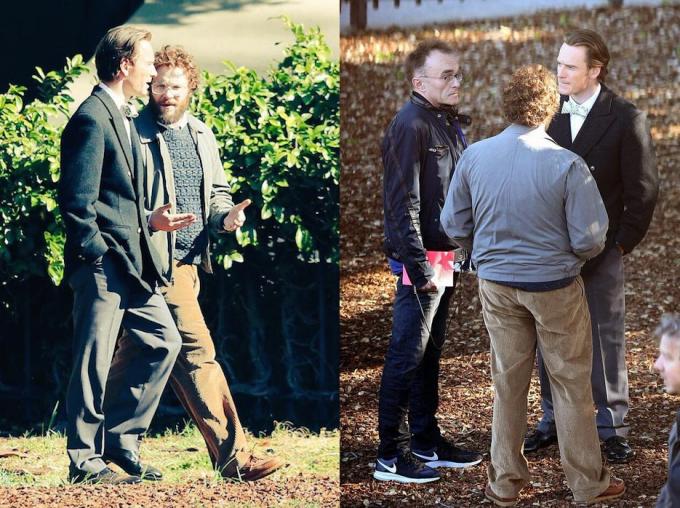 <span></span>
Thoughts? Here are the real Steve Jobs and "Woz," for reference: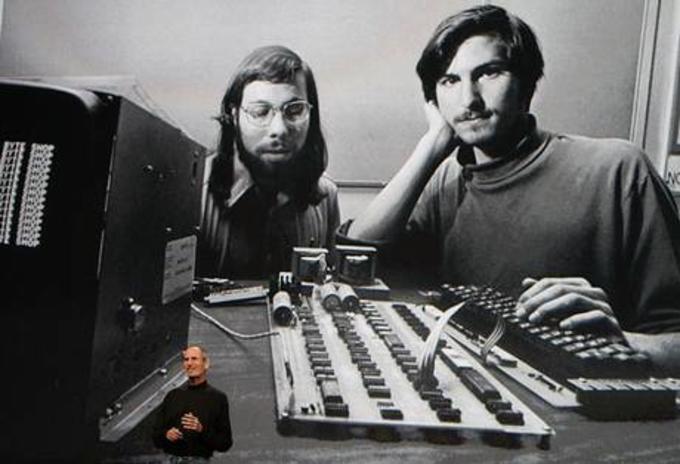 Sex God/Apple co-founder-God worship aside, we're sure Fassbender will be great in the role. But perhaps they could tone down Fassbender's oozing sex appeal? The Steve Jobs' movie with the working title Steve Jobs has no release-date set yet, but it also stars Kate Winslet, Katherine Waterston, and Jeff Daniels. And it's now over at Universal, where we safely assume his manhood has also been discussed at length.
[via Business Insider]
51eWl0bTqyqpsh1NMJSedRzRQNOsOVyW