My tipping point was Peshawar. I read the news about 132 school children slaughtered in class—some executed one-by-one in front of teachers and fellow students—by the Pakistani Taliban and started to cry. The New York Times published a graphic photo of the aftermath, with pools of blood, overturned chairs, torn workbooks, and abandoned shoes. I saved the image to my phone.
Every year has its fair share of tragedy, but in 2014 bad news seemed to travel much faster and a lot more frequently than in years past. It's possible that the media is better at responding to the non-stop news cycle, and therefore what was really a typical year came across as especially (and relentlessly) disturbing. Or, you know, it's possible that we just had a really, really bad year.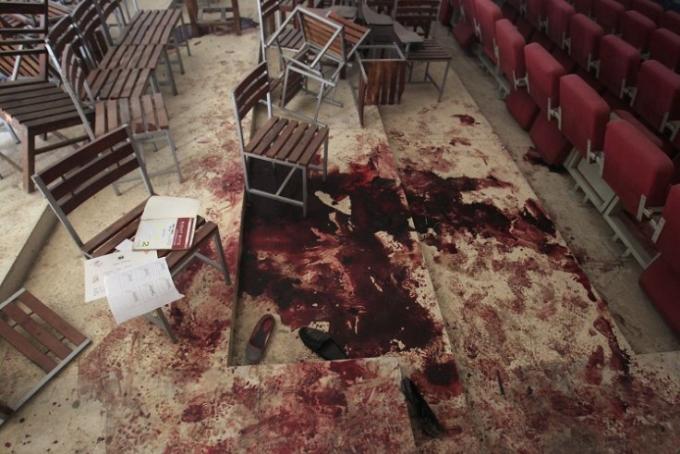 Horrible headlines include: unchecked police brutality against minorities and the militarization of American law enforcement; the Boko Haram abductions and terrorist attacks on children; Elliott Rodger murdering students in Santa Barbara; the death of 16 Sherpa guides on Mount Everest; the ongoing conflict in the Ukraine; three downed planes with no survivors; the 50-Day Israel-Gaza War; ISIS beheading journalists on camera; the botched execution of Clayton Lockett, who probably felt like he was dying of "liquid fire" according to an anesthesiologist who testified in court; the rape allegations against Bill Cosby; various hacks on celebrities; and racism and domestic violence in professional sports.
The list goes on, but I've decided to end mine there. I saved the Peshawar image on my phone as a reminder of all the awful things that happened this year and how much work we have to do, but it had a secondary effect as well. It prevented me from caring about anything good that happened in 2014. And there are many good things.
Every year has its fair share of tragedy, but in 2014, bad news seemed to travel much faster and a lot more frequently than years past. 
In 2014, medical workers from all over the world traveled to West Africa to help stop a deadly virus from killing men, women, and children. Hundreds of these health workers died during the process of saving lives.
Malala Yousafzai, 17, was shot in the face three times on her school bus in 2012 for speaking out about injustice in Pakistan. She survived and became the youngest person to win the Nobel Peace Prize.
Despite crippling losses during the mid-term elections that many said would prevent the White House from getting anything done between now and 2016, President Obama is moving forward on an immigration bill that will provide a path to citizenship for millions of immigrants. He's also ending the Cuban embargo. (I can't wait to vacation in Havana, fam.)
This year, several unarmed black men, including Eric Garner and Michael Brown, were killed by the police. It's hard to see a silver lining there, but it's worth noting that earlier this year, The Atlantic published an amazing piece by Ta-Nehisi Coates about reparations in America. In it, Coates explains how racism has prevailed in American policy for decades, and why passing H.R. 40—a bill that would allow congress to create a committee dedicated to studying the ways in which American racism has mutated over time—is one way to make progress.
Elsewhere, Michael Grimm, the corrupt congressman from Staten Island, finally resigned. Oh, and let's not forget that time Mo'ne Davis kicked Kobe Bryant off the cover of Sports Illustrated.
These are all extraordinary, feel-good stories from 2014, but it still stands that this wasn't a good year. It was often devastating. That's why I'm not going to delete the photo from my phone and pretend that I never saw it. It has a third effect: It reminds me to keep perspective. There's no point in complaining about how horrible the year is if you're not willing to also acknowledge the things that made it not horrible. There's no point in protesting against police brutality against African-Americans if you're unwilling to also admit that, when all is said and done, all lives do eventually matter. This isn't a vacuum.
So, yes, horrible year, but I'm not going to let that stop me from appreciating all of the achievements that were made and the new benchmarks that were set. If 2014 was so bad, the best anyone can do is try to do better in 2015. Happy New Year.
Lauretta Charlton is an associate editor at Complex. Follow her on Twitter at @laurettaland.