Personality Complex is your introduction to the rising stars of film and television.
Jake McDorman is a Hollywood southern gentleman. 
Born and bred Dallas, McDorman grew up taking romantic, idealistic approaches to his future. He had big city dreams he thought to pursue with an acting career, which wasn't a common dream in his hometown. Luckily, his mom was there to nudge his imagination. "I started doing plays in school and stuff in Dallas and I just have always been an avid fan of movies," he says. "We took an aptitude test when I was really little and I scored that I could be like an FBI agent or an astronaut and all these different things. And I remember my mom was like, 'You know all those jobs are a lot of like paperwork and not as fun as they seem in movies.' So then my next logical step was like, 'Oh then I should do them in movies.'"
McDorman made the move to L.A. when he was 16 years old. "I met somebody in an acting class, a girl that was going out to L.A. for pilot season, which I never heard of. I was like, 'That's crazy. You actually get to go audition for real things?' Because I was auditioning in Dallas at the time to be like Corpse #5 in a DMV instructional video like, 'Don't drink and drive!' or something. I was like, 'Acting! That's acting!' So I started wearing my parents down and getting them used to the idea. I started homeschooling," he says.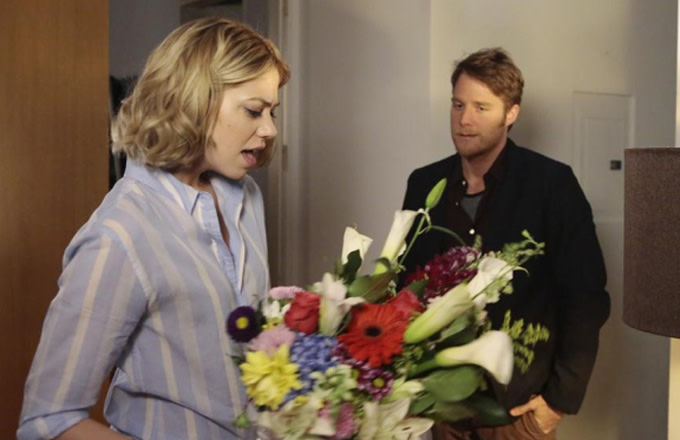 After living there for more than a decade, the now 28-year-old actor moved to the Big Apple to film his latest project Manhattan Love Story (premiering on ABC tonight). So perhaps working on a rom-com explains his bubbly answer to his favorite thing about the city, typical of a newly minted New Yorker: "It's kind of just everything. I've always wanted to live in New York and when I was younger, I just wanted to like wear a suit and have a briefcase and walk around like the city."
A former regular on the popular ABC Family show Greek, McDorman's also no stranger to the concept of being a heartthrob. In Manhattan Love Story, he's moved on from the world of college frat parties to bars and adult life. The sitcom follows Peter and Dana, a new couple played Jake and actress Analeigh Tipton, as they navigate love in the big city. "That's what's cool on the show: it's not about a couple that's already together. [Dana and Peter] are not a couple. It's the very beginning of 'let's see if this works.'" says McDorman. "And what I like about that is, if you're in a 5-year relationship or if you're in a 3-year relationship and you think back to who you guys were when you first met, you would've never known at the time that you'd be there 5 years later. So it's all this really awkward and messy negotiations of your independence, but then the sacrifice it takes to be accountable to somebody else."
[My Character's] in New York, I'm in Los Angeles. Those are very different cities but those are two places where people move to pursue some ambitious dream. And when you live there long enough that can get really old, being surrounded by that, and you can get really jaded or just a little bit cynical. So I kind of enjoy his cynicism about the city a little bit.
The show's twist is that the audience doesn't just hear the characters talking to each other, they also hear their thoughts, in the style of the British program, Peep Show. These inner monologues give viewers a deep look into how men and women think, and the sacrifices they make in the name of love. But sometimes sacrifices pay off. "I booked a trip to Puerto Rico and this was the last audition [for Manhattan Love Story] before I was going to leave for Puetro Rico," says McDorman. "I canceled my trip because I had to come back for a chemistry reading the moment I was supposed to fly out. So I returned a bunch of spandex and cave gear to Amazon."
McDorman sees a lot of himself in his lead character Peter. "He's in New York, I'm in Los Angeles. Those are very different cities but those are two places where people move to pursue some ambitious dream. And when you live there long enough that can get really old, being surrounded by that, and you can get really jaded or just a little bit cynical. So I kind of enjoy his cynicism about the city a little bit. I think anybody who's lived in a big city for a long time can relate."
The most challenging part of filming was making those "inner" monologues "outer." "I had to just be a little bit more perceptive of the thoughts that go through my head instead letting that be more on autopilot. I already talk out loud when I'm alone quite a bit. I have a cat so I can justify that I'm talking to him or something," says McDorman. "But I guess the biggest part to prepare for is how are you going to play a scene on set when you know later you're going to be adding in your voice to narrate your thoughts… It was really kind of like doing a whole different character." And what does McDorman's own inner monologue sound like? "David Attenborough from Planet Earth documentaries."
McDorman seems to have all the qualities of a romantic comedy leading man: smart, suave, and sensitive. So the big question: is Jake a romantic? "I like to think that I'm a romantic, I guess." He pauses. "A cynical romantic."