Sordid crime drama Welcome to New York represents a return to form for eccentric director Abel Ferrara, whose passion for the city's urban playground has never received the panegyric praise of his NY contemporaries.
Ferrara's New York is perpetual slate when not shrouded in dark, in stark contrast to the inviting color temperatures of Spike Lee, or the admiring skyline vistas of Woody Allen. His presentation of the city's violent underbelly is too shot through with matter-of-fact squalor, a far cry from the exciting dynamism of Scorsese's criminal culture. Rather, his NYC shines a dim torch on denizens who have surrendered to its unforgiving clutches, or at least struggle against them, and these characters' search for personal redemption is outmatched only by our attempt as an audience to note their redeeming qualities in the first place.
In The Addiction (1995), Ferrara creates the least glamorous depiction of vampirism in cinema history as Lili Taylor's character Kathy suffers through a continually worsening series of moral lapses following bloodborne infection in a city at the height of its AIDS epidemic. Meanwhile, the misunderstood King of New York cast Christopher Walken's drug lord Frank White as a twisted Robin Hood figure, its director's smirking rebuttal to the glam gangsters of Hollywood cinema.
In none of his films is the stamp more marked however than in Bad Lieutenant, Ferrara's Scorsese-lauded 1992 crime drama involving Harvey Keitel's deeply troubled and nameless police lieutenant, who seeks desperate spiritual redemption following his investigation into the rape of a nun. Ferrara's Welcome to New York serves as a call back to that earlier film in several ways, and can be viewed akin to its white collar companion piece.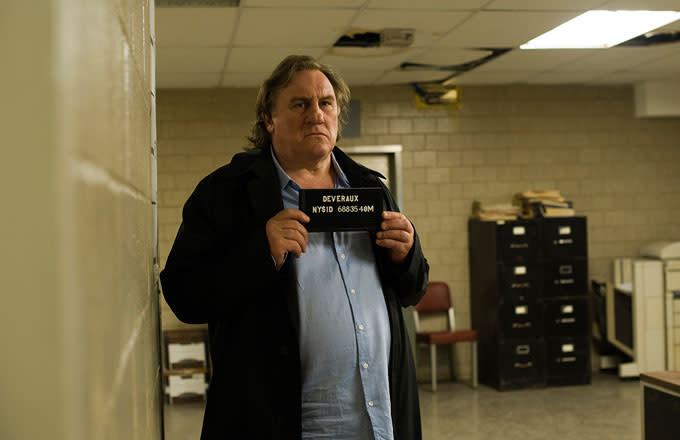 Welcome to New York is inspired wholesale by the sex scandal surrounding the disgraced former IMF chief Dominique Strauss-Kahn, whose alleged assault of a hotel maid in New York in 2011 led to an eventual out-of-court settlement. Gérard Depardieu plays the role of Strauss-Kahn under the pseudonym George Devereaux, a storytelling decision which has not proven sufficient in deterring Strauss-Kahn from planning to sue the filmmakers for slander.
The film has already received a contentious reception in France, as well as mixed response from an expectedly vociferous Cannes cognoscenti, due to Ferrara's stark treatment of the controversial subject matter, and the perceived stunt casting of recent Russian transfuge Depardieu, who's absolutely fearless in his role. There it has skipped straight to VOD distribution in lieu of theatrical release, and appears likewise destined to slip under the radar overseas.
Like Keitel in Bad Lieutenant, Depardieu often appears unclothed in the film. When we first encounter Devereaux naked, it's during his encounter with the hotel maid that sets the plot in motion some half hour into the film, and Depardieu's command of his obese frame—all protuberant shoulders and lurched gut—fills the screen's own to terrible effect. Later, his woefully distended torso leaves an equally memorable impression during his post-arrest catechization and subsequent strip search, the vulnerability of his naked body in stark contrast to the huffing, fully garbed sexual encounters he embarks on for much of the film's bacchanalian opening act.
Depardieu's performance in the film, as Keitel's was as the Lieutenant, is testament to Ferrara's ability with actors who are completely willing to surrender their egos to the performance.
While both films share thematic similarities, they differ most in the treatment of their protagonists' respective desires to repent. The Lieutenant struggles with guilt over the spell of his addictions in a way that Devereaux does not, and while the latter acknowledges his impulse problems, his excuses are throwaway. The Lieutenant loudly castigates, and subsequently apologizes on his knees to a vision of Christ, speared and silent; Devereaux brazenly admits to his wife Simone (Jacqueline Bisset, here channeling Anne Sinclair) that he doesn't "give a shit about the people" he has hurt, and rejects standard religion outright. Instead, he conjures his own unique brand of salacious duotheism—his only gods are sex, and profit immeasurable.
"They can all go fuck themselves!" he sneers, looking straight through the lens and into the audience.
While both films' stories are set into motion through acts of sexual aggression, neither spends much time exploring the plight of their victims, particularly in the case of Welcome to New York, where the excellent Pamela Afesi appears in only two scenes as the abused maid. The focus here would be almost entirely male-driven were it not for the intervention of Devereaux's wife Simone, who deals with her husband's addictions with a surprising stoicism, their arguments playing out against the very same penthouse backdrop Kahn rented out during his real life house arrest.
Welcome to New York deserves to be viewed next to Bad Lieutenant and compared as a spiritual successor, both for its evolution of Ferrara's style and the contrast in how each deals with the spiral of addictive personality. Both the Lieutenant and George Devereaux are power mongers, separated only by the relative degrees of power wielded, and the degree of their guilt in its deployment. For an uncompromising quality that is matched only by its amoral central figure, Welcome to New York deserves to find a similar audience to the one Bad Lieutenant has been afforded with time.
Ewen Hosie is a contributing writer. He tweets here.