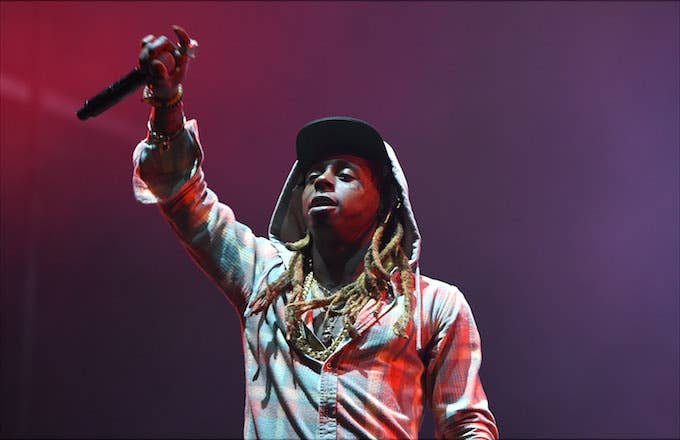 For some, particularly younger listeners, it's easy to forget how prolific Lil Wayne has been throughout his career. From 2004 to 2010, Lil Wayne released six albums, seven mixtapes, 25 singles, and over 80 official guest features in a run of unprecedented rap success. The peak of that success, 2008's Tha Carter III, helped usher in a new era of mainstream dominance for the genre, selling over a million copies in its first week at a time when rap and commercial music in general were both on a serious sales downswing. The album's 10th birthday is the perfect time to reflect on all that Weezy F. Baby contributed to the industry during this era, from coining the term "bling bling" to serving as inspiration for a new legion of artists.
With the launch of iTunes in 2003 and the contemporaneous rise of peer-to-peer clients like LimeWire, listeners were liberated from being required to purchase full albums to get the music they wanted, instituting not only a new thought process in consuming music, but in purchasing it as well. This was good for fans, but not necessarily for artists, at least when it came to album sales. From 2000-2005, just 10 albums (including three rap records) managed to sell over a million copies in a week.
After 2005, no artist was able to achieve that feat—until Tha Carter III's release in 2008. The album sold 1,005,545 copies in its first week. Following Wayne's success, a-million-in-one-week record sales became commonplace again, occurring in six of the nine years after the album came out, and proving that people still cared about albums in the midst of the presumed demise of the music industry.
"The success of [Tha Carter III] said that hip-hop was still marketable," said David Banner in a now-deleted XXL oral history of the record. "Wayne came up at a time when people had given up on album sales when it came to rap music, and I think with Wayne… He kept the doors open for people, when a lot of people were trying to shut the doors."
Nas had released Hip-Hop is Dead two years prior, but here was Wayne on Tha Carter III, performing surgery and saving hip-hop's life on "Dr. Carter." He had taken offense to the idea that rap needed saving, especially after Jay-Z's unretirement, and his frequent mentioning of the theory throughout the album testifies to his desire to prove either that rap was fine, or that if anyone was going to save it, it would be him.  
Not only were people listening to the music, but they were buying it, too, making a rap record just as fruitful for the industry as more critically respected genres.
Not only were people listening to the music, but they were buying it, too, making a rap record just as fruitful for the industry as more critically respected genres.
On top of helping to legitimize rap and hip-hop to new audiences, Wayne's work impacted a number of artists who were just coming up during this peak era. Beyond the numbers he was putting up on the board, his fingerprints could be seen all over the work of aspiring rappers, many of whom have become global phenomenons and true testaments to Wayne's impact on rap music.
Wayne directly helped launch the careers of Nicki Minaj and Drake, two of the biggest artists in music today. He learned of Minaj's work from a DVD series entitled The Come Up, and of Drake's via J. Prince's son, Jas Prince. He signed both to his Young Money imprint, and placed them on high profile songs (Nicki has a spot on Da Drought 3, and Drake literally got every single hook he could) to help boost their statuses. After Wayne's incarceration in 2010 left a Martian-sized hole in the industry, the duo accepted the torch and rose up as Cash Money's prize performers. They have produced a combined nine No. 1 albums and over 17,237,000 in record sales.
Wayne's influence extended well beyond Young Money, though. One of Kendrick Lamar's earliest mixtapes (and the last recorded under his K-Dot moniker), C4, features the rapper tackling Wayne's beats almost exclusively, and contains both a co-sign from the songs' originator on the intro and a new Weezy verse on Lamar's interpretation of "Mr. Carter."
"I go all the way back to the Hot Boys days and being 13, listening to this dude," Lamar said in a 2012 interview with Karen Civil. "For him to actually acknowledge what I'm doing right now and seeing it as a path, it's a great feeling to share that same stage and a moment with him. Wayne ain't no new jack to this game. He influenced a lot of styles and a lot of sounds. I would say I was influenced by a certain sound and flow and cadence that he brung to the game."
Weezy didn't just inflect new energy and a sillier way of saying words into rap; he also helped push forward a new medium for presenting music.
In terms of actual rapping style, Wayne's snarling, high-pitched, garbled inflection and taste for Auto-Tune can be heard in many of today's rap voices, including Young Thug, Future, and Lil Uzi Vert. In the wake of his rise to popularity, Wayne's way of squealing out words in a nasally tone was oft-imitated by rappers trying to find their way. Childish Gambino's earliest recordings, chock full of Weezy-esque punchline-heavy lyrics, sound like a parody of 2006 Weezy, as does Thugger's first mixtape, I Came From Nothing. While both of these artists eventually developed a unique style, it's clear Wayne's influence ran (and still runs) undeniably deep.  
Weezy didn't just inflect new energy and a sillier way of saying words into rap; he also helped push forward a new medium for presenting music. He would drop new installments in his mixtape series alongside commercial releases (and occasionally, to make up for them—he released two Sorry 4 the Wait tapes to compensate for Tha Carter IV and V's delays).
As Shea Serrano notes in The Rap Yearbook, "50 Cent was the first guy who showed that big mixtape buzz could be swapped out for a major record deal. Wayne took that idea and advanced it... because rap was heading that direction now, heading towards a weird bonanza and mixtape-as-a-model sound... that's where it's been ever since."
As rap continues on, and Wayne eventually leaves it, his contributions to the genre will become more magnified, rightfully placing him in the annals of hip-hop history. His presence has waned in recent years (a result of Tha Carter Vbeing tied up in controversy with Birdman and Young Money), but he still remains a legendary figure in the industry. In 2016, when he threatened retirement, artists from Flying Lotus to Missy Elliott to Rick Ross spoke up in encouragement for the troubled rapper. And while he may not be able to recapture the magic of his mid-2000s run, he can still own a beat on occasion, which he's done most recently on Tyler, the Creator's "Dropping Seeds" and "Smuckers," as well as throughout 2016's Collegrove collaboration with 2 Chainz.
Lil Wayne's career, which spans nearly two decades, may be in its final stages, especially with the news that his supposed final album, Tha Carter V, may actually finally be released. But his impact, despite being apparent for years, is still revealing and unraveling itself.
A$AP Rocky, speaking to Complex in 2012, perhaps put it best:
"Are we forgetting that Wayne made everybody switch their flow up and start using the E's and R's, and 'I'm ir-regul-ar, seg-ular'? Like, c'mon, are we forgetting that Wayne changed hip-hop, too? Are we forgetting that he made all these motherfuckers want to have tattoos? Are we forgetting that? ... This is a guy who fucking went from being the youngest underdog in his crew to saving his company, and saving his 'Daddy.' I'm not a fucking Lil Wayne dickrider—I'm just speaking facts."
As we celebrate Tha Carter III, a milestone that defined Wayne's career, anybody who enjoys rap as it stands today should reflect on all that Lil Wayne had contributed to the genre, from style to charisma to method. While his impact exceeds that of Tha Carter III, an album generating that much buzz and excitement in the era of both the music industry's and hip-hop's supposed deaths is a testament to what he had built up to that point.
"Hip-hop ain't dead, it just had a heart attack," Wayne snarled on Ludacris' "Last of a Dying Breed," released four months after Tha Carter III's release. "But you see I keep it pumping, yeah I got that heart back/So just call me Lil Carter, or Lil Cardiac."
Ten years later, with rap thriving as the most popular genre in music, his boast rings as true as the day he spoke it into existence.