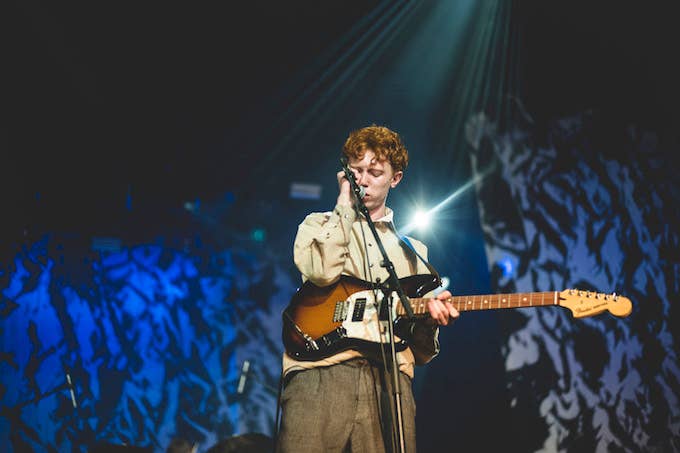 What's to say about Paris' We Love Green Festival? On the face of it, We Love Green (which took place across June 2 and 3 this year) seems somewhat similar to any number of festivals across the globe — eclectic but widely appealing line-up that touches on just about every genre, prime summer scheduling, etc. — but the festival in a park in Bois De Vincennes has another edge to it: sustainability. We're not going to charmlessly lecture you about how that's a good thing, but we will go on about it a little.
It's becoming increasingly popular of late for festivals to try and reduce their carbon footprint, to inspire recycling and a culture of sustainability; but We Love Green pushed that concept right to the fore of their ethos. It seemed to touch every facet of the festival, too. No glasses or cans could be seen anywhere; litter was kept as close to zero as possible with the use of plastic cups that could be redeemed for cash; bins and recycling points were never far away; and, finally, the festival was attended by experts and campaigners to discuss new ideas and tactics for battling climate change. On top of all that, The Residence Workshop (a platform for aspiring designers and design students) financed work by them and helped them source recycled materials for projects to be appear at the festival.
Anyway, back to the music. The first night boasted as impressive a line-up as we'd ever seen: Jamie xx closed the festivities, while The Black Madonna, Jorja Smith and Sampha all proved formidable acts for Sunday's performers to follow. As The Black Madonna's set marched towards the end, there was a widely-held feeling that just one hour was nowhere near enough. The most talked about set from the day, however, was Migos. Even die-hard Migos detractors had to concede that it was one of the best, most light-a-fire-in-your-belly sets of the weekend.
The following day, as the sun beat down with even harder than the day before and the crowds swelled once again, the mix of local and underground daytime acts kicked things off for us. Then, as the sun began to dip, Beck took us on a trip down his hit-filled memory lane; Bjork brought her full flute-playing contingent out for a voyage through "futuristic folk" and head-spinning experimentalism; The Internet wowed us with their tightly-knit, smooth, R&B funk; Tyler, The Creator powered through an equally hit-filled, high energy set; King Krule stunned us all with his deep, chest rattling delivery; and IAMDDB won over a whole new legion of fans, to the surprise of no one familiar with her already.
All in all, while you might see a lot of the artists on the line-up at other festivals this year (with the possible exception of some of the local acts), you'll be hard-pressed to find one as conscientious as We Love Green Festival. An expertly curated line-up coupled with a supremely progressive attitude to the environment have made this an essential addition to our festival diary and, we suggest, your number one priority for next year's season.