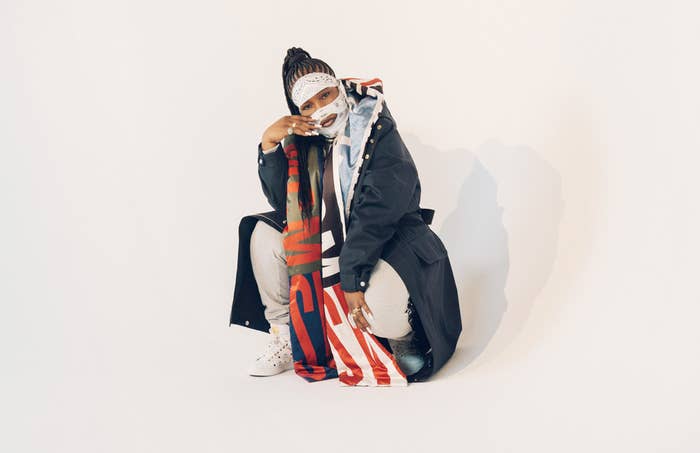 Leikeli47 is tired of conversations about the mask.
"If you are still talking about the mask, you may not get it," she says. "We all know that I wear the mask to keep the focus strictly and directly on the art."
So, let's talk about the art. In late 2018, the Brooklyn native dropped an album, Acrylic, full of honest storytelling wrapped in a swaggering delivery. One of the project's highlights, "No Reload," is described by Leikeli as her "trap self-care." Aiming to create as many music videos as possible for Acrylic, "No Reload" is up next for Leikeli. The black-and-white visual features dramatic shots of 47 alongside a dancer named Clarys, as she rattles off confident bars like, "If you want another feature for the road, no reload/If you tryna get a meeting, that's a no, no reload."
The premiere of the "No Reload" video is below, followed by our full interview with Leikeli47 about music, mystery, International Women's Day, and her first headlining tour.
We're premiering your new video for "No Reload" today. What would you like people to know about it?
I really just wanted to have fun. I mean, the song is titled "No Reload." It's kind of like my trap self-care, you know what I mean? It's just one of those situations where sometimes a "no" can really stand up for you in a positive way. I just feel like I'm living proof of that. You know, just knowing when and where and what to say "no" to has actually opened more doors for myself. That's pretty much what it's all about.

Who directed this video?
Myself, and my partner Dana Rice.
Interviews and things like this are still new to me, because it's something that I've always shied away from.
What was the day on set like?
We shot it in L.A. It was a pretty laid back shoot, as it is with most of my shoots with me and Dana. I partner with him on everything that I do. It was pretty chill, pretty easy. I had the beautiful, wonderful Clarys come in, and kill it. That's the dancer in the video. She is just amazing. It was one of those moments where you get creative, you live in the moment, and you just have fun.

The producer is actually one of the guys on my shoulder in the video. He's my production partner. His name is Mike Barney. I just thought that it's always pretty dope to throw the co-producer in, just a little hint at who is working on the project. We just go HAM on the beat. But yeah, that was pretty much it. It was really easy. It's not like it was this crazy set. When we shoot I like to keep it real low, and keep it real easy and intimate. It was a fun day in L.A.

Why do you think it was important to do a video for this song? What about "No Reload" made you want to do a visual for it?
I think it was just the moment. You know, my goal honestly for my album is to touch every song. And there was a moment where I just felt like I needed to creatively get something off my chest for this song. That's how it happens sometimes. Sometimes you wake up, and you have these ideas, and you just go with them. I think it's really important as a creative to go in the moment at times. It conditions you to not give into your fears and things of that nature.

It was just one of those, in the moment, "Let's just get it, let's just do it." Like I said, my goal is to have a visual representation for everything. As an artist, I know that's the goal for me. I just felt like this was one down, and I'm pretty much ready to go to the next. I have a lot of fun stuff in the can in regards to videos.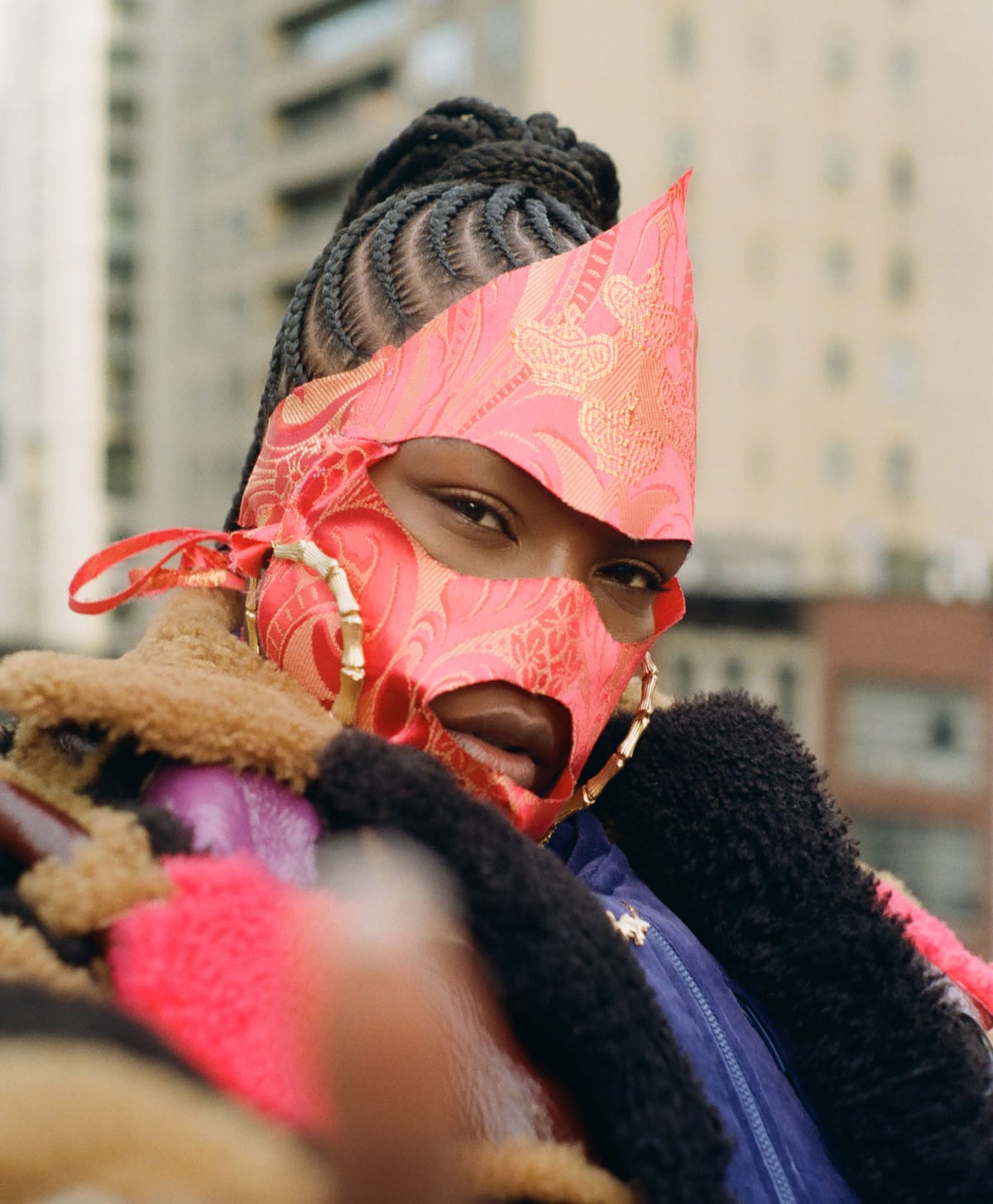 One of the focal points of this video is the jeweled mask. Do you have someone who makes all these for you? Where did this one come from?
Yeah, that's one of my fun ones. It's not a new one, it's just a different color version of a mask that I've worn before. I have actually adorned this mask in my "M I L K" video, and it is a custom mask by Amelian Kashiro Hamilton. She is someone else that I can just call on. I called on her a day or two before, like, "I got this idea, I need this."

You've chosen to remain somewhat anonymous in certain ways. Has that led to any misconceptions people have about you? Is there anything that people get wrong about you?
I haven't run into that yet, where people have these weird misconceptions of me because of the mask. But I do find that where I am now, if you are still talking about the mask you may not get it. We all know that I wear the mask to keep the focus strictly and directly on the art. But I remember a writer, Rodney Carmichael, saying something. And he just hit the nail on the head: She wears the mask so we don't have to. That pretty much sums it up and describes it there. It's all about the art. It's all about the people. It's all about the love. If you don't get that by now, and it's just all about that mask, then I might not be the artist for you.
I really want all my girls and all my women to embrace their superpowers, and to embrace each other.
Some people watching this video might be just getting in to your music now. If they go back and listen to your album, Acrylic, what should they know about that? What does that album represent to you?
I think that they should know that they are catching me in one of our most free spaces. And that they should be okay with that. We are in a day where everyone thinks that, "Oh, I have to know about this as soon as possible," and it's not like that all the time. I think that it's a beautiful thing with mixtape after mixtape, project after project, you gain new people. Just new colors, new sounds, new things. Fresh takes on your art. I think that's the dopest thing ever.

For those who just are getting into me at this stage of my life, at the Acrylic moment, I just say welcome and thank you. Just know that I put everything about me into the art. There is nothing that you are missing. Don't think that you are missing anything, because it all goes into my music anyway. Hopefully when you do hit Acrylic, it does take you back to Wash & Set. It does take you back to my mixtapes. It does take you back to my self-titled EP. And you really have some fun, and you get to know me even more. Everything about me, I always put it in the music.

Interviews and things like this are still new to me, because it's something that I've always shied away from. I just always feel like as an artist, and especially as new artist, you have to gain your voice. You have to gain some experience. You have to do something before you just run around and talk. I'm not a big talker, I'm more of a doer. Now, at this point, it makes sense to talk to the genius Eric on the phone right now. [Laughs]. But yeah, I just really want people who are connecting with me at this stage to know that, you have not missed out on anything. I'm a girl, I'm a woman of my word. Whatever it is that you want to know about me, it's in the music. It's in the art. And you are going to have fun.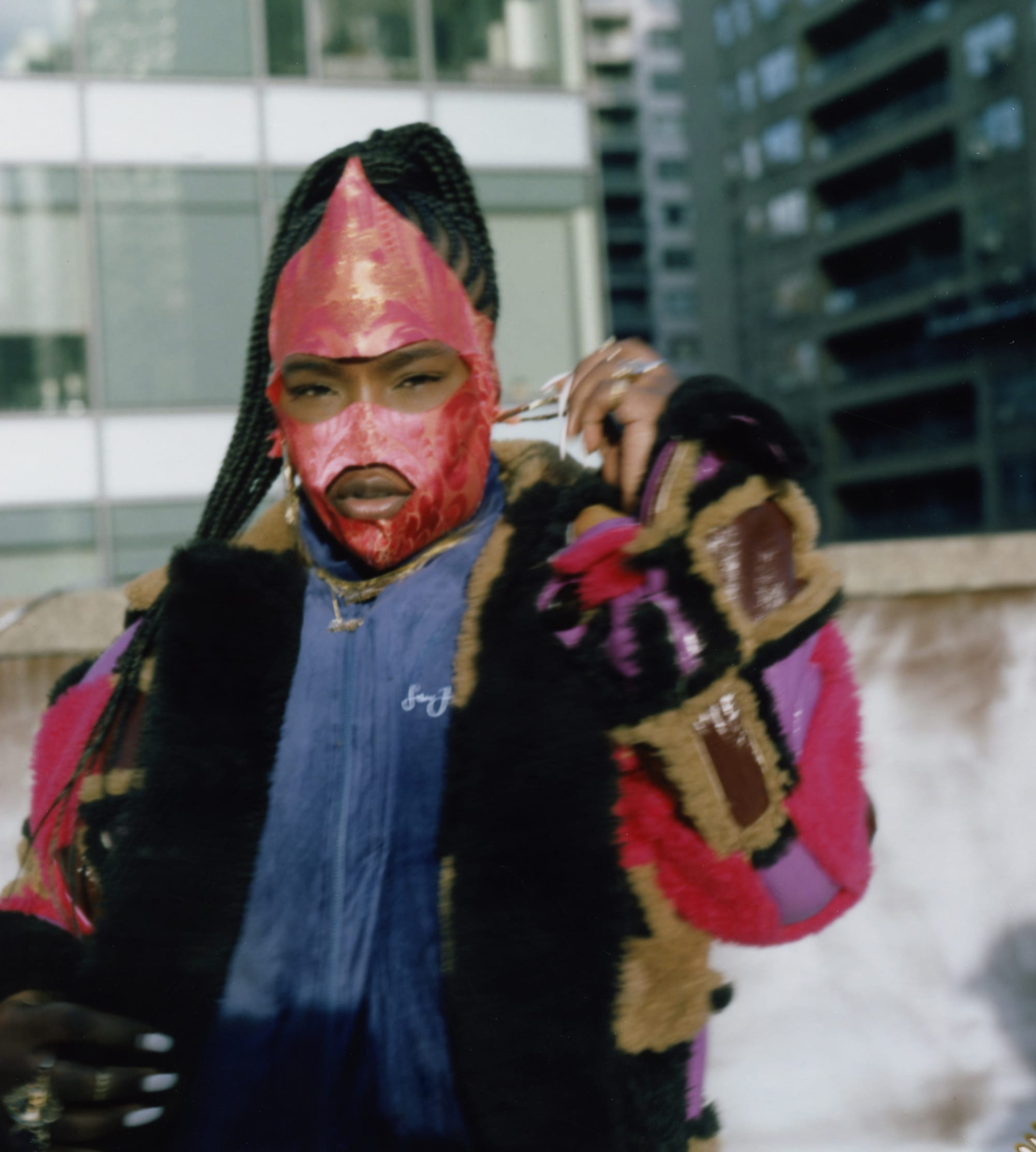 The day we're doing this interview is International Women's Day. I'll leave this pretty open-ended, but is there anything you want to say about the realities of being a woman in hip-hop, or anything else on the topic?
Today is an amazing day to be International Women's Day, and to be alive and present in a moment where there are so many powerful women blazing trails—from politics to music. It's just something that I highly commend and I'm super grateful to be alive at a time where women are getting more recognition for the things that they do, and for their contributions in the world.

It just feels like a really, really great time. I just hope that things continue to move forward. If I could be all the way honest, I just really can't wait for the day where it's more of a creative thing, a talent thing. It's all about what it is that you do versus the gender on top of what you do. As a woman in the world... Yeah, I know I'm a woman, and I know I'm powerful. And I know the superpowers that I have as woman. But at the end of the day, the beginning of the day, and the middle of it, I'm still an artist. I'm an artist, I'm a musician, I'm a director. I'm not a woman director. I mean, I know I'm a woman. But I'm just a director, the same way as you wouldn't go on and say, "Spike Lee, the male director." It doesn't happen like that. That's something that I'm looking forward to. That's the shift that I'm looking forward to.

But I will say again, it's beautiful to be a girl. It's beautiful to be a woman. And I really want all my girls and all my women to embrace their superpowers, and to embrace each other. And also hand out the flowers to the women who paved the way for us, and who created such a solid foundation. From Phylicia Rashad to Debbie Allen to Michelle Obama. The list can keep going, with just strong, beautiful, independent women. Rosario Dawson. I'm just thinking off the top of my head of just some powerful, wonderful women who make great marks in this world. It's just a beautiful thing to witness and to be inspired by these strong, great women. Serena Williams. I'm just throwing out names now. It's super dope.
Besides dropping this video, what else is going on in your world right now?
I am going out on my first headlining tour, and it starts out in Kansas City on the 19th. I'm super excited about that. I'm going to be out on the road for a while, ending sometime in April. And what's even more cool about the situation is, at the end of it, I go to Virginia, and I get to perform at Pharell's first Something in the Water festival. That was an amazing phone call to get, to say the least.

Can you say anything about the tour, and what fans can expect?
I'm super excited about everything about the tour. The album is titled Acrylic, so we are definitely having fun there and what I will say about it is walk-ins are all welcome. All walk-ins are welcome. [Laughs]. I'll just leave it there with that. Walk-ins are welcome.
SHARE THIS STORY