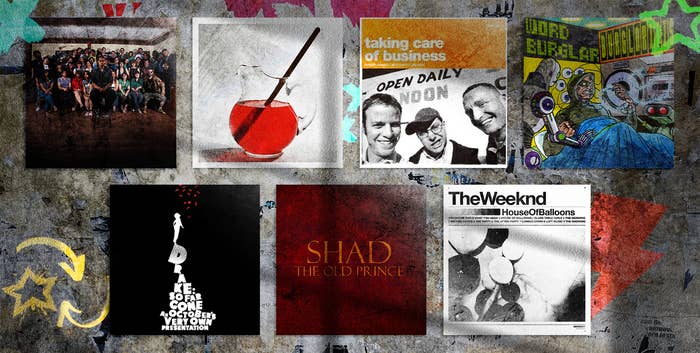 Remember back in the days, sitting out on the front stoop with the summer evening breeze hitting your skin and the latest hip-hop sounds from your city streaming from your tinny laptop speaker, freshly torrented from the latest post on your favourite rap blog? 
No? Fair enough. That never happened.
But from the mid-aughts into the early years of the following decade, blogs ruled everything around us when it came to hearing the latest in hip-hop. Blogs were our 21st century boombox at a moment in time stuck somewhere between MySpace and Soundcloud, the dawn of an era when technology made it possible for any hopeful to turn their bedroom mirror rap career into opportunity if they so dared.
National blogs like HipHopCanada and US outlets such as 2DopeBoys, NahRight and CocaineBlunts helped Canadian rap talent spread province to province and to cross international borders without having to stop at customs and forever altering our perception of possibility for hip-hop created north of the 49th parallel. 
This also meant the end of rap music belonging strictly to Toronto and occasionally Vancouver. And in the lucrative and much-envied US market, Canadian talent stood a chance to overcome the gatekeepers at MTV, BET, and the Recording Academy.
With renewed interest in the time thanks to a new podcast, Complex Canada compiled some of the most important Canadian hip-hop titles that sprang forth during the blog era. 
Some remain underground classics. Others saw the light of day in ways we could never have imagined at the beginning of the century. Still others were never heard by anyone but the most ardent of independent rap connoisseurs. Each found a wider audience courtesy of blog culture.
Skratch Bastid/John Smith/Pip Skid, 'Taking Care of Business'
Wordburglar, 'Burglaritis'
Shad, 'The Old Prince'
Cadence Weapon, 'Afterparty Babies'
Drake, 'So Far Gone'
D-Sisive, 'Jonestown'
Year: 2011

Label: Independent/XO
The Weeknd's status among the biggest global pop sensations of the 21st century so far began as a humble series of free projects beloved by music nerds who searched their favourite music blogs daily to hear something new. At least one of those nerds put The Weeknd on Drake's radar, and along came a new type of pop promise: unsigned, unconcerned about it, and unbeholden to anything besides his own instinct for what the people want.
Noah23, 'Fry Cook on Venus'
Various, 'Piu Piu Beat Tape Vol.1'
Dead Obies, 'Montreal $ud'